Rancher's Dream (The Montana Cahills #6)
B.J. Daniels
from
HQN
//
Harlequin
A bride becomes a target in New York Times bestselling author B.J. Daniels's latest can't-miss suspense

Tragedy sent Deidre "Drey" Hunter running from rancher Hawk Cahill and into the arms of a sleek businessman who promised her a new life. But dreams of Manhattan days and cosmopolitan nights shatter when he brings her back to an ultramodern paradise in her hometown of Gilt Edge—and vanishes on their wedding night.

Taunted by seclusion and silence, Drey starts to doubt everything... including her sanity. Only Hawk, the stubborn cowboy from her school days, believes the threats are real and that someone is ready to kill. But is he willing to forgive the past if it means ending her nightmare?
She tried not to shudder. Two years ago, she'd heard that everyone in Gilt Edge was talking about the ultra­modern mansion some rich businessman was building on the side of the mountain overlooking the valley. Few people had seen it since the property was gated down on the county road and under the watchful eye of a caretaker who stayed on the estate until recently. The rest of the property was surrounded by an eight-foot-high stone fence. Ethan was determined to have his privacy.
Over those two years, several unfortunate acci­dents had occurred during construction. Three labor­ers had been injured and the first caretaker had been found dead. All of the incidents were ruled accidents and yet rumors circulated. Locals said that Mountain Crest was cursed.
Drey had scoffed at such foolishness long before she'd met Ethan and begun dating him. It surprised her, though, that when he was in Gilt Edge over seeing the building of the house—and even after it was almost finished—he always stayed at the local hotel. When she'd asked him about it, he'd said that he wanted to wait until the house was completely fin­ished.
She could feel Ethan waiting for her reaction. "It's breathtaking." It had certainly taken her breath away the moment the house had come into view. Followed instantly by that awful premonition. She saw at once that he'd hoped for more effusiveness. "I don't recog­nize the architecture." Not that as a librarian she was up on the latest architecture.
"It's my own design," her husband said a little stiffly as he drove slowly up the paved road. "It will grow on you."
Again she saw herself lying facedown in the pond, the house looming over her. She tried to hide the shiver that started at the nape of her neck and crawled with icy feet down her spine. She forced the image away. It wasn't like her to let silly rumors of a curse unnerve her. And yet when she'd glimpsed the house for the first time, she hadn't been able to shake the horrible premonition that had come out of nowhere.
"Close your window if you're cold," Ethan said, ap­parently having noticed her shudder. As the road had climbed up the mountain, the air had cooled.
But as she whirred up her window, she knew it wasn't the Montana air that was chilling her. The dark windows caught the glare of the headlights, casting odd shadows across the grounds—and skittering over the pond. She swallowed at the sight of the water and was glad when Ethan turned into the driveway at the front and killed the lights.
"For now, you won't have any staff."
Staff?
"I'll see to hiring a cook, housekeeper—"
"Ethan, I don't need any of those." Since he'd talked her into quitting her job, she would have plenty of time on her hands to take care of the house.
But he didn't seem to hear her as he climbed out of the car. She sat for a moment, not sure if he would want to open her door, maybe carry her over the threshold. All this had happened so fast, she still felt as if caught in a whirlwind.
To say Ethan Baxter had swept her off her feet was an understatement. One moment he walked into the library and the next they were flying to Paris for din­ner or landing on a helicopter pad on a yacht in the Caribbean or getting engaged.
"I'm going to make all your dreams come true," Ethan had promised.
And here she was on her wedding night and nothing about it was as she'd once dreamed. Dierdre "Drey" Hunter Baxter. Married.
Married to the wrong man.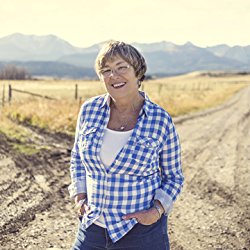 NYT and USA Today Bestselling author B.J. Daniels was born in Texas but moved with her family to Montana at the age of five. Her first home was a cabin in the Gallatin Canyon and later a lake house on Hebgen Lake outside of West Yellowstone.

Most of her books are set in Montana, a place she loves. She lives now in a unique part of the state with her husband and three Springer Spaniels.

When she isn't writing, she loves to play tennis, boat, camp, quilt and snowboard. There is nothing she enjoys more than curling up with a good book.
Giveaway!
Books à la Mode is giving away
a print copy of Rancher's Dream
—yay!
To enter, all you have to do is tell me in the comments below:
What is the last dream you remember?
Please make your comment MEANINGFUL. Comments solely consisting of stock responses or irrelevant fluff like "Thanks for the giveaway!" will not be considered for entry. B.J. and I really want to hear from you guys! :)
Last night, I had a suspenseful dream inspired by the nail-biting qualities of Westworld (highly recommend on HBO!). As with most of my dreams, it was so vivid in the moment but now I hardly remember any of it...
Don't forget the entry eligibility terms and conditions!
Sponsored wholly by the tour publicist and publisher—a huge thank you to TLC Book Tours and HQN Books!
Giveaway ends August 20th at 11.59 PM (your time).
Open to US and Canada readers only—sorry, everyone else! Please check my sidebar for the list of currently running giveaways that are open worldwide. There are plenty to choose from!
Winners have 48 hours to claim their prize once they are chosen, or else their winnings will be forfeited.
Although I do randomly select winners, I am in no way responsible for prizes, nor for shipping and handling.
As a reminder, you do
not
have to follow my blog to enter, though it is always very much appreciated ❤