Becoming the Talbot Sisters
Rachel Linden
from
Thomas Nelson
//
HarperCollins
Twin sisters Waverly and Charlie Talbot have drifted far apart as they pursue opposite dreams of stardom and service to the poor. On an astonishing journey across Central Europe, they must come together to face their fears, find their courage and fight for what they love.

Celebrity chef Waverly Ross has built a successful career with her home-entertaining show Simply Perfect. Yet she and her husband, Andrew, have never been able to realize the true desire of Waverly's heart: to become a mother. Meanwhile Waverly's twin sister, Charlie Talbot, buries her bitter disappointment and shattered idealism beneath a life spent serving others as an international aid worked in Budapest, Hungary.

When the beloved aunt who raised them passes away, Waverly and Charlie come together in their grief after living years on separate continents. Struck by a fierce desire to bridge the distance between them, Charlie offers Waverly and her husband the selfless gift of surrogacy.

But soon the sisters find they are each in danger of losing their jobs, seemingly putting their dreams on hold once again. When Waverly shows up unannounced in Budapest with a plan to rescue Simply Perfect, the sisters embark on an adventure across Central Europe that could save them both from occupational hazards. Though the twins haven't had to rely on each other since childhood, an unforeseen dangerous turn in their journey across Europe forces them to stand together to save their careers, the baby, and each other.
Ways My Real Life Experiences Made It into Becoming the Talbot Sisters
I love creating stories about hope, courage and connection with a hint of romance and a dash of whimsy. I also enjoy setting each story in beautiful locations around the world that are meaningful to me. So much of my own life is threaded through my books, and I think that authenticity shines through. Below are three ways my real life experiences enriched
Becoming the Talbot Sisters
!
The main themes of the story—infertility, miscarriage, and the exploitation of women are all deeply personal for me. While living in Budapest, we lost our first baby through miscarriage, so I really connected on an emotional level with Waverly's struggle to have a baby and her loss of multiple pregnancies.
Working with a faith-based NGO, I met and helped many women in trauma throughout Europe. Some of them had endured trafficking and all had endured sexual abuse of some kind. Hearing their stories gave me very authentic insights for the plotline involving Charlie's past trauma and her dilemma about helping vulnerable women. I located the story mainly in Central Europe where we lived for 5 years. It's a beautiful, somewhat undiscovered region of the world, rich with history, culture and delicious food! It was a total delight to allow Waverly and Charlie to experience so much of what I did in my years living and traveling there! My love for the region and my wonderful memories of life there definitely enhanced the story considerably.
The overarching theme of the story, women being "every day brave," is one I am deeply passionate about. As women we face so many challenges in life, and I wanted to write a story that encouraged women everywhere to face each challenge with hope, courage and strength! This theme of courage resonates strongly with me and I hope it will encourage all readers to be "every day brave!"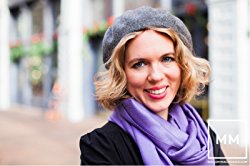 Rachel Linden is a novelist and international aid worker whose adventures living and traveling in fifty countries around the world provide excellent grist for her stories. She holds an MA in Intercultural Studies from Wheaton College, a BA in Literature from Huntington University, and studied creative writing at Oxford University during college. Currently, Rachel splits her time between Seattle, Washington and Budapest, Hungary where she lives with her husband and two children.
Rachel enjoys creating stories about hope and courage with a hint of romance and a touch of whimsy.
Giveaway!

Books à la Mode is giving away
one print copy of Becoming the Talbot Sisters
—yay!!
To enter, all you have to do is answer Rachel's question in the comments below:
What is one thing you've done that took courage?
Please make your comment MEANINGFUL. Comments solely consisting of stock responses or irrelevant fluff like "Thanks for the giveaway!" will not be considered for entry. Rachel and I really want to hear from you guys! :)
Don't forget the entry eligibility terms and conditions!
Sponsored wholly by the tour publicist and publisher—a huge thank you to the lovely folks at TLC Book Tours and Thomas Nelson!
Giveaway ends May 23rd at 11.59 PM (your time).
Open to US and Canada residents only—sorry, everyone else! Please check my sidebar for a list of currently running giveaways that are open worldwide. There are plenty to choose from!
Winners have 48 hours to claim their prize once they are chosen, or else their winnings will be forfeited.
Although I do randomly select winners, I am in no way responsible for prizes, nor for shipping and handling.
As a reminder, you do
not
have to follow my blog to enter, though it is always very much appreciated ❤