I'd like to welcome Cristin O'Keefe Aptowicz to the blog today to celebrate the exciting release of How to Love the Empty Air from Write Bloody Publishing!
Welcome to
Books à la Mode
, Cristin! Let's get this interview started.
Will you please share a brief introduction with us?
Cristin O'Keefe Aptowicz is a New York Times bestselling nonfiction writer and poet. She is the author of six books of poetry as well as the nonfiction books, Dr. Mutter's Marvels: A True Tale of Intrigue and Innovation at the Dawn of Modern Medicine, which made 7 National "Best Books of 2014″ lists, and Words In Your Face: A Guided Tour Through Twenty Years of the New York City Poetry Slam, which Billy Collins wrote "leaves no doubt that the slam poetry scene has achieved legitimacy and taken its rightful place on the map of contemporary literature." On the National Endowment for the Arts (NEA) podcast Art Works, host Josephine Reed introduced Cristin as being "something of a legend in NYC's slam poetry scene. She is lively, thoughtful, and approachable looking to engage the audience with her work and deeply committed to the community that art (in general) and slam poetry (in particular) can create."

Cristin's sixth book of poetry, The Year of No Mistakes, was released by Write Bloody Publishing in Fall 2013, and would go on to win the Writers' League of Texas Book of the Year Award for Poetry (2013-2014).

Cristin is married to fellow bestselling author and screenwriter Ernest Cline. She lives in Austin, Texas with her family and their two eccentric rescue dachshunds.
It's amazing to get to feature you today! Readers, here's a bit about the book, which hit shelves last month:
Vulnerable, beautiful and ultimately life-affirming, Cristin O'Keefe Aptowicz's work reaches new heights in her revelatory seventh collection of poetry.

Continuing in her tradition of engaging autobiographical work, How to Love the Empty Air explores what happens when the impossible becomes real―for better and for worse. Aptowicz's journey to find happiness and home in her ever-shifting world sees her struggling in cities throughout America. When her luck changes―in love and in life―she can't help but "tell the sun / tell the fields / tell the huge Texas sky... / tell myself again and again until I believe it." However, the upward trajectory of this new life is rocked by the sudden death of the poet's mother. In the year that follows, Aptowicz battles the silencing power of grief with intimate poems burnished by loss and a hard-won humor, capturing the dance that all newly grieving must do between everyday living and the desire "to elope with this grief, / who is not your enemy, / this grief who maybe now is your best friend. / This grief, who is your husband, / the thing you curl into every night, / falling asleep in its arms..."

As in her award-winning The Year of No Mistakes, Aptowicz counts her losses and her blessings, knowing how despite it all, life "ripples boundless, like electricity, like joy / like... laughter, irresistible and bright, / an impossible thing to contain."
Tell us about your road to publication, such as how you first queried, unexpected challenges, and things you picked up along the way.
How to Love the Empty Air is my seventh collection of poetry with my publisher, Write Bloody Publishing. I'm grateful to have such a wonderful, long term relationship with a publisher whose work I love. However, it should be noted that the reason that Write Bloody first became interested in my work is because I self-published it and toured behind it, before I ever had publishers interested in me. My first three books were all self-published at Kinkos, and available for purchase at my shows and on my website. Through this grassroots effort to share my work, I eventually caught the interested of a "basement press"—literally a fantastic publisher who handmade books in his basement!—who eventually published my back catalogue, along with a new fourth book. When my books (gratefully) began selling more than the basement press could handle, I was picked up by Write Bloody. The lesson from this which I always try to impart on new writers is that you don't have to wait for an institution—be that a venue, a literary journal, or a press—to give you a "permission" to begin sharing your art. There are so many ways to find an audience, and once you have an audience, finding a publisher won't be as big a deal at all.
How does writing poetry compare to writing non-fiction? Would you ever try your hand at writing fiction, or any specific genres within fiction?
The common thread that, to me, links my nonfiction writing and my poetry writing is how it forces me as a writer to look closely at something and pull from it a larger meaning. In nonfiction, you frequently have to show how a person, an event, or a moment represents the time period in which it exists, and, thus, allow a reader to access something that was previously foreign to them.

Similarly, in poetry, I find myself returning to moments in my life that I can't seem to shake, and then working hard to tease out why they resonate so deeply with me. In both cases, to successfully translate that meaning to the page is profoundly satisfying.

I have not written any fiction, but I married to fiction writer! We both talk all the time about how we could never do what the other does. He can't imagine having to write and being so "limited" by having to stick to facts—let alone doing all the work you have to do to uncover those facts! Meanwhile, I find the idea of having no limits terrifying! You mean the character could just die? Or your editor could suggest making them into a man instead? You could decide to move the setting to a different continent, or a different time period? It's total chaos! I could never do it!
That's super funny how you and your husband get to see the other genre on a daily basis, but don't want to touch it! Out of all the fantastic books out there, what makes How to Love the Empty Air stand out from the rest?
When my mother passed away, I took an enormous comfort in books. I consumed veraciously books about grief: The Year of Magic Thinking by Joan Didion, Dear Darkness by Kevin Young, Motherless Daughters by Hope Edelman, and more. How to Love the Empty Air is my attempt to give back to that community of writers whose work and vulnerability comforted me during that hard time. It's an acknowledgment of how hard it is, how raw it feels, and how boundless grief can feel, but it is also a celebration of the light: the love you still feel, the ways the person you lost can still be seen everywhere, and how the people who surround you can lift you up. During my tour, I have been touched by how many people purchase books for themselves, but also for friends and family members who have suffered loss in their lives. It is my greatest hope, and would be the great honor, for my book to be a comfort to others, the way that the work I read helped guide me.
It's a much needed, much appreciated contribution I'm sure! Give aspiring writers a piece of advice you wish you had known before getting published.
I grew up in a working class neighborhood, and saying I wanted to grow up and be a writer seemed about as possible as saying I was going to grow up to be the tooth fairy. I knew from an early age that if this was the path I wanted to pursue, I needed to forge my own path. I read constantly how important securing a mentor was—someone who was accomplished in my field already who could help guide me as moved forward in my career. Certainly, mentors have been helpful to me, but what I've found more true to my experience, and what I've learned has been proven to be more successful in studies on the subject, is my own peers. The theory is called "Horizontal Loyalty," and the idea that instead of striving for mentors, you should form connections with peers whose work (and work ethic!) you admire. As time goes on, and you and your peers naturally begin to rise up, you will be able to help each other more directly, include each other more naturally in opportunities, and introduce each other to agents, bookers, publishers and venues who more authentically match where you are currently are as an artist. I have found this to be incredibly true in my own life. Peers whose work I've loved, and championed, have toured me, published my books, introduced me to agents, and guided me through tricky circumstances (like social media) that weren't exactly in the wheelhouse of my older, more established mentors. So if I were to give advice to an aspiring writer, it would be to find peers whose work you adore, and begin to form connections with them. Those same poets crashing on your spare futon now might be the the family of artists whom you trust and rely on the most as you move through life as writer and human in the next few decades. It happened to me!
Now give us your best personal advice—something you wish you had known when you were younger and would offer to your own kids.
When my mother passed away, my father gave me all her old journals. In one, she collection quotes she found to inspirational, and buried in that journal, I found a short list she wrote in her own hand—I support the culmination of what she had learned from all the quotes she had previously written, and it remains the most guiding philosophy for me I've ever found. She wrote: "Know your Purpose; Be Present; Act Decisively, Don't be Attached to the Results." Under this list, she underlined the phrase "True Work." I have this page framed in my office, and refer to it often. It is the best advice I've ever received: to be authentic, and to move authentically in this world, and let that be its own reward.
Where can you be found on the web?
It was a pleasure to be able to get to know you better today, Cristin! Thank you again for dropping by, and best of luck with future endeavors!
Giveaway!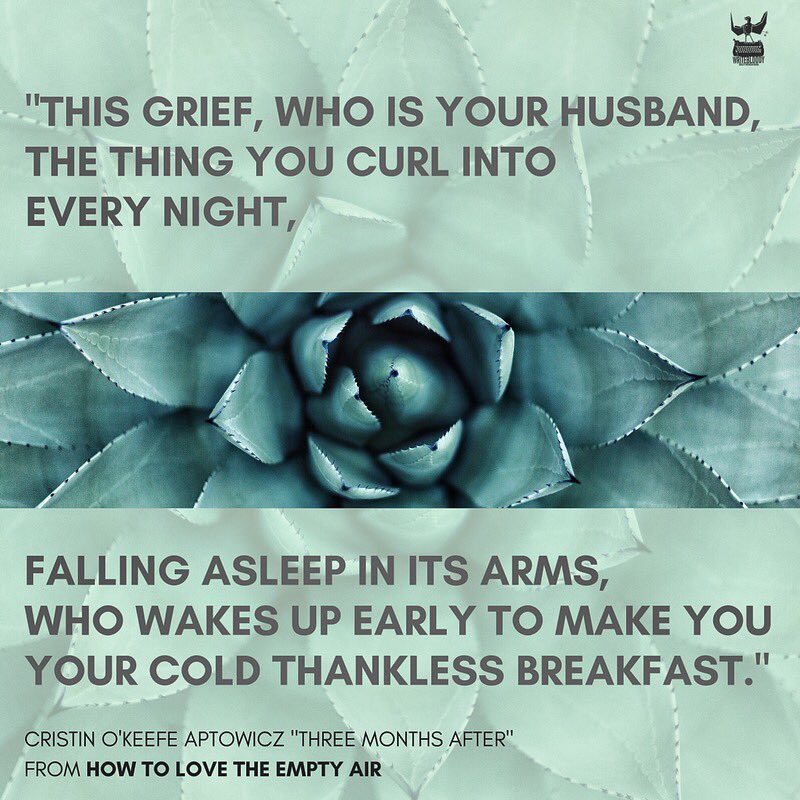 Books à la Mode is giving away
one print copy of How to Love the Empty Air
—
woohoo!
To enter, all you have to do is tell me in the comments below:
Are you a fan of poetry? What is your favorite poem or collection?
Please make your comment MEANINGFUL. Comments solely consisting of stock responses or irrelevant fluff like "Thanks for the giveaway!" will not be considered for entry. Cristin and I really want to hear your thoughts! :)
Don't forget the entry eligibility terms and conditions!
Sponsored wholly by the tour publicist and publisher—a huge thank you to the lovely folks over at FSB Associates!
Giveaway ends May 21st at 11.59 PM (your time).
Open to US residents only. Sorry, everyone else! Please check my sidebar on the right for a list of currently running giveaways that are open worldwide—there are plenty to choose from!
Void where prohibited.
Winners have 48 hours to claim their prize once they are chosen, or else their winnings will be forfeited.
Although I do randomly select winners, I am in no way responsible for prizes, nor for shipping and handling.
As a reminder, you do
not
have to follow my blog to enter, though it is always very much appreciated ❤