The Longest Silence (Shades of Death #4)
Debra Webb
from
MIRA
//
Harlequin
A killer stole her voice. Now she's ready to take it back. Don't miss the chilling Shades of Death series from USA TODAY bestselling author Debra Webb.

Joanna Guthrie was free. She had been for eighteen years—or so she needed everyone to believe. What really happened during the longest fourteen days of her life, when she and two other women were held captive by a dangerous serial killer, wasn't something she could talk about. Not with him watching. Not unless she wanted to end up like the ones who didn't make it out.

But when more women go missing in an eerily similar manner, Jo knows her prolonged silence will only seal their fates. She's finally ready to talk; she just needs someone to listen. FBI special agent Tony LeDoux can't deny he finds Jo compelling—he's just not sure he believes her story. But with the clock ticking, Jo will do anything to convince him, even if it means unearthing long-buried secrets that will land them squarely in the crosshairs of the killer...
Now they were getting somewhere. "Heavy? Thin? Muscular?"
"Kinda lean and muscular. Not the overdone body builder type. I remember thinking he looked like a construction worker but better dressed." Tony added those details to his notes. "When did you first notice Tiffany with this man?"
"Early last month. I remember because I'm a leap year baby. When I was a kid, every year that wasn't a leap year we always celebrated my birthday on March first. This year I was at a club in Macon with a friend. For my birthday." She put the word in air quotes. "I saw Tiffany with this guy but I never got a good look at his face. It was dark and I was a little—"
"I get the picture. What was the name of the club?"
"Wild Things. Fair warning, it's not exactly one of the better establishments."
Obviously. If they served alcohol to minors the place fell far below that mark. "Is that the only time you saw Tiffany with this man?"
She shook her head. "Friday I saw her getting into her Jeep with him."
"Her Jeep?" Tony pushed to his feet. He refrained from demanding why the hell she hadn't told anyone this already. He needed her cooperative. "You're certain it was hers?"
"Positive. The black Jeep Wrangler she drives has one of the pink breast cancer ribbons on the tailgate. I think she said her mom survived breast cancer."
An ache pierced his gut. His sister had gone through a rough time four years ago. She'd been cancer free since. He hoped like hell she stayed that way. He did not want to lose her. This kind of stress was not good for her, or anyone for that matter.
"You're certain it was Friday—the same Friday she disappeared?"
The girl nodded. "Positive. I told the chief I saw them together but I might have forgotten to mention the part about the Jeep. I really just remembered that part."
"Thanks, Riley." Tony moved toward the door, but hesitated before opening it. "I may have other questions about Tiffany. As long as you stay truthful with me, no one will hear about your secret from me." He handed her a card with his name and number. Something else he'd dragged out of the box in the trunk of his BMW. "Call me if you think of anything else or hear anything. For now, I'll talk to Chief Phelps about getting a sketch artist in touch with you. If we can locate the man you saw Tiffany with, he might be able to help."
She accepted his card, then nodded. "Okay."
Tony had Phelps on the line before he reached the first floor. He explained about the potential suspect perhaps being far more than just a new boyfriend, considering his age. "If you haven't already lined up a sketch artist to meet with the roommate, I think you need to make that happen."
"This is exactly why eyewitnesses are so blasted unreliable," Phelps complained. "Fallon insisted she didn't know the guy's name and barely caught a glimpse of him on one occasion."
Tony wasn't surprised. Fallon had no desire to mention the club in Macon. She was more concerned with protecting herself than helping the investigation. "I'll get a sketch artist lined up ASAP," Phelps assured him.
"We also need a complete forensic examination of Tiffany's Jeep." Tony exited the building and dragged a chestful of air into his lungs. He prayed this was the lead they needed to find his niece.
"Her vehicle is still in the parking lot at the college. You know something else I don't, LeDoux?"
"Fallon saw Tiffany in the Jeep with an older man as recently as a few hours before she disappeared. The same older man she spotted her with at the club in Macon. This man may very well be the unsub we're looking for. He may have driven the Jeep back to campus to confuse the investigation. At any rate, it's a lead and I'm headed to the club now to follow up on it."
Phelps hesitated for a moment. "I'm curious as to why the roommate was so forthcoming with you when she gave us diddly-squat."
Tony had made a promise to keep Fallon's secret and he would do that as long as she didn't hold out on him. "She had some time to think about it. Realized what she'd seen might be important. I'll let you know what I find in Macon."
Tony ended the call before Phelps could ask any more questions or suggest he let the task force handle the lead in Macon. As he climbed into his car, he Googled
Wild Things
. If he was lucky, they had video surveillance.
If he was even luckier, they kept it as far back as a couple of months.
He hadn't been lucky in a long time. He hoped like hell that unfortunate streak was about to change.
About the Author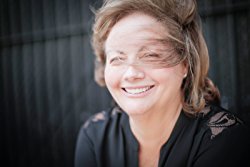 Debra Webb is the
USA Today
bestselling author of more than 100 novels, including reader favorites,
Faces of Evil
and the
Colby Agency
series. She is the recipient of the prestigious Romantic Times Career Achievement Award for Romantic Suspense as well as numerous Reviewers Choice Awards.

With more than four million books in print in numerous languages and countries, Debra's love of storytelling goes back to her childhood when her mother bought her an old typewriter in a tag sale. Born in in Alabama, Debra grew up on a farm. She spent every available hour exploring the world around her and creating her stories. She wrote her first story at age nine and her first romance at thirteen.

It wasn't until she spent three years working for the Commanding General of the US Army in Berlin behind the Iron Curtain and a five-year stint in NASA's Shuttle Program that she realized her true calling. A collision course between suspense and romance was set. Since then she has expanded her work into some of the darkest places the human psyche dares to go.
Giveaway!

Books à la Mode is giving away
a print copy of The Longest Silence
—yay!
To enter, all you have to do is tell me in the comments below:
What is your ideal environment regarding noise level?
Please make your comment MEANINGFUL. Comments solely consisting of stock responses or irrelevant fluff like "Thanks for the giveaway!" will not be considered for entry. Debra and I really want to hear from you guys! :)
For working/productivity, I actually prefer some background noise; a little hustle and bustle is my favorite vibe. It's hard to concentrate in complete silence. I'm very comfortable in noisy social environments (music, lots of conversation, laughter, etc.), and prefer it to more quiet ones, because it makes me feel like I'm a part of the situation rather than having to fill the silence with sound.
Don't forget the entry eligibility terms and conditions!
Sponsored wholly by the tour publicist and publisher—a huge thank you to TLC Book Tours and Harlequin!
Giveaway ends March 15th at 11.59 PM (your time).
Open to US and Canada readers only—sorry, everyone else! Please check my sidebar for the list of currently running giveaways that are open worldwide. There are plenty to choose from!
Winners have 48 hours to claim their prize once they are chosen, or else their winnings will be forfeited.
Although I do randomly select winners, I am in no way responsible for prizes, nor for shipping and handling.
As a reminder, you do
not
have to follow my blog to enter, though it is always very much appreciated ❤