The Chalk Man
C.J. Tudor
from
Crown Publishing
(
Penguin Random House
)
A riveting and relentlessly compelling psychological suspense debut that weaves a mystery about a childhood game gone dangerously awry, and will keep readers guessing right up to the shocking ending

In 1986, Eddie and his friends are just kids on the verge of adolescence. They spend their days biking around their sleepy English village and looking for any taste of excitement they can get. The chalk men are their secret code: little chalk stick figures they leave for one another as messages only they can understand. But then a mysterious chalk man leads them right to a dismembered body, and nothing is ever the same.

In 2016, Eddie is fully grown, and thinks he's put his past behind him. But then he gets a letter in the mail, containing a single chalk stick figure. When it turns out that his friends got the same message, they think it could be a prank... until one of them turns up dead.

That's when Eddie realizes that saving himself means finally figuring out what really happened all those years ago.

Expertly alternating between flashbacks and the present day, The Chalk Man is the very best kind of suspense novel, one where every character is wonderfully fleshed out and compelling, where every mystery has a satisfying payoff, and where the twists will shock even the savviest reader.
Behind-the-Scenes Looks at The Chalk Man
The book was inspired by a box of chalk a friend bought for my daughter's second birthday. We spent the afternoon drawing stick figures on the driveway. Later that night I opened the door to be confronted by these weird chalk drawings everywhere. In the darkness, they suddenly looked incredibly sinister!
It was originally called The Chalk Men. The day before submission my agent said: 'You know, I really think it should just be The Chalk Man.' A one word change that made such a difference.
Like a lot of books, it went through several drafts. A secondary character was cut and in the very first draft, the killer's identity was different—but I'm not saying who it was!
The narrator is called Eddie Adams and his nickname is Eddie Munster. I actually lifted the name from a character in another unfinished novel. I liked it so much I wanted to use it again. I might go back to that novel at some point—but now, I'll have to come up with a different name!
I'm a big Stephen King fan and there are a couple of references to King novels in The Chalk Man. Mr Halloran is obviously a reference to The Shining and there's a scene at a funeral which contains a nod to Pet Semetary.
Ed's ghostly visitor was inspired by An American Werewolf in London. When I was about 13 I used to go around to my friend Kirsty's house to watch videos. We didn't have a video recorder at home and her parents were pretty 'relaxed' about what we watched! The recurring and gory ghost of David's friend in that film always stuck with me.
Although the chapters in The Chalk Man alternate between 1986 and 2016, I wrote all the 1986 parts first. That helped when it came to writing the children as adults because I already knew what had formed them. I never considered writing the book in two parts. I always felt that the reader should follow both stories at once, without knowing the outcome of either until the end!
The town of Anderbury is based upon the small Wiltshire town of Salisbury where I was born. It has a cathedral, a fast-flowing river, and several parks. Sadly, it no longer has a Woolies on the high street. That's now a New Look!
I was working as a dog-walker when I wrote The Chalk Man, chasing wet dogs through muddy fields for hours a day, in between looking after my little girl. Time was limited and I had to fit the writing in whenever I could. In hindsight, it was good grounding. I don't need to go away to a log cabin with scented candles and whale music to write. I can do it pretty much anywhere. I'll be deep into a creepy scene in a book and still able to hold a conversation with my little girl about Peppa Pig!
An 80s setting, a small town with dark secrets, and a gang of pre-teens on bikes. Yep, it's easy to see why The Chalk Man has been compared to Stranger Things. But the book was actually written over the summer of 2015, a full year before Stranger Things hit the TV screens. Spooky!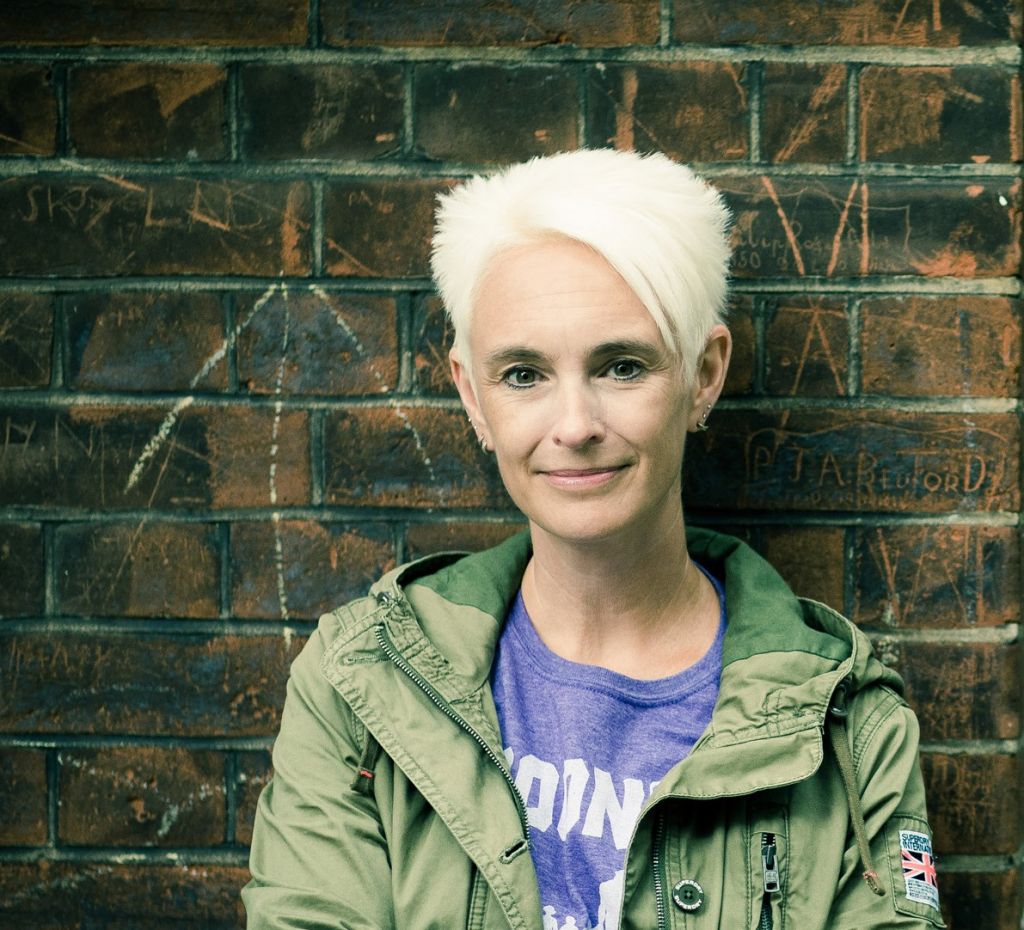 C.J. Tudor lives in Nottingham, England, with her partner and three-year-old daughter.

Over the years she has worked as a copywriter, television presenter, voice-over, and dog walker. She is now thrilled to be able to write full-time, and doesn't miss chasing wet dogs through muddy fields all that much.

The Chalk Man is her first novel.
Giveaway!
Books à la Mode is giving away
one print copy of The Chalk Man
—yay!!
To enter, all you have to do is tell me in the comments below:
What is your favorite art-related craft or hobby?
Please make your comment MEANINGFUL. Comments solely consisting of stock responses or irrelevant fluff like "Thanks for the giveaway!" will not be considered for entry. C.J. and I really want to hear from you guys! :)
I love watercolor painting and crocheting!
Don't forget the entry eligibility terms and conditions!
Sponsored wholly by the tour publicist and publisher—a huge thank you to the lovely folks at TLC Book Tours and Crown Publishing!
Giveaway ends January 25th at 11.59 PM (your time).
Open to US residents only. Sorry, everyone else! Please check my sidebar for a list of currently running giveaways that are open worldwide. There are plenty to choose from!
Winners have 48 hours to claim their prize once they are chosen, or else their winnings will be forfeited.
Although I do randomly select winners, I am in no way responsible for prizes, nor for shipping and handling.
As a reminder, you do
not
have to follow my blog to enter, though it is always very much appreciated ❤