Best Friends Forever
Margot Hunt
from
MIRA
//
Harlequin
How well do you really know your best friend?

Kat Grant and Alice Campbell have a friendship forged in shared confidences and long lunches lubricated by expensive wine. Though they're very different women—the artsy socialite and the struggling suburbanite—they're each other's rocks. But even rocks crumble under pressure. Like when Kat's financier husband, Howard, plunges to his death from the second-floor balcony of their South Florida mansion.

Howard was a jerk, a drunk, a bully and, police say, a murder victim. The questions begin piling up. Like why Kat has suddenly gone dark: no calls, no texts and no chance her wealthy family will let Alice see her. Why investigators are looking so hard in Alice's direction. Who stands to get hurt next. And who is the cool liar—the masterful manipulator behind it all.
At the end of the service, the pallbearers lifted the coffin off the fabric-draped dais and carried it out of the church on their shoulders. The family stood and, led by Kat and Amanda, followed the coffin down the aisle. Her arm linked through her daughter's, Kat looked wan, her normal vivacity drained away. She was wearing a tailored white pantsuit over a black silk blouse that I hadn't seen before. I wondered if she'd bought it for the occasion. As Kat approached the pew where Todd and I were sitting, I tried to catch her eye. But she either didn't see me or didn't want to acknowledge that she had. Kat's mother and father, Eleanor and Thomas Wyeth, followed their daughter and granddaughter. Thomas was somber but pleasant, shaking hands with people as he passed. Eleanor looked austere, and other than the occasional gracious nod for a favored few, she kept her chin high and her eyes fixed straight ahead.
"What's next?" Todd murmured. "Is there a reception after?"
"I don't know. They didn't make an announcement. Maybe it's by invitation only." I nodded toward the line forming to exit the church. "It looks like they're having a receiving line. I'll ask Kat."
My pulse quickened at the thought that I'd finally get a chance to talk to Kat, if only for a moment. It was obviously not the time or place for an in-depth conversation, but at least I'd be able to get some sort of read on what was happening.
"Mrs. Campbell, how nice to see you again."
I turned and saw John Donnelly standing there. He looked especially dapper in a dark gray suit and pale yellow tie. He held out his hand and I shook it. "Mr. Donnelly, this is my husband, Todd," I said. Then, turning to Todd, I explained, "Mr. Donnelly is the attorney who helped me out the other day." I hadn't told Todd that the attorney had offered me what was, for all intents and purposes, a bribe if I agreed not to further cooperate with the police investigation. Todd was already worried about the entire situation. I didn't want to add to his anxiety.
"It's nice to meet you," Donnelly said cheerfully, shaking hands with Todd. "I thought the service was very well done. For a funeral, that is. Despite my line of work, I'm not a big fan."
"I don't know that anyone is," I remarked.
"You never met my aunt Tilly," Donnelly said, sticking his hands in his pockets. "She was a true aficionado. Never missed a funeral in the neighborhood if she could help it. She loved nothing more than coming back and telling anyone who would listen that the priest was a windbag or that the widow had chintzed out on the coffin."
"She sounds like a pistol," Todd said.
"Yes, well, you didn't have to spend Thanksgiving with her," Donnelly quipped.
Todd and I laughed politely, and Todd said, "It was nice to meet you."
But before we could turn and join the receiving line, the attorney stopped us. "Why don't you leave this way?"
"Excuse me?" I asked.
Donnelly gestured toward a side door at the back of the church, which had an exit sign hanging over it. "This way out is faster. You'll skip right by the crowd."
I glanced at Todd. He looked confused.
"Thank you, but we'd like to give our condolences to Kat and her family," I said, not sure why I had to explain this.
"Let me put it this way—the family would prefer it if you left through the side door." Donnelly shrugged and spread out his hands. "Don't make me be the bad guy here."
"Bad guy? What's he talking about?" Todd asked me. Without taking my eyes off the lawyer, I replied, "I believe what Mr. Donnelly is saying is that Kat, or more likely her father, doesn't want us to go through the receiving line."
"Why?" Todd asked.
"Care to answer that, Mr. Donnelly?"
"I don't want to make a scene," the lawyer said. "Neither do we," Todd retorted.
About the Author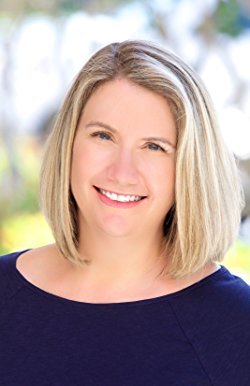 Margot Hunt is the pseudonym of a bestselling writer of twelve previous novels.
Her work has been praised by Publisher's Weekly, Booklist, and Kirkus Reviews.

Best Friends Forever is her first psychological thriller.
Giveaway!

Books à la Mode is giving away
a print copy of Best Friends Forever
—yay!
To enter, all you have to do is tell me in the comments below:
How well do you know your best friend?
Please make your comment MEANINGFUL. Comments solely consisting of stock responses or irrelevant fluff like "Thanks for the giveaway!" will not be considered for entry. Margot and I really want to hear from you guys! :)
I don't necessarily have one single long-term best friend, but rather a handful of best friends from different situations: hometown best friends, some high school best friends (each from different groups), a college best friend, a concerts/parties best friend, a family friend BFF, etc. I know each of them to varying degrees, some better than others.
Don't forget the entry eligibility terms and conditions!
Sponsored wholly by the tour publicist and publisher—a huge thank you to TLC Book Tours and Harlequin!
Giveaway ends February 3rd at 11.59 PM (your time).
Open to US readers only—sorry, everyone else! Please check my sidebar for the list of currently running giveaways that are open worldwide. There are plenty to choose from!
Winners have 48 hours to claim their prize once they are chosen, or else their winnings will be forfeited.
Although I do randomly select winners, I am in no way responsible for prizes, nor for shipping and handling.
As a reminder, you do
not
have to follow my blog to enter, though it is always very much appreciated ❤