Christmastime Cowboy
(Copper Ridge #10)
Maisey Yates
from
HQN Books
//
Harlequin
It's Christmas in Copper Ridge, and love is waiting to be unwrapped...

Falling for a bad boy once is forgivable. Twice would just be foolish. When Sabrina Leighton first offered her teenage innocence to gorgeous, tattooed Liam Donnelly, he humiliated her, then left town. The hurt still lingers. But so does that crazy spark. And if they have to work together to set up her family winery's new tasting room by Christmas, why not work him out of her system with a sizzling affair?

Thirteen years ago, Liam's boss at the winery offered him a bribe—leave his teenage daughter alone and get a full ride at college. Convinced he wasn't good enough for Sabrina, Liam took it. Now he's back, as wealthy as sin and with a heart as cold as the Oregon snow. Or so he keeps telling himself. Because the girl he vowed to stay away from has become the only woman he needs, and this Christmas could be just the beginning of a lifetime together...
Top 5 Fun Tidbits About Christmastime Cowboy
"Liam Donnelly was nobody's favorite." That's the first line, and it hit me when I wrote it that Liam definitely feels like he's no one's favorite. And that was when I knew the whole point of his story was to find that person. The woman who would make sure he knew he was her favorite. I knew from the beginning of this quartet that Sabrina was that woman.
The past four books in the Copper Ridge series have been about the Donnelly brothers. They all have the same father, but they have three different mothers between them. Liam, the hero of Christmastime Cowboy and Alex, from Wild Ride Cowboy are the only two brothers who were raised in the same household. But even they have two different childhood experiences. I wanted to save Liam for last, because when you read Alex's book you THINK you know what their life was like. But Liam has secrets he hasn't shared with anyone about the way he was treated by his mother. I liked the idea of exploring how the same parent can treat two children in totally different ways.
Copper Ridge at Christmas is based on Jacksonville, Oregon's Victorian Christmas. There are costumed carolers, chestnuts roasting, and always a horse-drawn wagon and hot cider. It's a fond memory of mine and incorporating it into the book was fun.
The idea for Grassroots winery also came from my hometown. Oregon is, depending on who you ask, the new Napa. Vineyards are everywhere, and I saw a magazine article about women in Oregon breaking the glass-winery-ceiling, which is where I got the idea to have a female run winery. (There will be more on the winery coming in my new series, Gold Valley, too.)
I don't drink wine. In fact, I hate the taste of it. I actually can't stand the smell or taste of any alcohol. (Some advanced sensory issue? Who can say.) Which made the wine and cheese tasting scene in Christmastime Cowboy interesting to say the least. Especially since it's a sexy scene! It required googling, and questioning of my husband, who does like wine.
New York Times and USA Today bestselling author Maisey Yates lives in rural Oregon with her three children and her husband, whose chiseled jaw and arresting features continue to make her swoon. She feels the epic trek she takes several times a day from her office to her coffee maker is a true example of her pioneer spirit.

In 2009, at the age of twenty-three, Maisey sold her first book. Since then it's been a whirlwind of sexy alpha males and happily ever afters, and she wouldn't have it any other way. Maisey divides her writing time between dark, passionate category romances set just about everywhere on earth and light sexy contemporary romances set practically in her back yard. She believes that she clearly has the best job in the world.
Giveaway!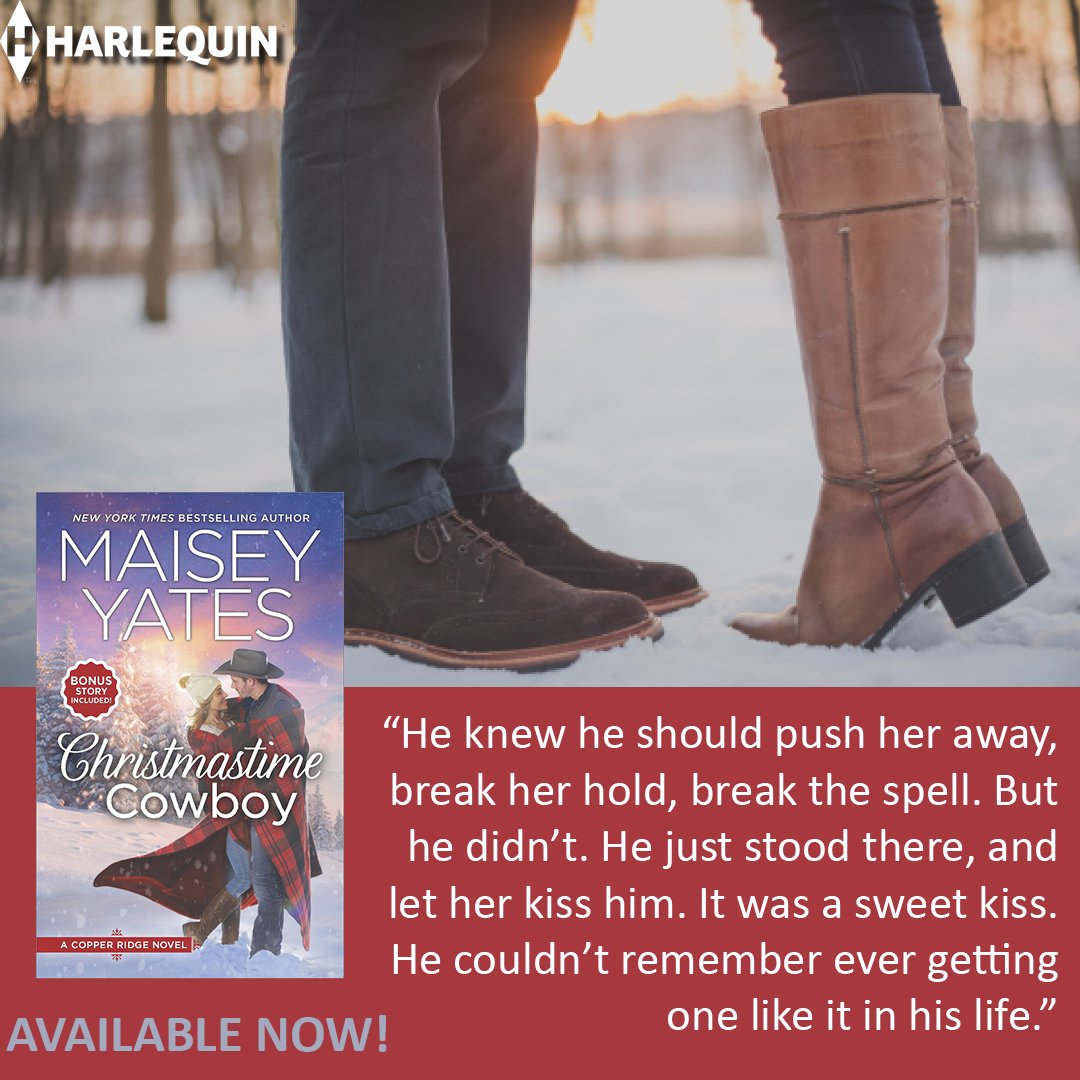 Books à la Mode is giving away
one print copy of Christmastime Cowboy
—winner's choice! Yay!!
To enter, all you have to do is tell me in the comments below:
What is your LEAST favorite winter holiday tradition?
Please make your comment MEANINGFUL. Comments solely consisting of stock responses or irrelevant fluff like "Thanks for the giveaway!" will not be considered for entry. Maisey and I really want to hear from you guys! :)
Snowball fights! I'm not a huge fan of snow or the cold in general, but anything that has to do with wet snow wedging itself in my boots and in my jacket sleeves is such a yucky feeling! Sledding and skiing can be fun, at least... snowball fights are like snow sports without the fun!
Don't forget the entry eligibility terms and conditions!
Sponsored wholly by the tour publicist and publisher—a huge thank you to the lovely folks at TLC Book Tours and HQN Books!
Giveaway ends December 8thth at 11.59 PM (your time).
Open to US and Canada residents only—sorry, everyone else! Please check my sidebar for a list of currently running giveaways that are open worldwide. There are plenty to choose from!
Winners have 48 hours to claim their prize once they are chosen, or else their winnings will be forfeited.
Although I do randomly select winners, I am in no way responsible for prizes, nor for shipping and handling.
As a reminder, you do
not
have to follow my blog to enter, though it is always very much appreciated ❤