I'd like to welcome Kass Morgan to the blog today to celebrate the exciting release of her long-anticipated second book in the The Hundred series, Day 21. We're giving away both of the books in the series at the end, so make sure you stick around for that!
Welcome to

Books à la Mode

, Kass! Let's get this interview started.
Will you please share a brief introduction with us?
Kass Morgan is the author of the epic sci-fi series, The 100, which inspired The CW TV series by the same name.

Kass Morgan has an unhealthy obsession with books that first manifested in third grade when she brought a copy of Mallory and the Dream Horse to her own birthday party. When she was ten, she moved from Brooklyn to Santa Monica, where kids thought she was strange for wearing so much black. Then she went back to the east coast for college, where kids thought she was strange for wearing so much pink.

Kass studied English and History at Brown University, reading gothic novels in the library where Edgar Allan Poe conducted secret love affairs, auditioning unsuccessfully for a number of plays, and learning important truths about walking on ice in high heels.

After college, Kass crossed the pond to pursue a Master's degree in 19th century literature at Oxford, which was like attending Hogwarts, but with more costume parties. She returned to the states with a deep appreciation for clotted cream, a suitcase full of cocktail dresses, and a thesis on George Eliot that she has since misplaced.

Kass settled in New York to work in publishing. When she's not editing novels for young bookworms to sneak into their own birthday parties, you can find her jostling for table space at Brooklyn coffee shops, asking strangers if she can pet their dogs, and e-mailing her middle school crush to thank him for introducing her to science fiction, which turns out to be very fun to write. The sequel to The 100, titled Day 21, was released this month.
Readers, here's a bit about the books, which are both available now!
Page Count:
323
Release Date:
September 3rd, 2013
Publisher:
Little, Brown (Hachette Book Group)
No one has set foot on Earth in centuries—until now.

Ever since a devastating nuclear war, humanity has lived on spaceships far above Earth's radioactive surface. Now, one hundred juvenile delinquents—considered expendable by society—are being sent on a dangerous mission: to recolonize the planet. It could be their second chance at life... or it could be a suicide mission.

Clarke was arrested for treason, though she's haunted by the memory of what she really did. Wells, the chancellor's son, came to Earth for the girl he loves—but will she ever forgive him? Reckless Bellamy fought his way onto the transport pod to protect his sister, the other half of the only pair of siblings in the universe. And Glass managed to escape back onto the ship, only to find that life there is just as dangerous as she feared it would be on Earth.

Confronted with a savage land and haunted by secrets from their pasts, the hundred must fight to survive. They were never meant to be heroes, but they may be mankind's last hope.
Buy the book from: Amazon | Barnes & Noble | The Book Depository | Books-A-Million | iTunes | Kobo | Google Play | Publisher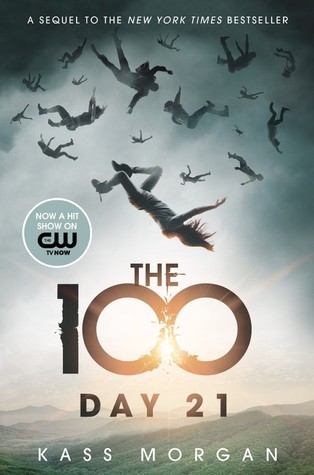 Page Count: 320
Release Date: September 16th, 2014
Publisher: Little, Brown (Hachette Book Group)
It's been 21 days since the hundred landed on Earth. They're the only humans to set foot on the planet in centuries. Or so they thought.




Facing an unknown enemy, Wells attempts to keep the group safe after a tragic attack. Clarke strikes out in search of other colonists, while Bellamy is determined to rescue his sister, no matter the cost. And back on the ship, Glass faces an unthinkable choice between the love of her life and life itself.

In this pulse-pounding sequel, secrets are revealed, beliefs are challenged, and relationships are tested. The hundred will struggle to survive the only way they can... together.
Are the characters from your books based off anyone you know in real life? How much else of your actual life gets written into your stories?

None of my characters are modeled on real people, exactly, but the emotions they evoke are absolutely based on real experiences. For instance, in order to understand how Glass would risk so much for Luke, I thought a lot about being in love for the first time, and I think dredging up those memories channeled some of my high school boyfriend into Luke. I didn't even realize I'd done it until after the book came out! I'd completely forgotten that aforementioned high school boyfriend (who I'm still friends with) had given me a locket until he asked if he was the inspiration for Luke. It was a little embarrassing, but sort of cute at the same time.
It's fascinating how you can subconsciously put yourself into your writing! Which character from the series was most difficult to write?

I think Clarke might've been the most difficult, as it was hard to make sure she didn't come across as too perfect. I think that, sometimes, writers feel like they have less leeway with female characters as there's more pressure to make them "likable." However, by the end of The 100, it's very clear that Clarke is FAR from perfect. Even I was a little shocked by what her deep, dark secret turned out to be, but it was absolutely the best fit for the story. 


What do you consider your biggest strengths and weaknesses as an author?

I've always been much more interested in writing at the micro level—word choice, sentence structure, rhythm, metaphor etc.—and less comfortable plotting. That's why working with my editors at Alloy has been so great! They're brilliant plotters, and have taught me a TON about storytelling. 


Name the top five novels that have made the biggest impact on your life or on your writing.

I'm not sure how much these books have influenced my writing, but I've read all of them more times than I can count:
Rilla of Ingleside

by L.M. Montgomery

The House of Mirth

by Edith Wharton

Jonathan Strange & Mr. Norrell

by Susanna Clarke

The Picture of Dorian Gray

by Oscar Wilde

The Secret History

by Donna Tartt
Marvelous list! 
How do you react to a negative or harsh review to your books?
I admit, they sting! But then I remind myself that it's a privilege to have people read your books, even when they don't like them very much. And then I think about all the mean reviews I might've written if I'd had Goodreads in high school.
LOL! Some authors call out reviewers for being harsh, but they don't understand that being a reader is just as hard too! ;)
Some randomness...
What kind of kid were you in high school?
Studious in class, silly with my friends... and incredibly insecure the rest of the time. I was always afraid of doing or saying the wrong thing. However, I was also really into fashion, so I had the BEST outfits to wear while I was having mild panic attacks in the bathroom.
That was SO me. All-time favorite quote?
"The first thing I do in the morning is brush my teeth and sharpen my tongue." – Dorothy Parker
Most romantic thing a guy has ever done for you?
My college boyfriend was pretty great. He sent flowers to the library when I was holed up, working on my thesis. And once he drove six hours to buy a first edition of Oscar Wilde's essays he'd tracked down at a distant bookstore.
Awww, he would have stolen my heart! What's the most disastrous date you've been on?
Oh, plenty. But the one that comes to mind is the guy who, after learning that I really like history, starting quizzing me. Seriously. I don't know if he thought I was lying, or if he thought it was a fun game, but it just made him look really hostile. We ended up arguing about Gettysburg for 20 minutes, and then I went home.
Currently reading?
Crome Yellow
by Aldous Huxley.
Currently wearing?
Orange pleated silk dress and silver shoes.
Most visited websites?
The New York Times, Jezebel, Twitter, ModCloth, and AirB&B (I'm planning a trip to Scotland!).
What dreams have been realized as a result of your writing?


My book launch was a dream come true. It was at my favorite bookstore in Brooklyn, Book Court, where I've been going since I was a little kid. Standing at the podium (where I've seen many of my literary heroes read) and looking out at all my friends was absolutely magical.

But the best part is hearing from readers. Knowing that my book has provided any measure of entertainment, comfort, or inspiration is the most wonderful feeling in the world.

And, oh yes, having a TV show made out of my book isn't half bad, either. Though I never even DREAMED that would happen, so I'm not sure it counts for this question.
Literally a dream come true—fabulous! Where can you be found on the web?
It was an absolute joy to be able to get to know you better today, Kass! Thank you again for dropping by, and best of luck with future endeavors!
Giveaway!
Books à la Mode is giving away
a print set of the The 100 series: that's print copies of The 100 and Day 21
to one lucky winner—woohoo!
To enter, all you have to do is tell me:
If Earth was in the middle of a catastrophic nuclear war, would you escape to another planet like the society in The 100 did, or would you stay here to try and survive?
Please make your comment MEANINGFUL. Comments solely consisting of stock responses or irrelevant fluff like "Thanks for the giveaway!" will not be considered for entry. Kass and I really want to hear your thoughts! :)
Don't forget the entry eligibility terms and conditions!
Sponsored wholly by the publicist—a huge thank you to FSB Media!
Giveaway ends October 4th at 11.59 PM (your time).
Open to US residents only. Sorry, everyone else! Please check my sidebar on the right for a list of currently running giveaways that are open worldwide—there are plenty to choose from!
Void where prohibited.
Winners have 48 hours to claim their prize once they are chosen, or else their winnings will be forfeited.
Although I do randomly select winners, I am in no way responsible for prizes, nor for shipping and handling.
As a reminder, you do
not
have to follow my blog to enter, though it is always very much appreciated ❤