How Much of My Personal Life is In My Stories
Hi

Books à la Mode

readers! Thank you for having me here today. I was asked how much of my personal life is in my stories. It's an intriguing question.

My writing "voice" is part of who I am. It is made up of my memories, experiences and the weave of my thoughts. The characters have bits of me and people I have known. The settings are composites of the country side where I have lived in Washington State, places I have seen or have read about... and dreams.

Do you watch the news on TV? I do and sometimes I want to throw something at the set but instead I write. I have designed a world and a culture that has worked their way around problems that plague us. I can manage that with a smaller world with fewer people. These problems we have on Earth are personal to me.

My belief structure is in my books too. I have strong female characters as I find simpering women who flutter their eyelashes at men annoying. Ose (the planet in The Sage Seed Chronicles) is a green energy world and there are threads in the stories where the characters are conscious of the balance of resources. On Earth it would be nice to use more solar, geothermal and windmills for energy and that there is a natural pharmaceutical that is mostly untapped.

Everyone on Ose has skills that are needed and valued. The people are very aware how their livelihood contributes to the welfare of their community and their world. We have lost track of that. Do you know what five of your neighbors do for a living and how that contributes to your life? Many don't and their buying decisions can impact their neighbor's livelihoods. It is something that is part of the society's fabric on Ose. I wish we had it here.

Professional standards based on learning and credentials is one of the themes in Divergent Paths. If you lived there you would know by the badge the person wore what their job was and the expertise level they had. Think about it. Would you like the man with the vegetable garden in his back yard mixing your medicines or the dress maker sewing your parachute? Or would you be more comfortable with someone from those specific guilds doing the services for you?

What I have mentioned is the structure or the world building. The stories are not from my personal life. Imagination and creativity are wonderful things. They make one ponder, "What if..?" So The Founders, the first book in the series, came from looking at the Dark Ages and listening to apocalyptic talk then twisting things into another form. Divergent Paths, the second book, has elements of things I have seen or read about and addresses issues that we can relate to.

As far as I am aware I haven't met any murderers but there are shades of despicable people where ever we go. It is the interpersonal relationships and the charm of the unexpected that grabs you in the stories. You laugh at some of the antics and cry when characters die. At least I did and I wrote it. It's personal to me :D
Click "read more" to find out a bit about the book...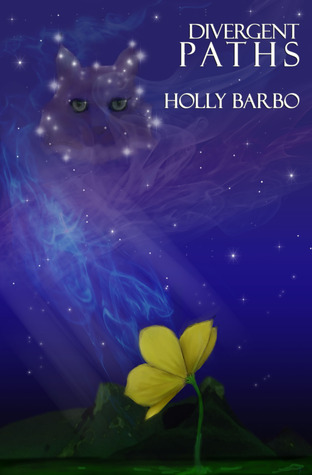 Divergent Paths (The Sage Seed Chronicles #2)
Holly Barbo

Genre: Sci-fi, Fantasy
Page Count: 282
Release Date: 28 August 2012
Publisher: Paper Crane Books
A virulent disease sweeps through the Sawblen Province. The source is unknown. As hundreds fall victim, the healers race to contain it and find a cure before it engulfs the realm, but a would-be healer complicates the situation by concocting dangerous drugs.

While the officials are distracted, a counterfeiter takes advantage of the events. Credentials and money are faked, putting several lives in peril and resulting in deaths.

The Great One's council and sage population hurry to track down the sources of the trouble and right the multiple crises before anyone else falls prey to the events. Rare natives of the planet have important information to impart if the sages can decipher their cryptic message.

Holly Barbo's world is shaped by her love of her family, the beauty of the natural world in Northwest Washington State and an irrepressible creative drive.

Living where the scenery is incredible with a rich abundance of wildlife "is so special and soothing that it feels like a quiet kind of magic," according to Barbo. She is drawn to creating stories where there is just a bit of something unworldly, perhaps it is magic or psychic skills. Her stories are mostly in non-urban settings and usually have some focus on nature, building a discordant drama inside the peaceful frame.
Thanks to both the author and publisher, we've got one autographed copy of Divergent Paths up for grabs! To enter, all you have to do tell me:
If you were writing a book, what message would you want to weave into your story?
Please make sure your comment is meaningful! One-worded answers or just "thanks for the giveaway" will not be considered valid entries!!!
Rules and Disclosure:
Giveaway runs through 25 April 2013 at 11.59 pm (your time).
Open to internationally! Woohooo!
While I do select winners, I am in no way responsible for prizes, nor for shipping and handling.
Winners have 48 hours to claim their prize once they are chosen, or else their prizes will be forfeited.
As a reminder, you do
not
have to follow my blog to enter, although it is always very much appreciated ❤ Plus you get extra entries! ;)