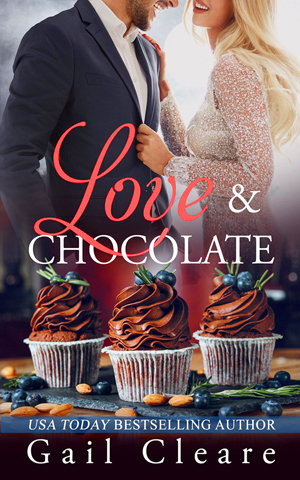 Love & Chocolate
Gail Cleare
from
Red Adept Publishing
When Sarah Westwood's deadbeat husband deserts her and their young son, she takes a job at her family's restaurant, The Three Chocolatiers, working with her famous chef grandfather and her pastry chef cousin, Paisley. Determined to never fall for the wrong guy again, Sarah vows to stick to chocolate and steer clear of men, especially her delicious ice-cream supplier, Blake Harrison. But when Paisley signs her up for a dating site, Sarah is soon engaging in a sexy online flirtation with a stranger.

Blake Harrison wants nothing more than for Sarah to give him a chance, but all she'll give him is the cold shoulder. Never one to run from a challenge, he works on becoming the kind of man Sarah can't refuse. And since he just happens to be on the same dating site, he's not above using a little cyber-intel to worm his way into her heart.

When Sarah's grandfather collapses just weeks before an upscale chocolate-themed wedding that could make or break the business, the staff of The Three Chocolatiers is sent into a tailspin. With the pressure rising on personal and professional fronts, Sarah might just have to let someone sweet melt her defenses. Includes four recipes from The Three Chocolatiers Cookbook.
The neighborhood was still quiet when Sarah woke up the next morning. She lay on her back and watched shadows move on the bedroom ceiling. Soft sunlight bounced off the green walls and cast a celery glow above her, contrast for the flickering silhouettes of sickles and stars. Crack and curve shifted with each shake of the wind that rustled through the huge maple tree outside the window.
Last night
, she thought, remembering.
Her impulse was to leap out of bed and run to the bathroom for her robe. She felt him lying next to her, a column of warmth along her side. His breath came and went with a quiet whistle, in the easy rhythm of sleep. Turning her head, she sniffed his scent mixed with the clean smell of her pillowcase.
Blake turned his head and sighed, his long legs stretching out beyond the foot of the bed as he rolled onto his back. She watched his profile. Strong, even features, with full lips that curved deliciously into a little smile.
He was such a happy person, even asleep. It was his nature. The optimism was contagious, tempting her to let down her guard. He'd been very sweet to Devon too. But the thought of her son brought a vague sense of discomfort, and her stomach clenched.
What was I thinking? How could I let this happen?
Sarah glanced at Blake again then carefully peeled back the sheet on her side of the bed. Swinging one bare leg over the side, she shifted her weight to stand up.
"Morning, Beautiful." His voice was deep and full of sleep. She felt it rumble in the quiet space, shaking her thoughts into a dialogue, putting her on the spot. She'd have to answer now. She'd have to turn around.
The palm of his hand ran across her naked back, making her shiver. Then his arm slipped around her waist and pulled her back into bed, up against him under the sheets. His body heat slid over her, and she melted into a loose curl. He snuggled his face into her shoulder and kissed the side of her neck.
"Blake, I don't want you to..."
He continued the kisses around her shoulder, turning her onto her back.
"...get the wrong idea..."
He leaned over to cover her with his body, looking down into her eyes.
"I mean," she said, staring into the color of summer leaves with the sun behind them, floating away from logic. "I don't really do this kind of thing, you know."
He smiled and bent his head and kissed her. Images from their lovemaking the night before flooded into her mind—smooth limbs entwined, breath whispering—as he took the kiss deeper, and she completely forgot what she'd been trying to say.
She'd get up and find her robe in a little while. They could talk over coffee. Plenty of time before Miki and Devon got home. Swirling into a flow of heat and sparks, with that peaceful green light shining through her translucent eyelids, Sarah let herself relax and receive.
Maybe it wasn't a mistake. Maybe she could trust him. Or maybe she was being stupid and had forgotten what she had to lose.
Giveaway!
Books à la Mode is giving away
one print copy of Love & Chocolate and a book magnet
—yay!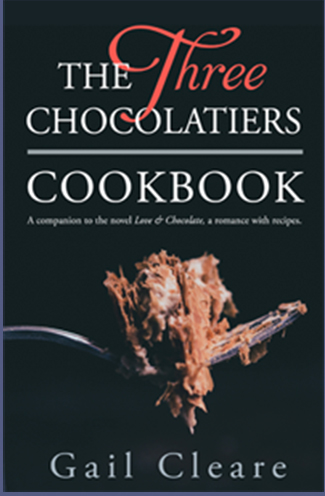 Additionally, don't forget to download The Three Chocolatiers Cookbook with 12 recipes from the book, available for free as a PDF at Gail's website!
To enter, all you have to do is tell me in the comments below:
My favorite chocolate for baking and making candy is Callebaut, a Belgian company that distributes in the US and all over the world. A local deli here sells it in big chunks cut off a massive block, and it comes it dark, milk and white. What's your favorite brand of baking chocolate? If you don't bake, how about your favorite snacking chocolate? Better have some handy when you read my book!
Please make your comment MEANINGFUL. Comments solely consisting of stock responses or irrelevant fluff like "Thanks for the giveaway!" will not be considered for entry. Gail and I really want to hear from you guys! :)

Don't forget the entry eligibility terms and conditions!
Sponsored wholly by the author—a huge thank you to the lovely Gail Cleare!
Giveaway ends October 12th at 11.59 PM (your time).
Open to US readers only—sorry, everyone else! Please check my sidebar for the list of currently running giveaways that are open worldwide. There are plenty to choose from!
Winners have 48 hours to claim their prize once they are chosen, or else their winnings will be forfeited.
Although I do randomly select winners, I am in no way responsible for prizes, nor for shipping and handling.
As a reminder, you do
not
have to follow my blog to enter, though it is always very much appreciated ❤