Today I'd like to welcome Meg Waite Clayton to the blog to celebrate the exciting release of Beautiful Exiles from Lake Union, an Amazon imprint!
Welcome to
Books à la Mode
, Meg! Let's get this interview started.
Will you please share a brief introduction with us?
I've written for the Los Angeles Times, The New York Times, The Washington Post, San Francisco Chronicle, Runner's World and public radio, often on the subject of the particular challenges women face.

I was born in Washington D.C., and have since lived in Kansas City, the Chicago area (norther suburbs), Los Angeles, Ann Arbor, Nashville, Baltimore, Nashville, and Palo Alto. I love to travel, so my books tend to be set in places I find fascinating: France (The Race for Paris), the English Lakes (The Wednesday Daughters), Ann Arbor and the Chesapeake (The Four Ms. Bradwells), Silicon Valley (The Wednesday Sisters), and the horse country of Maryland (The Language of Light).
It's amazing to get to feature you today! Readers, here's a bit about the book, which will hits shelves today:
From New York Times bestselling author Meg Waite Clayton comes a riveting novel based on one of the most volatile and intoxicating real-life love affairs of the twentieth century.

Key West, 1936. Headstrong, accomplished journalist Martha Gellhorn is confident with words but less so with men when she meets disheveled literary titan Ernest Hemingway in a dive bar. Their friendship—forged over writing, talk, and family dinners—flourishes into something undeniable in Madrid while they're covering the Spanish Civil War.

Martha reveres him. The very married Hemingway is taken with Martha—her beauty, her ambition, and her fearless spirit. And as Hemingway tells her, the most powerful love stories are always set against the fury of war. The risks are so much greater. They're made for each other.

With their romance unfolding as they travel the globe, Martha establishes herself as one of the world's foremost war correspondents, and Hemingway begins the novel that will win him the Nobel Prize for Literature. Beautiful Exiles is a stirring story of lovers and rivals, of the breathless attraction to power and fame, and of one woman—ahead of her time—claiming her own identity from the wreckage of love.
While this novel is a work of fiction, you wrote about one of the household names in world literature, Ernest Hemingway, and narrated through the eyes of his third wife Martha Gellhorn, a lifelong journalist, war correspondent, and author. What was your motivation and inspiration for writing about Martha, and what do you want readers to take away from her story?
Like every other poor high school English student in this country, I slogged through The Old Man and the Sea long before I'd ever heard of The Trouble I've Seen or A Stricken Field. But I came to this story through Martha Gellhorn: I read about how she became one of the only journalists to go ashore in the early moments of the Normandy invasion, and I was hooked.

The Reader's Digest condensed version of that story would go something like this: Denied an official opportunity to go across with the D-Day landing ships because she was female, Marty hid in the loo of the first hospital ship to cross the channel and went ashore with a stretcher crew to cover the landing in a brilliant article for Collier's. As reward for her bravery, she was taken into custody, stripped of her press credential, and confined to a nurses' training camp. But Marty, being Marty, hopped the fence and hitched a ride on a plane headed to Italy, where she continued do some of the best reporting to come out of the war even without her credential or any official support. Really, how can you not want to know more about how Marty became Marty?

So began an obsession for me. When I heard Caroline Moorehead's Martha Gellhorn: A Life, was to be published in October of 2003, I dug around to find a prepublication copy, which has long been underlined and dog-eared and loved to bits. I read her books, her articles, her letters. I visited places she'd been and tried to imagine being her, tried to learn everything I could. I discovered, among other things, that that first version of the D-Day story was a bit of an exaggeration: she didn't hop that fence—she rolled under it. I also discovered that she had been the lead correspondent for Collier's until a man snagged the position from her—and that man was her husband, Ernest Hemingway.

For me, a novel is a long part of my life, all-consuming often for years. I can't write a book "to order," and don't want to. As Marty writes in an August 1940 letter to Charles Scribner, in explanation for why she is turning down a contract to write a book for Scribner's, "I could not do a book (a book, Charlie, think of the high pile of bare white paper that you have in front of you before there is even the beginning of a book), unless I believed awfully hard in it. Unless I wanted to do it so much that I could sweat through the dissatisfaction and weariness and failure and all the rest you have to sweat through."

I've been mopping the sweat from this one for a long time. My hope for what began as one of those high piles of white paper is that it will introduce others to the truly extraordinary Martha Gellhorn.
Gellhorn came into her professional own during a time when women journalists weren't given the support or respect they deserved. That great story about her literally skirting a fence to get out of the nurses' compound where military officials had her staying since she was a female, not male, war reporter. How did Gellhorn's early work, her grit and determination, impact the future of journalism and reporting for women in the field?
Marty was not the first woman to cover war; as early as 1848, Margaret Fuller was covering an uprising in Italy for the New York Tribune, and when Martha set off for France in 1930, determined to become a foreign correspondent, Sigrid Schultz was in her fifth year as the Chicago Tribune's bureau chief in Berlin, where Dorothy Thompson would interview Hitler the following year.

But there is a bit of a pivot in the progress of women journalists that really comes in the days between D- Day in June of 1944 and the liberation of Paris later that summer. Before the liberation of Paris, women journalists were officially forbidden to cover the front. But starting with that moment Martha stows away in that hospital ship to cross the channel, women journalists begin to see that to cover the front they are going to have to go AWOL from support positions to get to the actual war, climb fences meant to contain them, and risk their lives. Despite being confronted with red tape and derision, denied accommodations provided to their male colleagues at press camps, pursued by military police, and even arrested and stripped of credentials, women like Martha—and others including Lee Carson, Helen Kirkpatrick, Iris Carpenter, Ruth Cowan, and Lee Miller—proved that women could report the war, and do a damned good job of it. They did such a good job that, beginning that fall, the powers that be began to accredit women journalists to the front—opening up the future for generations of women journalists.
On your website, you say: "If I had to pick a single word to describe what makes me a writer, it would be discipline." You portray Hemingway to have a similar sense of discipline, as he sits down for hours or even days at a time to get his ideas punched into his typewriter. Gellhorn, on the other hand, seems less regimented, writing much more freely in the thick of war-torn Spain or France than she does at home in Cuba. How do you think their approaches to writing speaks to differences in their character? Do you feel you identify with one of them more than the other, based on the method in which you write?
There is a very funny passage in a February 24, 1940 letter from Ernest to his publisher, Charles Scribner, in which Hemingway explains to Charlie—who, having gotten wind of the fact that Hemingway counts his words every day, worries his best writer is going batty. Ernest writes, "Don't worry about the words. I've been doing that since 1921. I always count them when I knock off and am drinking the first whiskey and soda. Guess I got in the habit writing dispatches." And in another, a September 3, 1930 letter to his editor, Max Perkins, he writes, "I have to stick to one thing when I'm writing a book and keep that in my head and nothing else."
I completely identify with him on this, although perhaps with a little less whiskey in the mix. Writing- habit-wise, I'm far more Hemingwayesque, right down to the word counting. When I am writing first draft, my rule is 2,000 words or 2:00. If I've written 2,000 words by 9 a.m., I can turn on the tellie and pull out the bon-bons. But actually, if I have 2,000 words by 9 a.m., Mac has to come haul me out of my chair for dinner, because that is a great writing day.
It did make me feel a little saner to read that Hemingway counted words, and weighed himself each morning, as I also do, although I would
never
display my weight on a wall. But hmmm… Perhaps it should leave me
more
worried about my sanity?
The novel's title, Beautiful Exiles, can be interpreted in a lot of different ways. What sentiment were you hoping to capture in this title?
I have to say choosing a title for a book, at least for me, is more feel than logic, so take what follows here with that in mind. The working title for this book was Mookie & Bug—two of the nicknames Marty and Ernest called each other—but my agent felt that title suggested a young adult novel, which this is decidedly not. But retitling a finished manuscript is a bit like renaming a fully-grown child just as she is submitting her college applications. I love the new title, but one part of me will always think of this novel as Mookie & Bug.

Trying to parse it logically, I suppose Marty was a bit of an exile on her own, exiled by the expectations that came with being from a prominent St. Louis family, and by her complicated relationship with her father. But the word also felt right because Marty and Ernest together are essentially exiled by his fame. When they are first falling in love, he is already famous enough that in the U.S. they would be hounded by photographers. How can you possibly sort out a relationship in that glare? They go to Cuba for the privacy it affords them to sort out whether they even really want a relationship.

The thing about Ernest and Marty's exile is that in many ways, for many years, it worked for them. They did have the privacy to sort out how they felt about each other outside the glare of the press, for the most part. And the place they created together—the Finca Vigía—is really beautiful. And then they were a beautiful couple, and beautiful writers. In the end and despite everything, I don't think either of them ever loved anyone more. Their relationship was stormy, but I think their best work—for both of them—came out of their years together. So "beautiful"—I liked the double meaning: they are beautiful exiles, and their exile together allowed them to write beautifully, the kind of writing that they both wanted more than anything else.
A lovely and fitting title indeed! Where can you be found on the web?
It was a pleasure to be able to get to know you better today, Meg! Thank you again for dropping by, and best of luck with future endeavors!
Giveaway!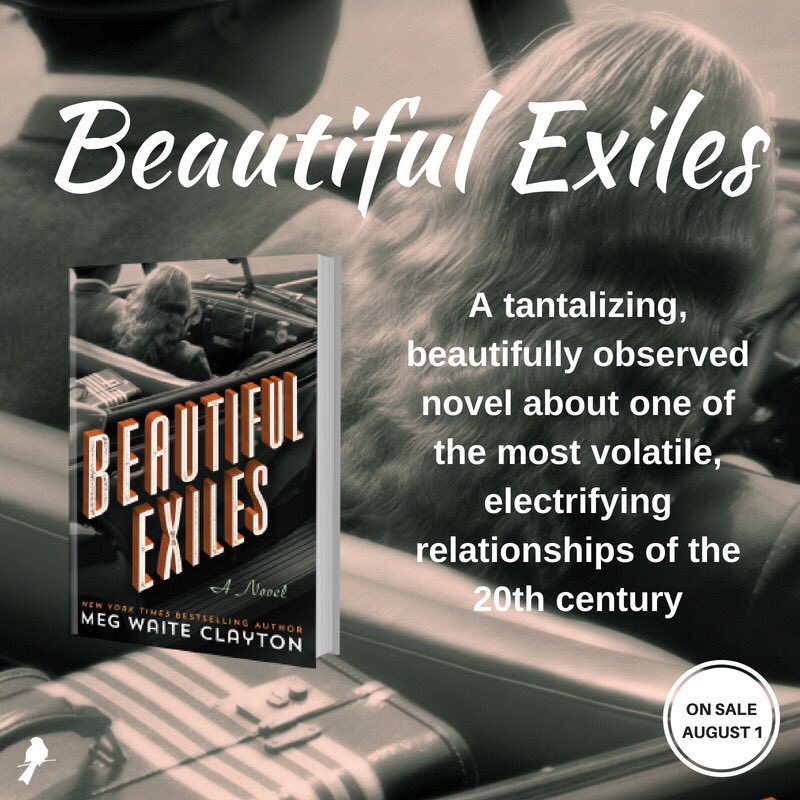 Books à la Mode is giving away
one print copy of Beautiful Exiles
—woohoo!
To enter, all you have to do is tell me:
Do you travel a lot? How has travel affected your life?
Please make your comment MEANINGFUL. Comments solely consisting of stock responses or irrelevant fluff like "Thanks for the giveaway!" will not be considered for entry. Meg and I really want to hear your thoughts! :)
I only really travel for leisure, and I wish I had time to do more of it. I envy those who get to travel for business, although I'm sure it does get exhausting! Traveling has definitely made me a cooler person, giving me exposure to new cultures and perspectives, as well as having entertaining stories to tell.
Don't forget the entry eligibility terms and conditions!
Sponsored wholly by the tour publicist—a huge thank you to the lovely folks over at Little Bird Publicity!
Giveaway ends August 15th at 11.59 PM (your time).
Open to continental US residents only
—sorry, everyone else! Please check my sidebar for a list of currently running giveaways that are open worldwide. There are plenty to choose from!
Void where prohibited.
Winners have 48 hours to claim their prize once they are chosen, or else their winnings will be forfeited.
Although I do randomly select winners, I am in no way responsible for prizes, nor for shipping and handling.
As a reminder, you do
not
have to follow my blog to enter, though it is always very much appreciated ❤