Torn (Whiskey Sharp #3)
Lauren Dane
from
HQN
//
Harlequin
Sometimes what you find isn't what you were searching for

Beau Petty has been searching his whole life. Searching for a place that fills all the empty spaces in him. Searching for a way to tame the restlessness. Searching for answers to the secret he's never stopped trying to solve. What he wasn't searching for was a woman to claim all of him, but when Cora Silvera walks back into his life, he's ready to search out all the ways he can make her his.

Cora has spent her life as the family nurturer, taking care of others. But now she's ready to pass that job on to someone else. It's time to make some changes and live for herself. It's in that moment that her former teenage crush reappears and the draw and the heat of their instant connection is like nothing either of them has experienced. He craves being around her. She accepts him, dark corners and all.

Beau thinks Cora's had enough drama in her life. He wants to protect her from the secrets of his past, even if it means holding back the last pieces of himself. But Cora is no pushover and she means to claim all those pieces.
"If there's no cake, how can it be heaven?" Rachel said it like a sacred prayer and Cora agreed utterly.
"I can't wait to hear all about your time in London but Wren said she wanted to hear it too and so not to visit too much without her." Maybe hooked her arm through Cora's. "I want to hear it now, so let's get going. I'm also hungry."
"You know how she gets when she's hungry," Alexsei said with a smirk at the corners of his mouth. Maybe rolled her eyes, but smiled as she did it, so Cora knew she wasn't offended.
And he was right because Maybe was lovely and sweet, but not when she was hungry.
They all headed out and down the sidewalk half a block to the doors leading to the small lobby where the residents of the lofts had their mailboxes and the elevator.
The scent of garlic and onions swirled around her senses as they got out on the right floor. Gregori and Wren's door was painted bright, shiny red and flew open before they were able to use the doorbell.
Wren, wearing a huge grin, rushed at Cora and hugged her tight. "Hi! Come have champagne and eat yummy food while you tell us all how the last three months were."
"I can do that. You look fantastic," Cora told her as they headed toward the kitchen area. "Marriage agrees with you."
Her friends had come back from an impromptu trip right before Cora had left for London only to announce they'd gotten married along the way. After several years of living together, it had been the right choice for their relationship.
"I look exactly the same except for the ring part and the way his mom gives me, and then my belly, a pointed look every time I see her," Wren said.
"Welcome to my world," Maybe said. "Irena has now taken to telling me about all the baby clothes she saw but didn't buy because she had no grandchildren to wear them. I tried to get her obsessing about Rachel's womb, but she's too wily."
"Mind your own womb. You've been with Alexsei longer than I've been with Vic. It's your time to shine, bitch," Rachel said with a laugh.
"I'm so messed up. I missed you all so much." Cora hugged each one tightly.
"You're the perfect kind of messed up," Rachel said, linking her arm through Cora's.
This was good. The best, happiest part of her life.
Her stomach growled as she sucked in the scents all around. "I need food."
"We've got that covered," Gregori called out to them. "Come, I'm pouring champagne."
"No need to call me twice when there's booze involved," Cora murmured to Rachel, who snickered.
Fairy lights and candles made the loft glow. Plus it was the perfect light and her skin would look way better than the jet lag currently responsible for dark circles under her eyes.
"It's all romantical in here and shit," Cora said, and then nearly swallowed all her spit when she caught sight of who was standing at the stove.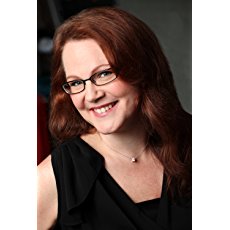 The story goes like this: While on pregnancy bed rest, Lauren Dane had plenty of down time so her husband took her comments about "giving that writing thing a serious go" to heart and brought home a secondhand laptop. She wrote her first book on it before it gave up the ghost. Even better, she sold that book and never looked back.

Today Lauren is a New York Times bestselling author of over fifty novels and novellas across several genres.
Giveaway!
Books à la Mode is giving away
a print copy of Whiskey Sharp: Torn
—yay!
To enter, all you have to do is tell me in the comments below:
What is one weird thing about you?
Please make your comment MEANINGFUL. Comments solely consisting of stock responses or irrelevant fluff like "Thanks for the giveaway!" will not be considered for entry. Lauren and I really want to hear from you guys! :)
I have really strange food preferences; most of my specific aversions are to foods that are typically well-liked (donuts, for instance). But I also REALLY love unpopular or "gross" foods as well (dill pickles, mushrooms, cilantro, etc.)
Don't forget the entry eligibility terms and conditions!
Sponsored wholly by the tour publicist and publisher—a huge thank you to TLC Book Tours and HQN Books!
Giveaway ends July 23rd at 11.59 PM (your time).
Open to US and Canada readers only—sorry, everyone else! Please check my sidebar for the list of currently running giveaways that are open worldwide. There are plenty to choose from!
Winners have 48 hours to claim their prize once they are chosen, or else their winnings will be forfeited.
Although I do randomly select winners, I am in no way responsible for prizes, nor for shipping and handling.
As a reminder, you do
not
have to follow my blog to enter, though it is always very much appreciated ❤