The Summer List
Amy Mason Doan
from
Graydon House
//
Harlequin
In the tradition of Judy Blume's Summer Sisters, The Summer List is a tender yet tantalizing novel about two friends, the summer night they fell apart, and the scavenger hunt that reunites them decades later—until the clues expose a breathtaking secret that just might shatter them once and for all.




Laura and Casey were once inseparable: as they floated on their backs in the sunlit lake, as they dreamed about the future under starry skies, and as they teamed up for the wild scavenger hunts in their small California lakeside town. Until one summer night, when a shocking betrayal sent Laura running through the pines, down the dock, and into a new life, leaving Casey and a first love in her wake.




But the past is impossible to escape, and now, after seventeen years away, Laura is pulled home and into a reunion with Casey she can't resist—one last scavenger hunt. With a twist: this time, the list of clues leads to the settings of their most cherished summer memories. From glistening Jade Cove to the vintage skating rink, each step they take becomes a bittersweet reminder of the friendship they once shared. But just as the game brings Laura and Casey back together, the clues unravel a stunning secret that threatens to tear them apart...




Mesmerizing and unforgettable, Amy Mason Doan's The Summer List is about losing and recapturing the person who understands you best—and the unbreakable bonds of girlhood.
June 1995
Summer before freshman year
The fourth day of summer started exactly like the first three.
A second of dread when I woke up, followed by a rush of relief when I remembered it was vacation. Then the quick, glorious tally—no school for seventy-four days. And finally the smell of vanilla floating down the hall. Yesterday it had been crumb cake, the day before it was muffins, so today was probably French toast. My favorite.
I got dressed fast, changing from my nightgown into my summer uniform: a big T-shirt and cargo shorts.
The last part of my routine was too important to be rushed. I transferred a small, silvery- gray object from under my pillow to the Ziploc I kept on my nightstand, made sure it was sealed to the last millimeter, then slipped it into my lower-right shorts pocket, the only one with a zipper. Where it always went.
Then I had the entire day free to explore the lake. French toast, and no Pauline Knowland or Suzanne Farina asking me what my bra size was up to in honeyed tones, or calling me Sister Christian just within earshot, and the whole day free. Bliss. It only lasted the length of the hallway.
"You'll bring that to the new neighbors after breakfast," my mother said when I entered the kitchen. She was scrambling eggs with a rubber spatula, and she paused to point it at a pound cake on the counter. "Good morning."
Chore assignment first, greeting second. This about summed up my mother. She went back to parting the sea of yellow in the pan.
So not only was the vanilla smell for some other family, I had an assignment. I examined the cake's golden surface. It was perfect, but curiously plain. No nuts, no chocolate chips, no blueberries. Not even drizzled with glaze, and it obviously wouldn't be. My mother always poured the cloudy liquid on when her cakes were still piping hot.
Next to the naked cake she'd set out a paper plate, Saran Wrap, a length of red ribbon, and one of her monogrammed notecards. A complete new-neighbor greeting kit, ready to go before 7:30 a.m. I read the card silently.
Welcome—Christies.
A stingy sort of note, nothing like the warm introduction she'd written when the Daytons moved in down the shore last year. That had included an invitation to church. Surely my mother could have spared a few more words for the new family, a the before our last name. They were right across the narrowest part of the lake from us. If they had binoculars, they could see how much salt we put on our eggs.
It seemed she'd already taken a dislike to the new people, and I set about learning why. "You're not coming with me to meet them?"
"They have a daughter your age, you need to offer to walk to school together the first day," she said, like this was written in stone somewhere.
Shoot me now. The last thing I needed was more complications at school. My plan was to lie low in September.
I watched the tip of my mother's white spatula make figure eights in the skillet. How could eggs be so nasty on their own when they played a clutch role in French toast? I'd take a tiny spoonful and distribute it artfully around my plate so it would look like more. As if she'd heard my thoughts, my mother mounded a triple lumberjack serving of scrambled eggs onto a plate and handed it to me.
I carried it to the breakfast nook and sat next to my dad, who was hidden behind his newspaper. I could only see his tuft of white hair. It was sticking up vertically, shot through with sun from the window. "Last one awake is the welcome wagon," he said. "New household rule."
He snapped a corner of the paper down and winked at me. "Morning."
I smiled. "Morning."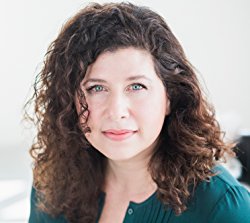 Amy Mason Doan earned a BA in English from UC Berkeley, an MA in journalism from Stanford University, and has written for The Oregonian, San Francisco Chronicle, and Forbes, among other publications.

She grew up in Danville, California, and now lives in Portland, Oregon, with her husband and daughter.

The Summer List is her first novel.
Giveaway!
Books à la Mode is giving away
a print copy of The Summer List
—yay!
To enter, all you have to do is tell me in the comments below:
What's on your summer 2018 bucket list?
Please make your comment MEANINGFUL. Comments solely consisting of stock responses or irrelevant fluff like "Thanks for the giveaway!" will not be considered for entry. Amy and I really want to hear from you guys! :)
I'd love to attend the California State Fair! Despite having lived here for 5 years, I still haven't gone before.
Don't forget the entry eligibility terms and conditions!
Sponsored wholly by the tour publicist and publisher—a huge thank you to TLC Book Tours and Graydon House!
Giveaway ends July 21st at 11.59 PM (your time).
Open to US and Canada readers only—sorry, everyone else! Please check my sidebar for the list of currently running giveaways that are open worldwide. There are plenty to choose from!
Winners have 48 hours to claim their prize once they are chosen, or else their winnings will be forfeited.
Although I do randomly select winners, I am in no way responsible for prizes, nor for shipping and handling.
As a reminder, you do
not
have to follow my blog to enter, though it is always very much appreciated ❤