A Place for Us
Fatima Farheen Mirza
from
SJP
for
Hogarth
//
Penguin Random House
The first novel from Sarah Jessica Parker's new imprint, SJP for Hogarth, A Place for Us is a deeply moving and resonant story of love, identity and belonging

As an Indian wedding gathers a family back together, parents Rafiq and Layla must reckon with the choices their children have made.

There is Hadia: their headstrong, eldest daughter, whose marriage is a match of love and not tradition. Huda, the middle child, determined to follow in her sister's footsteps. And lastly, their estranged son, Amar, who returns to the family fold for the first time in three years to take his place as brother of the bride.

What secrets and betrayals have caused this close-knit family to fracture? Can Amar find his way back to the people who know and love him best?

A Place for Us takes us back to the beginning of this family's life: from the bonds that bring them together, to the differences that pull them apart. All the joy and struggle of family life is here, from Rafiq and Layla's own arrival in America from India, to the years in which their children—each in their own way—tread between two cultures, seeking to find their place in the world, as well as a path home.

A Place for Us is a book for our times: an astonishingly tender-hearted novel of identity and belonging, and a resonant portrait of what it means to be an American family today. It announces Fatima Farheen Mirza as a major new literary talent.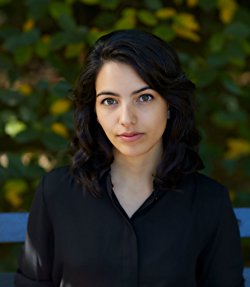 Fatima Farheen Mirza was born in 1991 and raised in California. She is a graduate of the Iowa Writers' Workshop and a recipient of the Michener-Copernicus Fellowship.


A Place for Us is her debut novel.
Giveaway!

Books à la Mode is giving away
a print copy of A Place for Us
—yay!
To enter, all you have to do is tell me in the comments below:
What is your least favorite emotion?
Please make your comment MEANINGFUL. Comments solely consisting of stock responses or irrelevant fluff like "Thanks for the giveaway!" will not be considered for entry. Fatima and I really want to hear from you guys! :)
I hate being angry; whenever I feel deep rage, I feel like I have no control over myself. I like to avoid situations that make me angry, and a lot of it is just maintaining the mindset that most things that conjure those negative thoughts and emotions are usually trivial and not worth the stress. I would take sadness, boredom, disgust, etc. over anger any day.
Don't forget the entry eligibility terms and conditions!
Sponsored wholly by the tour publicist and publisher—a huge thank you to TLC Book Tours and SJP for Hogarth!
Giveaway ends July 27th at 11.59 PM (your time).
Open to US readers only—sorry, everyone else! Please check my sidebar for the list of currently running giveaways that are open worldwide. There are plenty to choose from!
Winners have 48 hours to claim their prize once they are chosen, or else their winnings will be forfeited.
Although I do randomly select winners, I am in no way responsible for prizes, nor for shipping and handling.
As a reminder, you do
not
have to follow my blog to enter, though it is always very much appreciated ❤