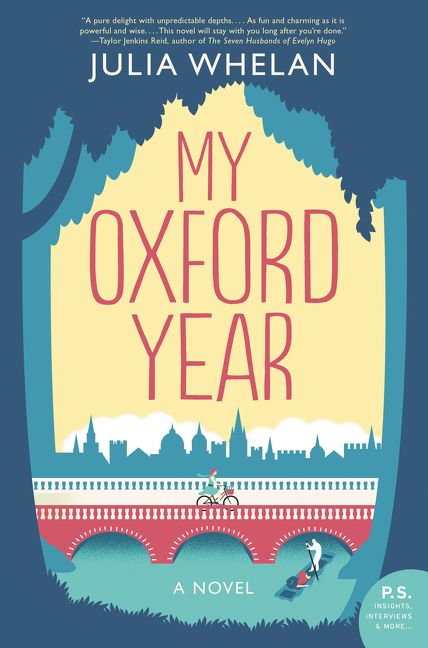 My Oxford Year
Julia Whelan
from
William Morrow
//
HarperCollins
Set amidst the breathtaking beauty of Oxford, this sparkling debut novel tells the unforgettable story about a determined young woman eager to make her mark in the world and the handsome man who introduces her to an incredible love that will irrevocably alter her future—perfect for fans of JoJo Moyes and Nicholas Sparks.

American Ella Durran has had the same plan for her life since she was thirteen: Study at Oxford. At 24, she's finally made it to England on a Rhodes Scholarship when she's offered an unbelievable position in a rising political star's presidential campaign. With the promise that she'll work remotely and return to DC at the end of her Oxford year, she's free to enjoy her Once in a Lifetime Experience. That is, until a smart-mouthed local who is too quick with his tongue and his car ruins her shirt and her first day.

When Ella discovers that her English literature course will be taught by none other than that same local, Jamie Davenport, she thinks for the first time that Oxford might not be all she's envisioned. But a late-night drink reveals a connection she wasn't anticipating finding and what begins as a casual fling soon develops into something much more when Ella learns Jamie has a life-changing secret.

Immediately, Ella is faced with a seemingly impossible decision: turn her back on the man she's falling in love with to follow her political dreams or be there for him during a trial neither are truly prepared for. As the end of her year in Oxford rapidly approaches, Ella must decide if the dreams she's always wanted are the same ones she's now yearning for.
I wake up in a moment of panic when the bus I'd boarded back at Heathrow jerks to a stop, sending the book on my lap to the floor. Hastily retrieving it, I force my sleepy eyes to take in the view from the floor-to-ceiling window in front of me. I chose the seat on the upper level at the very front, wanting to devour every bit of English countryside on the way to Oxford. Then I slept through it.
Pushing through the fog in my head, I peer outside. A dingy bus stop in front of a generic cell phone store. I look for a street sign, trying to get my bearings. My info packet from the college said to get off at the Queens Lane stop on High Street. This can't be it. I glance behind me and no one on the bus is moving to get off, so I settle back into my seat.
The bus starts up again, and I breathe deeply, trying to wake up. I jam the book into my backpack. I'd wanted to finish it before my first class tomorrow, but I can't focus. I was too excited to eat or sleep on the plane. My empty stomach and all-nighter is catching up to me. The time difference is catching up to me. The last twelve years spent striving for this moment is catching up to me. Inside my jacket pocket, my phone vibrates. I pull it out and see the same number from earlier. I take a deep breath and preemptively answer, "Gavin, listen, I was thinking, let's do a trial period of, say, a month, and if you feel that I need to be there—"
"Not necessary."
My throat tightens. "Please, just give me thirty days to prove that—"
"It's fine. I made it work. Just remember who comes first."
Elation breaks through the fog. My fist clenches in victory and my smile reaches all the way to my temples. "Absolutely," I say in my most professional voice. "Thank you so much for this opportunity. You won't be disappointed."
"I know that. That's why I hired you. What's your fee? FYI: there's no money."
There's never any money. I tell him my fee anyway and we settle on something that I can live with. The Rhodes is paying my tuition and lodging and I get a small stipend for living expenses on top of that. I decide right then that what Gavin's going to pay me will go directly into my travel budget.
"Now, go," he says, "Have fun. You've clearly earned it. There's a pub you should visit in the center of town. The Turf. See where one of your fellow Rhodes Scholars—a young William Jefferson Clinton— 'didn't' inhale."
"Ha, got it. Will do."
"Just take your phone with you. Your phone is an appendage, not an accessory. Okay?"
I nod even though he can't see me. "Okay. It's a plan." Just as I say this, the bus rounds a bend and there she is:
Oxford.
Beyond a picturesque bridge, the narrow two-lane road continues into a bustling main street, lined on each side by buildings with a hodge-podge of architectural styles, no room to breathe between them. Like the crowd at the finish line of a marathon, these buildings cheer me on, welcoming me to their city. Some are topped with sloped, slate roofs, others with battlements. Some of the larger buildings have huge wooden gates that look as if they were carved in place, a fusion of timeless wood and stone that steals my breath. Maybe those doors lead to some of the 38 individual Oxford colleges? Imagining it, dreaming of it all these years, doesn't do it justice.
I look skyward. Punctuating the horizon are the tips of other ancient buildings, high-points of stone bordering the city like beacons.
"The City of Dreaming Spires," I murmur to myself.
"Indeed it is," Gavin says in my ear. I'd forgotten he was still on the line.
That's what they call Oxford. A title well deserved. Because that means, before it was my dream or
Seventeen
Magazine girl's dream, it was someone else's dream as well.
Giveaway!
Books à la Mode is giving away
one print copy of My Oxford Year
—yay!
To enter, all you have to do is tell me in the comments below:
If you could study abroad in any city or at a specific school, where would you choose?
Please make your comment MEANINGFUL. Comments solely consisting of stock responses or irrelevant fluff like "Thanks for the giveaway!" will not be considered for entry. Julia and I really want to hear from you guys! :)
Clichéd (and obvious for me), but Paris!

Don't forget the entry eligibility terms and conditions!
Sponsored wholly by the publisher—a huge thank you to the lovely folks at HarperCollins!
Giveaway ends May 14th at 11.59 PM (your time).
Open to US and Canada readers only—sorry, everyone else! Please check my sidebar for the list of currently running giveaways that are open worldwide. There are plenty to choose from!
Winners have 48 hours to claim their prize once they are chosen, or else their winnings will be forfeited.
Although I do randomly select winners, I am in no way responsible for prizes, nor for shipping and handling.
As a reminder, you do
not
have to follow my blog to enter, though it is always very much appreciated ❤