We Own the Sky
Luke Allnutt
from
Park Row
//
Harlequin
A triumphant story about love, loss and finding hope—against all odds

"We looked down at the cliff jutting into the sea, a rubber boat full of kids going under the arch, and then you started running and jumping through the grass, dodging the rabbit holes, shouting at the top of your voice, so I started chasing you, trying to catch you, and we were laughing so hard as we ran and ran, kicking up rainbow showers in the leaves."

Rob Coates feels like he's won the lottery of life. There is Anna, his incredible wife, their London town house and, most precious of all, Jack, their son, who makes every day an extraordinary adventure. But when a devastating illness befalls his family, Rob's world begins to unravel. Suddenly finding himself alone, Rob seeks solace in photographing the skyscrapers and clifftops he and his son Jack used to visit. And just when it seems that all hope is lost, Rob embarks on the most unforgettable of journeys to find his way back to life, and forgiveness.

We Own the Sky is a tender, heartrending, but ultimately life-affirming novel that will resonate deeply with anyone who has suffered loss or experienced great love. With stunning eloquence and acumen, Luke Allnutt has penned a soaring debut and a true testament to the power of love, showing how even the most thoroughly broken heart can learn to beat again.
It was a bustling Thursday night. The streets were packed with commuters in suits, and you could hear the buzz of the work week coming to an end. I got to the pub before Anna and stood in the crowd of people waiting for a drink.
I saw her walk in. Even though we had lived in London for nine months, I had never seen her on her territory and it made me fall in love with her all over again: the cautious way she approached the bar; the calculations I knew she was making about the best place to stand; the way she fiddled with her new work glasses, which she said made her look like a secretary in a porno movie.
"Hello," I said, and she turned around and smiled. For a moment, I thought she was going to hug me, but she just stared, intently, blinking as if the light was hurting her eyes.
"I owe you an apology," she said.
"Why?"
"Because sometimes I wasn't that supportive, of your idea, your software, and I'm sorry."
"That's not true, Anna, and you've essentially funded the whole thing by paying the rent..."
"Yes, but that's not what I mean. It's a horrible thing to say, but I think I doubted you. I'm very sorry. I feel very ashamed about it."
She swallowed, and suddenly looked very sheepish. "It's okay, Anna," I said, putting my arm around her waist. "I understand that sometimes it's difficult to recognize genius."
She poked me in the ribs and removed my arm from around her waist. "Don't get cocky. Wait, what on earth am I saying? You're the cockiest man I've ever met."
"Harsh. Shall we get drinks?"
Anna looked wistfully toward the bar. "I'm trying, although my plan of attack isn't working."
Suddenly, she turned to me and awkwardly kissed me on the cheek. It was chaste, like the kiss you would give an elderly aunt, but for Anna a rare display of public affection. "I prom-ised myself I won't cry," she said, "and I keep my promises, but I wanted to say how proud I am of you. Really, Rob. You've worked so hard, and you deserve all your success."
I was just about to say something when I saw Anna tighten the strap on her laptop bag. She nodded toward the bar. "Let's go," she said. "We have an opening."
"Did you tell your dad?" Anna asked, after we had found a table and I had gone over everything that had happened at the meeting.
"Over the moon, son. That's footballer's wages, that is," I said, mimicking my dad's East London vowels. "No, he was really pleased. You know how sentimental he gets."
I could tell Dad was trying not to cry when I told him. He was still at the taxi stand, waiting for a call out. "Fuck me, son," he kept saying. "Fuck me."
When he had caught his breath, he told me how proud he was. "I still can't believe it," he said. "First Cambridge and now this. Taxi driver and a cleaner—no idea where you got it from, son."
Anna took a notebook out of her bag. "I am very pleased of course, but I do have some questions."
"Uh-oh. You've made a list, haven't you?"
"Of course I have." Anna flipped a page and I could see a numbered list in her improbably neat handwriting.
"Oh my God, you really did."
She blushed a little. "It's a big opportunity for you, Rob. I'm not going to let you waste it."
"It's a big opportunity for us."
Anna fiddled with the salt shaker and took another sip of her drink. "Seriously, can we go down my list? I'm getting nervous now."
"We should order some champagne first."
Anna slowly and demonstrably shook her head.
"What, really? C'mon, let's celebrate."
"I'm not being a killjoy, Rob. It's just that we'll pay the absolute earth here."
"Jesus, Anna. I just made one-and-a-half-million pounds."
"I know and that's good," she said, hushing her voice in case anyone was listening. "It also brings me onto my first question."
"You're so sexy in your new glasses," I said, raising an eyebrow.
"Thank you. That's very kind of you. But Rob. Please." She wiped some dust off the page. "So will they pay you a salary?"
"What?"
"On top of the money, will they pay you a salary?"
I thought back to the meeting. It was all a bit of a blur, but they did say something about a salary. "They will actually. They want me to run the company for them."
Anna beamed. "Oh, I'm so glad."
"Wait, you're happier about that than what they paid for the software?"
"Yes, I am in a way. You'll think me strange, but yes, the regular income does mean more to me."
"Wait, what?"
Anna suddenly looked very solemn, her client face. "Really, it does. Look, the windfall is great, but it's just a pot that will keep getting smaller.
Whereas your regular income is a pot that, over time, keeps getting bigger."
"That makes sense I suppose."
"One of the many benefits of having an accountant as a girlfriend," Anna said, smiling and turning the page of her notebook. "Now, can I get through the rest of my list?"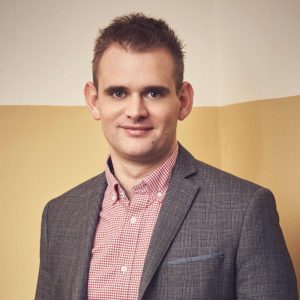 Originally from the UK, I've lived and worked in Prague since 1998.

I work as an editor at Radio Free Europe/Radio Liberty and have written for various publications about technology and Eastern European politics.

I wrote about my father's death from a brain tumor in Unspoken, a Kindle Single for Amazon. My debut novel, We Own The Sky, was published in the UK by Trapeze (Orion) in January 2018 and will release in the US from Park Row (Harlequin) in April.
Giveaway!

Books à la Mode is giving away
a print copy of We Own the Sky
—yay!
To enter, all you have to do is tell me in the comments below:
What's something that never fails to break your heart?
Please make your comment MEANINGFUL. Comments solely consisting of stock responses or irrelevant fluff like "Thanks for the giveaway!" will not be considered for entry. Luke and I really want to hear from you guys! :)
Anything that has to do with harm coming to dogs (like a dog dying in a movie) or orphans. They never fail to evoke an automatic tear jerk response.
Don't forget the entry eligibility terms and conditions!
Sponsored wholly by the tour publicist and publisher—a huge thank you to TLC Book Tours and Harlequin!
Giveaway ends April 9th at 11.59 PM (your time).
Open to US and Canada readers only—sorry, everyone else! Please check my sidebar for the list of currently running giveaways that are open worldwide. There are plenty to choose from!
Winners have 48 hours to claim their prize once they are chosen, or else their winnings will be forfeited.
Although I do randomly select winners, I am in no way responsible for prizes, nor for shipping and handling.
As a reminder, you do
not
have to follow my blog to enter, though it is always very much appreciated ❤