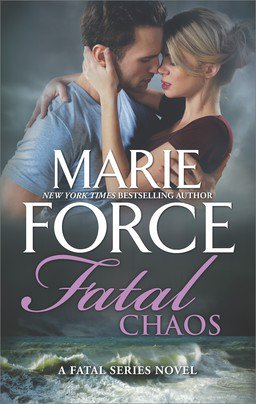 Fatal Chaos (Fatal #12)
Marie Force
from
HQN
//
Harlequin
First the calm. Then the storm...

Escaping DC during the dog days of summer is one of the smartest moves Washington metro police lieutenant Samantha Holland ever made. Beach walks aren't quite as romantic with the Secret Service in tow, but Sam and her husband, Vice President Nick Cappuano, cherish the chance to recharge and reconnect—especially with a scandal swirling around the administration.

No sooner are they back home than a fatal drive-by shooting sets the city on edge. The teenage victim is barely older than Sam and Nick's son, Scotty. As more deaths follow, Sam and her team play beat the clock to stop the ruthless killers. With Nick facing his greatest challenge—one that could drastically change all their lives and even end Sam's career—will the mounting pressure deepen or damage their bond?
He put his arms around Sam and kissed the top of her head, his body relaxing in stages as the agents conferred and planned for a simple walk on the beach. Except nothing was ever simple. Not anymore. Well, that wasn't entirely true. When it was just the two of them, alone together, it was still as simple as it had ever been, even as the world went mad around them. As they did when the madness swirled, they closed ranks, spent as much time alone as they possibly could and weathered the storm the best way they knew how, by keeping their heads down, their mouths shut and their arms wrapped around each other.
The press was desperate for interviews from either, or preferably both, but other than a perfunctory statement issued from Nick's office after Christopher Nelson's arrest, they hadn't said a word about the controversy swirling around the president and his son or how it affected them. Nor had they offered any speculation on what it could mean for them if Nelson was forced to resign.
They were taking it one day, one hour, one minute at a time.
It had done them good to get out of Washington for this beach getaway with their extended family. Sam had spent weeks coordinating with the Secret Service to make it happen. Planning the vacation had been a huge undertaking that included finding a beachfront property big enough for all of them that met security requirements, clearing Nick's schedule, taking vacation from her job as the Metro Police Department's Homicide lieutenant and ensuring her paralyzed father would be able to join them for a visit. But the hassle had been so worth it.
In the three days they'd been here, Nick had been more relaxed than he'd been in weeks. Not to mention, he was actually sleeping rather than being tortured by the insomnia that plagued him, particularly during stressful times. Sam was determined to ensure he continued to relax and didn't think too far into the future about what might happen when they returned to town the day before Labor Day.
"If you're ready, Mr. Vice President," Brant said a few minutes later.
Neither Sam nor Nick commented that they'd been "ready" fifteen minutes ago.
Nick kept an arm around her as they followed the detail down the stairs to the boardwalk that led to Dewey Beach on the Delaware coast. They'd garnered quite a bit of attention from people on the beach, but for the most part, they'd been left alone to enjoy their vacation. If by "left alone" you could overlook the Secret Service agents and the media that were camped nearby, hoping for a glimpse of the second family—or perhaps an exclusive, which wasn't going to happen.
As they walked toward the water's edge, Sam made a conscious effort to forget the agents trailing close behind them so she could focus exclusively on her husband.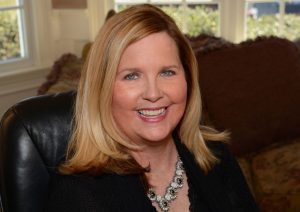 Marie Force is the New York Times bestselling author of contemporary romance, including the indie-published Gansett Island Series and the Fatal Series from Harlequin Books. In addition, she is the author of the Butler, Vermont Series, the Green Mountain Series and the erotic romance Quantum Series. In 2019, her new historical Gilded series from Kensington Books will debut with Duchess by Deception.

All together, her books have sold 6.5 million copies worldwide, have been translated into more than a dozen languages and have appeared on the New York Times bestseller list many times. She is also a USA Today and Wall Street Journal bestseller, a Speigel bestseller in Germany, a frequent speaker and publishing workshop presenter as well as a publisher through her Jack's House Publishing romance imprint. She is a two-time nominee for the Romance Writers of America's RITA® award for romance fiction.

Her goals in life are simple—to finish raising two happy, healthy, productive young adults, to keep writing books for as long as she possibly can, and to never be on a flight that makes the news.
Giveaway!

Books à la Mode is giving away
a print copy of Fatal Chaos
—yay!
To enter, all you have to do is tell me in the comments below:
What is your dream car?
Please make your comment MEANINGFUL. Comments solely consisting of stock responses or irrelevant fluff like "Thanks for the giveaway!" will not be considered for entry. Marie and I really want to hear from you guys! :)
Not at all practical, but I love Range Rovers!
Don't forget the entry eligibility terms and conditions!
Sponsored wholly by the tour publicist and publisher—a huge thank you to TLC Book Tours and Harlequin!
Giveaway ends March 30th at 11.59 PM (your time).
Open to US readers only—sorry, everyone else! Please check my sidebar for the list of currently running giveaways that are open worldwide. There are plenty to choose from!
Winners have 48 hours to claim their prize once they are chosen, or else their winnings will be forfeited.
Although I do randomly select winners, I am in no way responsible for prizes, nor for shipping and handling.
As a reminder, you do
not
have to follow my blog to enter, though it is always very much appreciated ❤