Steal Away Home
Billy Coffey
from
Thomas Nelson
//
HarperCollins
Owen Cross grew up with two loves: one a game, the other a girl. One of his loves ruined him. Now he's counting on the other to save him.

Owen Cross's father is a hard man, proud in his brokenness, who wants nothing more than for Owen to succeed where he failed. With his innate talents and his father's firm hand guiding him, Owen goes to college with dreams of the major leagues—and an emptiness full of a girl named Micky Dullahan.

Owen loved Micky from the first time they met on the hill between their two worlds: his middle-class home and her troubled Shantytown. Years later he leaves her for the dugouts and the autographs, but their days together follow him. When he finally returns home, he discovers that even peace comes at a cost. And that the hardest things to say are to the ones we love the most.

From bestselling author Billy Coffey comes a haunting story of small-town love, blinding ambition, and the risk of giving it all for one last chance.
Things You Need to Know Before Reading Steal Away Home
I was quite the baseball player back in the day and had a (somewhat) clear path from a small town in Virginia to at least a college campus, maybe even the majors. That all ended in May of 1990 with a shoulder injury. Instead of graduating high school to play in Yankee Stadium, I worked at a gas station.
The above is a condition known to me as a case of the Coulda's. As in, I coulda been a professional baseball player. It is a prevalent condition affecting most everyone I know, including, most likely, yourself. Fill in your own blank: I coulda ______. See what I mean?
Science has shown that the velocity of a major league fastball exceeds the ability of the human body to react. Technically speaking, then, it is humanly impossible for a round bat to meet a round ball traveling at more than ninety-five miles per hour. Yet you'll see otherwise on a routine basis at your nearest professional ballpark. It's enough to prove that the game is baseball is nothing more than an unending string of small miracles.
Speaking of miracles, they are real. Don't listen to anyone who tells you different. Some people are cursed with only enough faith to see what's in front of them. Be otherwise.
You never get over your first love until you meet your true love.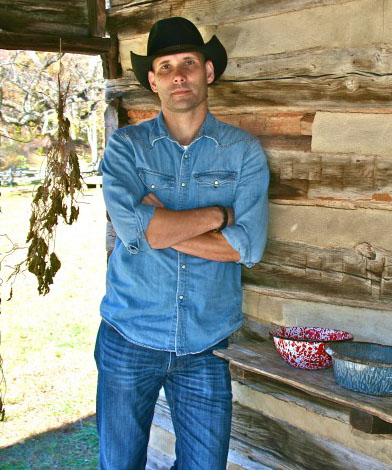 Billy Coffey's critically acclaimed books combine rural Southern charm with a vision far beyond the ordinary. He is a regular contributor to several publications, where he writes about faith and life.

Billy lives with his wife and two children in Virginia's Blue Ridge Mountains.
Giveaway!
Books à la Mode is giving away
a print copy of Steal Away Home
—yay!!
To enter, all you have to do is tell me in the comments below:
What was your first love? Whether a person, pet, activity, event, place, etc... please share!
Please make your comment MEANINGFUL. Comments solely consisting of stock responses or irrelevant fluff like "Thanks for the giveaway!" will not be considered for entry. Billy and I really want to hear from you guys! :)
I would probably say the beach; I loved it as a kid and couldn't get enough. Weirdly enough, I am now no longer a beach person LOL!
Don't forget the entry eligibility terms and conditions!
Sponsored wholly by the tour publicist and publisher—a huge thank you to the lovely folks at TLC Book Tours and Thomas Nelson!
Giveaway ends March 6th at 11.59 PM (your time).
Open to US residents only. Sorry, everyone else! Please check my sidebar for a list of currently running giveaways that are open worldwide. There are plenty to choose from!
Winners have 48 hours to claim their prize once they are chosen, or else their winnings will be forfeited.
Although I do randomly select winners, I am in no way responsible for prizes, nor for shipping and handling.
As a reminder, you do
not
have to follow my blog to enter, though it is always very much appreciated ❤