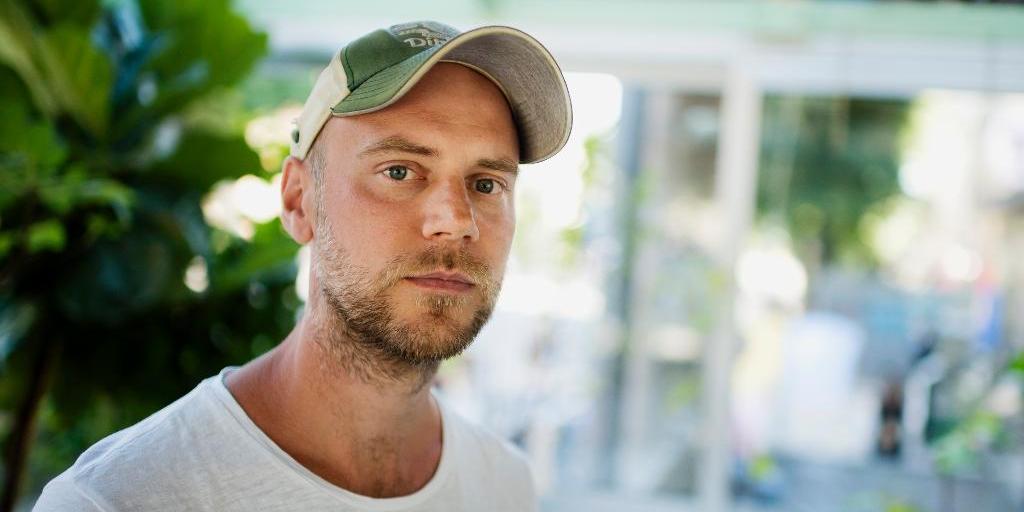 I'd like to welcome Tom Malmquist to the blog today to celebrate the exciting release of In Every Moment We Are Still Alive from Melville House!
Welcome to
Books à la Mode
, Tom! Let's get this interview started.
Will you please share a brief introduction with us?
Tom Malmquist is a poet and sportswriter. He has written two highly acclaimed poetry collections. In Every Moment We Are Still Alive is his first novel. He lives in Sweden.
It's amazing to get to feature you today! Readers, here's a bit about the book, which hit shelves earlier this month:
When Tom's heavily pregnant girlfriend Karin is rushed to the hospital, doctors are able to save the baby. But they are helpless to save Karin from what turns out to be acute Leukemia. And in a cruel, fleeting moment Tom gains a daughter but loses his soul mate.

In Every Moment We Are Still Alive is the story of the year that changes everything, as Tom must reconcile the fury and pain of loss with the overwhelming responsibility of raising his daughter, Livia, alone.

By turns tragic and redemptive, meditative and breathless, achingly poignant and darkly funny, this autobiographical novel has been described as "hypnotic," "impossible to resist" and "one of the most powerful books about grief ever written."
What was the inspiration for the plot of your book?
The book is completely inspired by my life, or at least my perspective of my life. Everything in the book is true in how I experienced it. But if you asked my mother, her perspective would be different. That's why I call this fiction.

I wanted to create a piece of art. I wanted to write a book that was good in its own right. The details in it are aesthetic choices I made while writing. Psychologically speaking, the details were important to me at the hospital and when I came home from the hospital; they became like linchpins, the things that kept me together, incorporated them into the book. But all the details were also representations of life and its diversity—they became the opposite of death, death as in complete emptiness.
Was there a section of your book that was particularly difficult to write?
Every time I broke down when faced with a scene, I knew it was right. In that way the book was easy to write. But to constantly break down was physically taxing. I sweated, even had muscle cramps in my stomach. But while I was writing I was keeping Karin and my father alive. The hardest part was probably to hand over the manuscript to my publisher. It was like losing Karin and my father all over. The parts at the end of the book, where I write to Karin, were tough. It isn't til then that my feelings and what I am thinking are expressed. It was my private goodbye to Karin.
The book is raw and direct, not describing emotions at all. What do you hope a reader will discover within the narrative that otherwise might have been masked by being obvious about the your internal struggle?
Each part of the book represents one of the five senses. For example, in the first part that takes place at the hospital, I'm carrying comfort blankets between Karin and Livia. At that time they were a thousand or so meters away from each other at the same hospital. Livia in an incubator; Karin hooked up to the life-support machines. The blanket with Livia's scent was put next to Karin, and vice versa. It was my way of sustaining the contact between mother and daughter. So that they'd be able to breathe each other's scent.

The important part here, literary-wise, aesthetics-wise, is that the five senses represent the body. In my sorrow Karin's body was what no longer existed. It was cremated. I could never hug her again or experience her with my five senses at all. I hope a reader can understand the how much of my pain came from being deprived of the sensory experience of her.
How has your life changed since your book was published?
I don't know. But I have changed. I lost my partner of ten years, became a father for the first time, lost my father, and wrote a book about it. And now I'm talking about it in various stages. Of course it has changed me.

I think the book helped me to see what had happened. It made it easier. I could accept my new life as a widower and father to Livia.
Tell us about your current work in progress.
It's a book about a murder in my hometown of Huddinge. It's going to be a true crime novel, but with a poet's touch. I don't want to say anything more than that now; I might promise something I can't keep.
Where can you be found on the web?
It was a pleasure to be able to get to know you better today, Tom! Thank you again for dropping by, and best of luck with future endeavors!
Giveaway!
Books à la Mode is giving away
one print copy of In Every Moment We Are Still Alive
—
woohoo!
To enter, all you have to do is tell me in the comments below:
What is an event in your life that another person would see very differently from how you did?
Please make your comment MEANINGFUL. Comments solely consisting of stock responses or irrelevant fluff like "Thanks for the giveaway!" will not be considered for entry. Tom and I really want to hear your thoughts! :)
Don't forget the entry eligibility terms and conditions!
Sponsored wholly by the tour publicist and publisher—a huge thank you to the lovely folks over at TLC Book Tours and Melville House!
Giveaway ends March 11th at 11.59 PM (your time).
Open to US residents only. Sorry, everyone else! Please check my sidebar on the right for a list of currently running giveaways that are open worldwide—there are plenty to choose from!
Void where prohibited.
Winners have 48 hours to claim their prize once they are chosen, or else their winnings will be forfeited.
Although I do randomly select winners, I am in no way responsible for prizes, nor for shipping and handling.
As a reminder, you do
not
have to follow my blog to enter, though it is always very much appreciated ❤