The Lucky Ones
Tiffany Reisz
from
MIRA
//
Harlequin
They were seven children either orphaned or abandoned by their parents and chosen by legendary philanthropist and brain surgeon Dr. Vincent Capello to live in The Dragon, his almost magical beach house on the Oregon Coast. Allison was the youngest of the lucky ones living an idyllic life with her newfound family... until the night she almost died, and was then whisked away from the house and her adopted family forever.

Now, thirteen years later, Allison receives a letter from Roland, Dr. Capello's oldest son, warning her that their father is ill and in his final days. Allison determines she must go home again and confront the ghosts of her past. She's determined to find out what really happened that fateful night—was it an accident or, as she's always suspected, did one of her beloved family members try to kill her?

But digging into the past can reveal horrific truths, and when Allison pieces together the story of her life, she'll learns the terrible secret at the heart of the family she once loved but never really knew.
It wasn't until the wheels touched down at Portland International Airport that Allison realized she had never really believed she would go back. For two days, she'd been running on adrenaline, powered by the need to keep thoughts of the breakup at bay. Yet once she was in Oregon, the frenzy of energy disappeared and it took everything she had to disembark and collect her luggage. When the lady at the rental car counter asked her what brought her to Portland, Allison had been too dazed to think of a decent answer.
"I have no idea," she said, and the lady looked at her with a mix of confusion and sympathy. She didn't ask Allison any more friendly, prying questions after that.
The city was as green as she remembered and the rivers that bisected Portland still as blue. She took the highway to an exit that read Ocean Beaches and wondered how anyone managed to drive past that sign without immediately turning onto it and heading straight for the ocean. Very quickly the shining city faded behind her and lonely farms and hilly pastures popped up along the road. But soon enough those were gone, too, replaced first by patches of trees and then by full forests with branches so verdant and thick they formed an archway over the road, like soldiers forming an honor guard.
As she neared the coast, the clouds grew heavier, denser, stranger. The forests turned dark and eerie. In sunlight, the low-hanging mossy branches would look innocuous. At dusk, they looked like skeletal fingers pointing at her, the moss like skin falling off the bone.
Allison nearly jumped out of her seat when she banked around a curve and saw a fiendish grinning red-eyed face glowering at her from the side of the road. Once her heart slowed, Allison laughed at herself. During her flight to Portland, she'd reread
A Wrinkle in Time
. The villain in that book was a man with glowing red eyes who tried to get the three brave children to submit to him and allow him total control of their minds. She was glad McQueen wasn't there to see her jump at the sight of someone's stupid joke. Someone had nailed red safety reflectors to a tree trunk in the shape of eyes and a monstrous mouth. That was all.
When Highway 26 met the famous coastal 101, Allison turned south toward the cape. She'd spent the evening before online, reading everything she could about the Oregon coast and deciding where she would go and what she would see after she made her obligatory stop at The Dragon to pay her respects to Dr. Capello. It was a vacation, Allison told herself. No pressure. Just fun. If she were going to come all the way to the other side of the country, she might as well make an adventure of it.
Except, as her drive took her closer and closer to her old home, her sense of adventure left her and low-level panic took its place. Her heart beat rapidly and she had to stop at one of the highway's scenic viewpoints simply to catch her breath. She leaned against the long stone wall and gazed down at the ocean. It had been a long time since she'd seen the Pacific Ocean. Panama City Beach it was not. The waves were white-capped and hitting the beach hard, and she knew those blue-silver waters were like the siren's song—lovely, yes, but ice cold and deadly. The scenic marker warned that what she was looking at wasn't simply a nice ocean landscape, but the notorious Graveyard of the Pacific. Ship after ship after ship had gone down in those waters. No wonder Dr. Capello had called his house The Dragon. Allison imagined all it would take was two steps forward, and she'd fall off the edge of the world into oblivion. To think she used to swim here. Well, if she'd been brave enough and stupid enough to swim in a graveyard, surely she could be brave enough and stupid enough to go home for an hour.
Calmer now, Allison got back into her car and headed south toward Cape Arrow. The whole place wasn't much more than a collection of pretty beach houses on a hillside overlooking the ocean. It was an isolated, lonely sort of place, and Dr. Capello's house was the most isolated of them all, a mile farther down from the cape and situated on a solitary spit of land amid deep tree cover. She didn't know the street names and the GPS wasn't helping. She turned it off and let memory alone guide her to the correct turn.
Then, at last, after thirteen years, there it was.
About the Author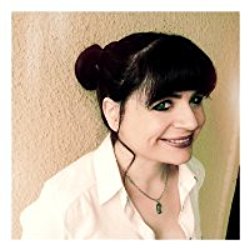 Tiffany Reisz is the author of the internationally bestselling and award-winning Original Sinners series for Mira Books (Harlequin/Mills & Boon). Tiffany's books inhabit a sexy shadowy world where romance, erotica, and literature meet and do immoral and possibly illegal things to each other. She describes her genre as "literary friction," a term she stole from her main character, who gets in trouble almost as often as the author herself.

She lives in Lexington, Kentucky with her husband, author Andrew Shaffer, and two cats. If she couldn't write, she would die.
Giveaway!

Books à la Mode is giving away
a print copy of The Lucky Ones
—yay!
To enter, all you have to do is tell me in the comments below:
What makes you lucky?
Please make your comment MEANINGFUL. Comments solely consisting of stock responses or irrelevant fluff like "Thanks for the giveaway!" will not be considered for entry. Tiffany and I really want to hear from you guys! :)
I'm lucky to have been born in a privileged household: educated parents, no major financial concerns, a stable family environment. These are things that are easy to take for granted until you realize not everyone had them growing up!
Don't forget the entry eligibility terms and conditions!
Sponsored wholly by the tour publicist and publisher—a huge thank you to TLC Book Tours and Harlequin!
Giveaway ends February 22nd at 11.59 PM (your time).
Open to US and Canada readers only—sorry, everyone else! Please check my sidebar for the list of currently running giveaways that are open worldwide. There are plenty to choose from!
Winners have 48 hours to claim their prize once they are chosen, or else their winnings will be forfeited.
Although I do randomly select winners, I am in no way responsible for prizes, nor for shipping and handling.
As a reminder, you do
not
have to follow my blog to enter, though it is always very much appreciated ❤