The View from Rainshadow Bay
(Lavender Tides #1)
Colleen Coble
from
Thomas Nelson
//
HarperCollins
After her husband, Jack, dies in a climbing incident, Shauna has only her five-year-old son and her helicopter charter business to live for. Every day is a struggle to make ends meet and she lives in constant fear of losing even more than she already has.

When her business partner is murdered, his final words convince Shauna that she's in danger too. But where can she turn? Zach Bannister was her husband's best friend and is the person she blames for his death. She's barely spoken to him since. But right now he seems her only hope for protecting her son.

Zach is only too happy to assuage his guilt over Jack's death by helping Shauna any way he can. But there are secrets involved dating back to Shauna's childhood that more than one person would prefer to stay hidden.

In The View from Rainshadow Bay, suspense, danger, and a longing to love again ignite amid the gorgeous lavender fields of Washington State.
My Publication Story
I can still remember the first story I ever wrote. It was in first grade and was about twin colts. My teacher praised my writing, and the seed was planted. Someday I would have a book in a library! Libraries are hallowed places to me, so that was my goal.
The seed lay dormant through the early years of marriage and raising a family. We women often put our dreams aside to focus on our families, and that's what I did. "Someday" I was going to write. I devoured books by the armloads from the library, and it bothered me to read the hopelessness in them that assumed there was no God. I wanted to write a story with hope in it—not preachy, but hopeful. But nothing came.
August 28, 1990 changed everything. The phone rang late that night with the news that the oldest of my three younger brothers, Randy, had been killed by lightning in a freak farm accident. In the coming months, as I emerged from the storm of grief, I realized that if I was ever going to follow my dream, I needed to get started. I was approaching my fortieth birthday, and time was marching on.
As part of the grieving process, my husband and I made a trip out to Wyoming to see where Randy had lived with his family for a few years. As I stood on the parade ground at Fort Laramie, the first idea took root and sprouted. The fire of grief and adversity had finally cracked open the seed that had lain dormant in my heart all those years.
I went home and started to write. It took a year to write that first book. I was sure there would be a bidding war! Not so much. It took SIX years of rejections before the call came from Barbour that they were going to publish my first book, Where Leads the Heart. I screamed so loudly the cat hid under the bed and wouldn't come out for hours. I called my pastor to tell him the news, but I got his answering machine. I cried and babbled out what was happening. When he listened to the message, he thought someone had died, and he didn't know who to call back. True story!
It was a lonely journey at that time too. I knew no other writers and talking about wanting to write a novel felt so presumptuous—I was just a farm girl from a small Indiana town. But I discovered when you have a dream, you need to pursue it. You never know what doors God will open for you. And there is great joy in the journey! When you struggle to do something bigger than you, it strengthens and molds you.
You never arrive when you're a writer either, and I love that! There is always something new to learn or something to do better. There's always room to grow. I've been working on how to start books off with a bang now, and I think I did pretty well with
The View From Rainshadow Bay
. When I decided to set the
Lavender Tides
series in lavender fields, I immediately had the first scene in mind—a young woman running through the fields from a killer. I hope you have as much fun reading it as I did writing it!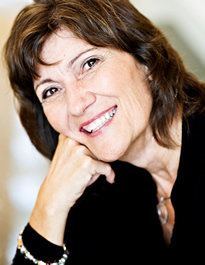 USA Today bestselling author Colleen Coble lives with her husband, Dave, in Indiana. She is CEO of American Christian Fiction Writers.

Colleen is the author of dozens of novels including the Rock Harbor Series, the Aloha Reef Series, the Mercy Falls Series, the Hope Beach Series, the Lonestar Series and two Women of Faith fiction selections, Alaska Twilight and Midnight Sea.

She has more than 2 million books in print.
Giveaway!
Books à la Mode is giving away
a print copy of The View from Rainshadow Bay
—yay!!
To enter, all you have to do is tell me in the comments below:
What is your favorite smell in the world?
Please make your comment MEANINGFUL. Comments solely consisting of stock responses or irrelevant fluff like "Thanks for the giveaway!" will not be considered for entry. Colleen and I really want to hear from you guys! :)
I love the smell of rain and most aromatic foods (curry, citrus fruits, coffee... yum!)
Don't forget the entry eligibility terms and conditions!
Sponsored wholly by the tour publicist and publisher—a huge thank you to the lovely folks at TLC Book Tours and Thomas Nelson!
Giveaway ends February 15th at 11.59 PM (your time).
Open to US residents only. Sorry, everyone else! Please check my sidebar for a list of currently running giveaways that are open worldwide. There are plenty to choose from!
Winners have 48 hours to claim their prize once they are chosen, or else their winnings will be forfeited.
Although I do randomly select winners, I am in no way responsible for prizes, nor for shipping and handling.
As a reminder, you do
not
have to follow my blog to enter, though it is always very much appreciated ❤