The Lost Castle
(The Lost Castle #1)
Kristy Cambron
from
Thomas Nelson
//
HarperCollins
Broken-down walls and crumbling stones seemed to possess a secret language all their own.

What stories would they tell, if she finally listened?

Ellie Carver arrives at her grandmother's bedside expecting to find her silently slipping away. Instead, the beloved woman begins speaking. Of a secret past and castle ruins forgotten by time. Of a hidden chapel that served as a rendezvous for the French Resistance in World War II. Of lost love and deep regret...

Each piece that unlocks the story seems to unlock part of Ellie too—where she came from and who she is becoming. But her grandmother is quickly disappearing into the shadows of Alzheimer's and Ellie must act fast if she wants to uncover the truth of her family's history. Drawn by the mystery surrounding The Sleeping Beauty—a castle so named for Charles Perrault's beloved fairy tale—Ellie embarks on a journey to France's Loire Valley in hopes that she can unearth its secrets before time silences them forever.

Bridging the past to the present in three time periods—the French Revolution, World War II, and present day—The Lost Castle is a story of loves won and lost, of battles waged in the hearts of men, and of an enchanted castle that stood witness to it all, inspiring a legacy of faith through the generations.
The Reason Why We Love a Good Fairy Tale
Some day you will be old enough to start reading fairy tales again.
— C. S. Lewis
Lewis's quote touches on the nerve of nostalgia in a brilliant way, reminding us of the charm and lasting appeal of childhood tales.
The Lost Castle
was a fairy tale writing project from the start. For me, pairing the rich art and culture of French wine country with imagery from Charles Perrault's
Sleeping Beauty
(hello, storybook castle!) became the embodiment of Lewis' timeless quote. But to take that a step further and combine the sometimes gritty realities of war with an imagined, enchanted space became the heartbeat of this story. And while I won't go so far as to give Spoilers on the ending... the characters' journeys were a reminder to this writer-gal just why we love to read—and write—stories that are set where real and imagined worlds collide.
The truth is, we love a good fairy tale. Here's four reasons why:
Fairy tales made the "HEA" famous:
Readers know it as the Happily Ever After: the prince and princess ride off in a carriage to their castle in the clouds. This is where the guy gets the girl, the girl gets the dream, and the reader gets the warm-and-fuzzy satisfaction that despite the many obstacles one might face, it's all going to shake out in the end. Fairy tales have conditioned us to expect that dreams aren't off in the clouds somewhere. Instead, they can become reality. Our reality. And because of that, every story has to have some element of HEA resolution or we're left wanting more.
Fairy tales set the story rules—and then break them all:
Toss in a lost princess, an evil step-mother, or a magical benefactor, and you've got the makings for a classic fairy tale. And though these stories seem to set their own Once upon a time... rules, they manage to break them right after. In a fairy tale world, the impossible becomes possible. The unexpected, reality. And let's be honest... we crave that glorious unpredictability almost as much as the HEA.
Fairy tales remind us to rise to the occasion:
There's a hefty debate that we shouldn't raise our daughters to be Cinderellas—waiting for a prince to ride in on a white steed and rescue us from the doldrums of scrubbing fireplaces. Cinderella should save herself, right? She's tough and can dream-chase without the guy's help. But, there's a grain of truth layered in the heart of these stories. It's positivity. Overcoming adversity. Plowing through opposition when the cards are stacked against you... They may seem like fanciful children's yarns, but fairy tales have some grit behind their morals, shouting: "Be resilient, readers, and don't give up when the going gets tough!"
Fairy tales teach us something about ourselves:
Fairy tales serve up a moral to the story. Sometimes it's poignant. Other times, it's simple and straightforward. But the point is, we see the wisdom it holds through the lens with which we look at our world. It could be faith-driven, justice-focused, or purely fanciful and fun. The hope is that we look at childhood tales with fond remembrance, but through the filter of our wiser, older selves.
Let every story claim a bit of the magic Lewis mentioned... and let's start reading them again!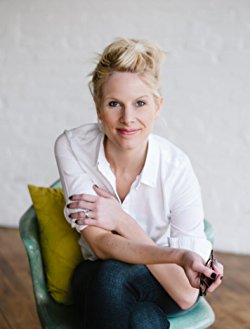 Kristy Cambron has a background in art and design, but she fancies life as a vintage-inspired storyteller. She is the bestselling author of The Ringmaster's Wife, named to Publishers Weekly Spring 2016 Religion & Spirituality TOP 10. Her novels have been named to Library Journal Reviews' Best Books and RT Book Reviewers' Choice Awards Best lists for 2014 & 2015, and received 2015 & 2017 INSPY Award nominations. Kristy's first Bible studies, THE VERSE MAPPING SERIES, will release in 2018.

Kristy holds a degree in Art History/Research Writing, and has 15 years of experience in education and leadership development from a Fortune-100 Corporation.

Kristy lives in Indiana with her husband and three sons, and could probably be bribed with a coconut mocha latte and a good read.
Giveaway!
Books à la Mode is giving away
a print copy of The Lost Castle
—yay!!
To enter, all you have to do is tell me in the comments below:
In The Lost Castle, forgotten castle ruins stand as a witness to the stories of generations—those that are true to history and the fairy tale-inspired. So this is your chance... If you could re-write one fairy tale to end any way you choose, what plot-twist would you toss in to shake things up?
Please make your comment MEANINGFUL. Comments solely consisting of stock responses or irrelevant fluff like "Thanks for the giveaway!" will not be considered for entry. Kristy and I really want to hear from you guys! :)
Rather cheating because Disney technically already gave The Little Mermaid a HEA. As you may know, in the original Hans Christian Andersen version, it's a tragic story where the prince ends up marrying a human princess and the little mermaid dies for him. If I could rewrite it, I'd have the prince and mermaid end up together, except have HIM display an act of selflessness and decide to live with her in the mermaid kingdom. Yes, underwater! If he really loved her, he'd make it work :P
Don't forget the entry eligibility terms and conditions!
Sponsored wholly by the tour publicist and publisher—a huge thank you to the lovely folks at TLC Book Tours and Thomas Nelson!
Giveaway ends March 8th at 11.59 PM (your time).
Open to US residents only. Sorry, everyone else! Please check my sidebar for a list of currently running giveaways that are open worldwide. There are plenty to choose from!
Winners have 48 hours to claim their prize once they are chosen, or else their winnings will be forfeited.
Although I do randomly select winners, I am in no way responsible for prizes, nor for shipping and handling.
As a reminder, you do
not
have to follow my blog to enter, though it is always very much appreciated ❤