Sisters Like Us (Mischief Bay #4)
Susan Mallery
from
Mira
//
Harlequin
The grass is always greener on your sister's side of the fence...

Divorce left Harper Szymanski with a name no one can spell, a house she can't afford and a teenage daughter who's pulling away. With her fledgling virtual-assistant business, she's scrambling to maintain her overbearing mother's ridiculous Susie Homemaker standards and still pay the bills, thanks to clients like Lucas, the annoying playboy cop who claims he hangs around for Harper's fresh-baked cookies.

Spending half her life in school hasn't prepared Dr. Stacey Bloom for her most daunting challenge—motherhood. She didn't inherit the nurturing gene like Harper and is in deep denial that a baby is coming. Worse, her mother will be horrified to learn that Stacey's husband plans to be a stay-at-home dad…assuming Stacey can first find the courage to tell Mom she's already six months pregnant.

Separately they may be a mess, but together Harper and Stacey can survive anything—their indomitable mother, overwhelming maternity stores and ex's weddings. Sisters Like Us is a delightful look at sisters, mothers and daughters in today's fast-paced world, told with Susan Mallery's trademark warmth and humor.
One week had slipped into two. Time had passed. Stacey had told Kit she was going to wait until after the amniocentesis, but they'd had the results weeks ago and still Stacey hadn't said anything to her mother.
She got up and circled the table. Kit pushed back enough for her to collapse on his lap. He wrapped his arms around her as she hung on, burying her face in his shoulder.
"I'm a horrible daughter," she whispered.
"You're not. You're wonderful and I love you. As for Bunny, if she can't take a joke, then screw it." He touched her cheek until she looked at him. "Stacey, I'm serious. You do what you want. I'm with you. If you don't want to tell Bunny ever, then that's okay. I'm just trying to point out, she will find out at some point, and the longer you wait, the harder it's going to be."
"It's already hard."
"I told you so," he said gently, before kissing her. "Go finish your breakfast."
"I will. I love you, too."
He smiled at her. She returned to her seat and began to eat. Because she had to stay healthy for the baby. She was comfortable being a vessel—she could do the vessel thing. It was the idea of parenting that tormented her. Who was she to think she could be a mother? She wasn't like other women—she didn't want what they wanted. She had different priorities, which she probably could have lived with, if not for her mother.
Because Bunny knew Stacey wasn't like everyone else and she had no trouble pointing out that fact. Once she found out about the baby… Well, Stacey could only imagine.
"I'll tell her tomorrow at dinner," she said.
"Good for you."
Which was his way of saying There is not a snowball's chance in hell I believe you, but sure, say it because it makes you feel better.
"She's going to be mad I waited so long."
"That she is." He smiled at her. "But don't worry. I won't let her hurt you. I promise."
She knew he meant what he said—that he would do his best to protect her. The problem wasn't that her mother would physically abuse her—the problem was what Bunny would say. In the Bloom family, words were the true weapon, and expectation was the ammunition. The rest of the world considered Stacey a brilliant scientist with a string of credentials and awards. Bunny saw little more than a daughter who refused to be conventional in any way that mattered—in other words, a failure. What on earth was her mother going to say when she found out her daughter was six months pregnant and had never said a word?
Chapter Two
Harper checked her daily calendar to confirm all she had to get through that day. As it was the end of the month, she would be billing her clients for her work. In addition, she needed to email Blake and remind him that his mother's birthday was in two weeks. She already had several gift ideas noted in case he wanted her help with that.
She wrote the email to Blake, a Boeing sales executive who spent his work life traveling the world. Blake sold private jets to the über-rich, and then made sure the customization of said planes was to their liking. She never knew where he was at any given time, or who he was meeting with, but it all sounded very exciting. She thought of him as the sales world's James Bond.
Her regular clients were Blake, Lucas, a nurse turned stand-up comedian named Misty, Cathy, a party planner, and the City of Mischief Bay. When she'd first started her business, she'd had no idea what she was doing. A half-dozen college extension courses later, she'd mastered several computer programs, learned the basics of a handful of others, knew how to file a DBA, keep basic records for her business and pay her taxes. Harper Helps had been born. Lucas had been her first client—she'd met him through a friend of a friend. After being shot on the job, Lucas had spent several weeks recovering. During that time, his bills had gone unpaid and his lights and water had been turned off. When he'd recovered, he'd decided to let someone else handle the details of his life and had hired her. Blake had found her through a Facebook ad, of all things, and Misty was one of Lucas's former nurses.
The work with the city had come through an online posting requesting a bid to design a mailer. She'd applied, offered samples of her work and had been hired.
The irony was Harper had started her home business because she didn't have any skills—now she would certainly be qualified to work in an office, only to find she didn't want to. She liked making her own hours and being around for her daughter—not that Becca was especially interested in her mother these days, but still. Harper was here should her daughter ever want or need her.
About the Author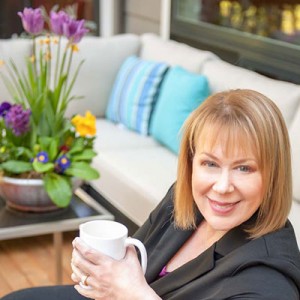 Susan Mallery is the #1 New York Times bestselling author of books about the relationships that define women's lives—romance, friendship, family. With compassion and humor, Susan keenly observes how people think and feel, in stories that take readers on an emotional journey. Sometimes heartbreaking, often funny, and always uplifting, Susan's books have spent more than 200 weeks on the USA Today bestsellers list, thanks to her ever growing legions of fans.

Although Susan majored in Accounting, she never worked as an accountant because she was published straight out of college with two books the same month, January of 1992. Sixteen prolific years and seventy-four books later, she hit the New York Times bestsellers list for the first time with Accidentally Yours in 2008. She made many appearances in the Top 10 before (finally) hitting #1 in 2015 with Thrill Me, the twentieth book in her most popular series, the Fool's Gold romances, and the fourth of five books released that year.

Susan lives in Seattle with her husband, two ragdoll cats, and a tattletale toy poodle. Her heart for animals has led Susan to become an active supporter of the Seattle Humane Society. Animals play a big role in her books, as well, as she believes they're an integral component to a happy life.
Giveaway!
Books à la Mode is giving away
a print copy of Sisters Like Us
—yay!
To enter, all you have to do is tell me in the comments below:
What is your relationship with your sister like? If you don't have one, would you like sisters or are you happy with only brothers or as an only child?
Please make your comment MEANINGFUL. Comments solely consisting of stock responses or irrelevant fluff like "Thanks for the giveaway!" will not be considered for entry. Susan and I really want to hear from you guys! :)
My sister is more than 8 years younger than me so we may not have a typical sisterly relationship; I was more like her third parent growing up. However now that she is older and more mature, we are able to relate with each other. I talk to her every day and she is my favorite person in the world!
Don't forget the entry eligibility terms and conditions!
Sponsored wholly by the tour publicist—a huge thank you to TLC Book Tours!
Giveaway ends January 19th at 11.59 PM (your time).
Open to US readers only—sorry, everyone else! Please check my sidebar for the list of currently running giveaways that are open worldwide. There are plenty to choose from!
Winners have 48 hours to claim their prize once they are chosen, or else their winnings will be forfeited.
Although I do randomly select winners, I am in no way responsible for prizes, nor for shipping and handling.
As a reminder, you do
not
have to follow my blog to enter, though it is always very much appreciated ❤