Moonlight Over Manhattan (From Manhattan with Love #6)
Sarah Morgan
from
HQN Books
//
Harlequin
Sarah Morgan is back with more love and laughter in her acclaimed series, From Manhattan With Love, which Publishers Weekly calls a "sweep-you-off-your-feet romantic experience."

Determined to conquer a lifetime of shyness, Harriet Knight challenges herself to do one thing a day in December that scares her, including celebrating Christmas without her family. But when dog walker Harriet meets her newest client, exuberant spaniel Madi, she adds an extra challenge to her list—dealing with Madi's temporary dog sitter, gruff doctor Ethan Black, and their very unexpected chemistry.

Ethan thought he was used to chaos, until he met Madi—how can one tiny dog cause such mayhem? To Ethan, the solution is simple—he will pay Harriet to share his New York apartment and provide twenty-four-hour care. But there's nothing simple about how Harriet makes him feel.

Ethan's kisses make Harriet shine brighter than the stars over moonlit Manhattan. But when his dog-sitting duties are over and Harriet returns to her own home, will she dare to take the biggest challenge of all—letting Ethan know he has her heart for life, not just for Christmas?
"You're awake." Harriet appeared in the doorway, as she had done hundreds of times over the past few days. She'd taken a shower and changed into jeans and a soft sweater.
Ethan had to fight the urge to pull her into bed with him. "What's that amazing smell?"
"It's Madi's dinner." She topped up his water glass and must have seen the disappointment on his face because she gave a half smile. "I'm kidding. It's chicken soup. My grandmother's recipe. It's perfect for tempting the appetite in people who aren't well. I used to look forward to being sick so she would make this soup for me. And before you start reading too much into that, I should tell you it's my favorite soup. I made it for myself."
He knew that wasn't true.
Food, he realized now, was her way of showing care and love. He also knew that if he didn't play his cards right, he wouldn't be eating the soup.
"So you're not planning on sharing it?"
"Maybe." She held the glass out. "Drink. You're dehydrated."
Everything she did was calm and quiet, from the way she moved around the room, to the way she did what she could to make things better for him.
Her generosity floored him. He knew he was miserly with his feelings. He kept them inside, safe from harm. It was part of the mechanism he'd developed to protect him from the job. He'd learned to keep his emotions locked away, but there were times when he wondered whether he'd maybe done too good a job. In order to stay focused and effective he didn't let himself feel. When he was younger, before experience and older colleagues had given him more wisdom, he'd allowed his job to get to him. He'd reached a point where he was considering a change in career, but before he'd made the final decision he'd gone home for the weekend and talked with his parents and grandfather.
He'd come away from that weekend feeling supported and, more importantly, with some useful strategies for coping with the inevitable stress of his profession.
He remembered whole weekends growing up when his father would barely talk. His mother would never ask what was wrong. Instead she was a quiet, supportive presence, providing what comfort she could while his father worked through whatever trauma or issue was bothering him. She hadn't demanded that he cheer up, or that he talk about whatever it was that was stressing him. But she'd made it clear that she was there if he needed her.
Harriet had the same soothing, undemanding quality.
It crossed his mind that her good nature and kindness would make her an easy person to take advantage of, and he felt a shaft of discomfort, wondering if that was what he'd been doing. First he'd pressured her to move in and look after Madi, and now she was looking after him.
And she was looking after him a bit too well.
She'd barely left his side for the past few days and now she'd cooked him a meal.
"Chicken soup? Homemade from an actual chicken?" He took the glass, noticing that her nails were short and neat.
"It's hard to make chicken soup from any other animal."
"When did you go shopping?"
"Earlier. You were asleep. I had to take Madi out anyway." She dismissed it as nothing and knowing that he was the reason she felt the need to do that, he felt a stab of guilt.
"Is Madi all right?"
"Better than you. Do you still have a fever?"
He noticed that she asked him this time, instead of touching his forehead to find out for herself. She didn't look at him much, either. Something had changed and he wasn't sure what. "I'm feeling better. Thanks to you."
"It had nothing to do with me. It was a combination of medication, sleep and time."
It was partly true, but he knew that her working so hard to keep his fever down and make him comfortable had played a huge part in his recovery. She'd been patient and kind when he'd felt like death and he made a mental note to be more sympathetic next time a patient visited the emergency room with the flu.
He tried to stand up, frustrated that his legs still felt as if they'd been filled with concrete. Cursing, he sank back down onto the edge of the bed again. "Who invented flu?"
"Someone who decided that even a confident man needs to be laid low once in a while. It's good for you to be reminded that you're not all-powerful."
Powerful?
If he'd had the energy, he would have laughed out loud.
She hesitated for a fraction of a second and then stepped toward him. "Do you need help?"
He probably could have managed, but he didn't tell her that. Instead he put his arm round her shoulders and leaned on her. She smelled of strawberry and sunshine. Unable to help himself he leaned in a little closer, his attention caught by the golden sheen of her hair.
She turned her head to look at him and the movement caused her hair to brush against his cheek and suddenly he found it hard to breathe.
Her eyes held his in wordless communication.
About the Author
USA Today bestselling author Sarah Morgan writes hot, happy contemporary romance and her trademark humour and sensuality have gained her fans across the globe. Described as 'a magician with words' by RT Book Reviews, she has sold over 15 million copies of her books. She has been nominated five times for the prestigious RITA© Award from the Romance Writers of America and won the award three times. She also won the RT Reviewers' Choice Award in 2012 and has made numerous appearances in their 'Top Pick' slot.

As a child Sarah dreamed of being a writer and although she took a few interesting detours along the way, she is now living that dream.

Sarah lives with her family near London, England, where the rain frequently keeps her trapped in her office.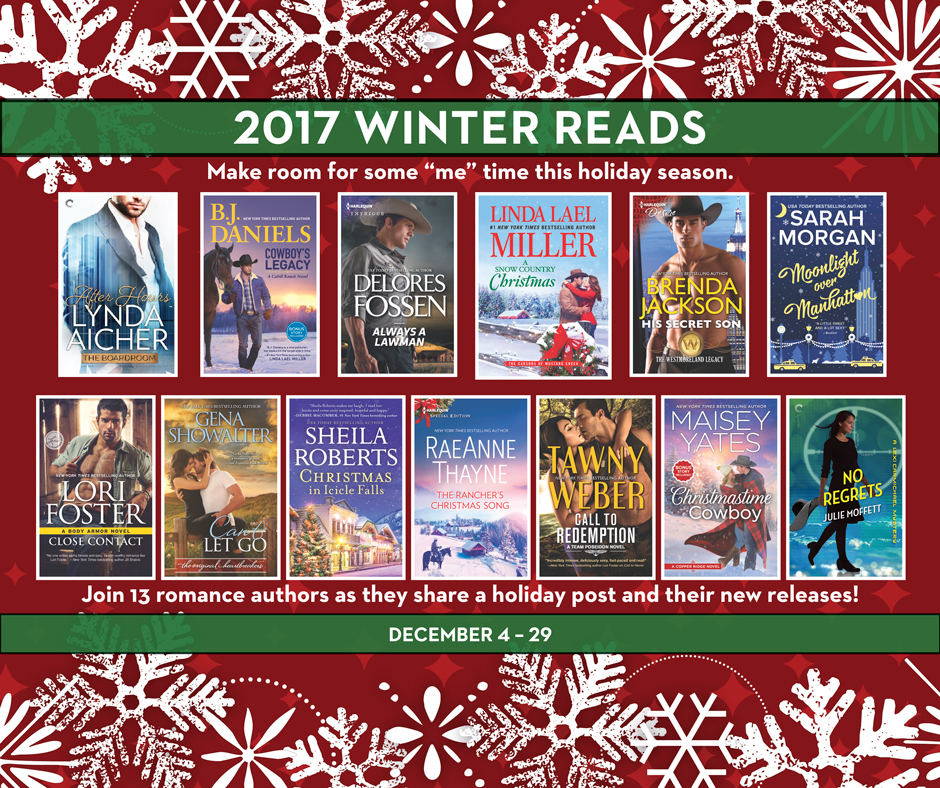 Giveaway!
Books à la Mode is giving away
a print copy of Miracle on 5th Avenue
—an earlier installment in the series. Yay!
To enter, all you have to do is tell me in the comments below:
Have you ever experienced a miracle? What happened?
Please make your comment MEANINGFUL. Comments solely consisting of stock responses or irrelevant fluff like "Thanks for the giveaway!" will not be considered for entry. Sarah and I really want to hear from you guys! :)
Small miracles are part of everyday life. Getting to your train right on time before it leaves, dropping things without breaking them, meeting deadlines, etc.
Sponsored wholly by the tour publicist and publisher—a huge thank you to TLC Book Tours and Harlequin!
Giveaway ends January 16th at 11.59 PM (your time).
Open to US and Canada readers only—sorry, everyone else! Please check my sidebar for the list of currently running giveaways that are open worldwide. There are plenty to choose from!
Winners have 48 hours to claim their prize once they are chosen, or else their winnings will be forfeited.
Although I do randomly select winners, I am in no way responsible for prizes, nor for shipping and handling.
As a reminder, you do
not
have to follow my blog to enter, though it is always very much appreciated ❤