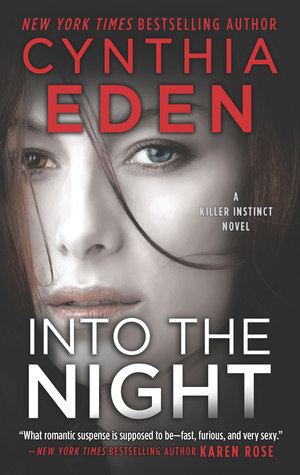 Into the Night (Killer Instinct #3)
Cynthia Eden
from
HQN Books
//
Harlequin
Two FBI agents are caught in a merciless vigilante's crosshairs in New York Times bestselling author Cynthia Eden's electric Killer Instinct series

Sheltered in the shadows of the Smoky Mountains is the suspect who's summoned FBI agent Macey Night's fears to the surface. Every day that the "Profiler," a vigilante serial killer, escapes justice is another day she's reminded of what it is to be a ruthless predator's prey. Capturing him is a craving deeper than anything she's felt in a long time. But Agent Bowen Murphy, equal parts sexy and volatile, seems hell-bent on changing that. Working together—needing, living and breathing each other—they're entwined to distraction.

Bowen's used to operating on impulse: act, don't feel. Now Macey and the controlled terror behind her beautiful eyes have him rethinking everything, including his rule to never get close to a colleague. He's willing to fight for a future with Macey, but the consequences of love could be deadly.
Now she'd found him. After five years of always looking over her shoulder and wondering if he'd come for her again. She'd. Found. Him. "You're right, Samantha," Macey acknowledged with a tilt of her head. "Daniel Haddox did know how to vanish." Her voice was quiet. Flat. "But I knew he wouldn't turn away from medicine. I knew he would have to return to his patients. He would have to pick up a scalpel again." But there had been so many places he could have gone. He could have easily stayed under the radar, opening up a clinic that only dealt in cash. One that didn't have any government oversight because it wasn't legitimate. One that catered to the poorest of communities.
Where he would have even greater control over his victims.
"I also knew that he wouldn't stop killing," Macey said. Once more, her gaze slid back to Bowen. She often found herself doing that—looking to Bowen. She wasn't even sure why, not really. They'd been partners on a few cases, but...
His gaze held hers. Bowen looked angry. That was odd. Bowen usually controlled his emotions so well. It was often hard to figure out just what the guy was truly thinking. He would present a relaxed, casual front to the world, but beneath the surface, he could be boiling with intensity.
"Why didn't you tell me that you were hunting him?" Bowen's words were rough, rumbling. He had a deep voice, strong, and she sucked in a breath as she realized that his anger was fully directed at her.
"The Doctor isn't an active case for our group," Macey said. They had more than enough current crimes to keep them busy. "We have other killers that we have been hunting and I didn't want to distract from—"
"Bullshit." His voice had turned into a rasp. "You forgot you were on a team, Macey. What impacts you impacts us all."
She licked her lips. He was right. Her news did impact them all. "That's why I called this meeting. Why I am talking to you all now." Even though her instincts had screamed for her to act. For her to race up to the small town of Hiddlewood, North Carolina, and confront the man she believed to be Daniel Haddox. But... "I want backup on this case." Because the dark truth was that Macey didn't trust herself to face Daniel alone.
About the Author
Cynthia Eden is a New York Times and USA Today best-selling author. She writes dark tales of romantic suspense and paranormal romance. Her books have received starred reviews from Publishers Weekly, and she was named a 2013 RITA® finalist for best romantic suspense.

Cynthia lives in the Deep South, loves horror movies, and has an addiction to chocolate.
Giveaway!

Books à la Mode is giving away
a print copy of Into the Night
—yay!
To enter, all you have to do is tell me in the comments below:
Are you an early bird or night owl?
Please make your comment MEANINGFUL. Comments solely consisting of stock responses or irrelevant fluff like "Thanks for the giveaway!" will not be considered for entry. Cynthia and I really want to hear from you guys! :)
Night owl all the way! I'd rather go to bed late and sleep in, then resume that cycle... rather than getting up early and going to bed early.
Don't forget the entry eligibility terms and conditions!
Sponsored wholly by the tour publicist and publisher—a huge thank you to TLC Book Tours and Harlequin!
Giveaway ends January 17th at 11.59 PM (your time).
Open to US readers only—sorry, everyone else! Please check my sidebar for the list of currently running giveaways that are open worldwide. There are plenty to choose from!
Winners have 48 hours to claim their prize once they are chosen, or else their winnings will be forfeited.
Although I do randomly select winners, I am in no way responsible for prizes, nor for shipping and handling.
As a reminder, you do
not
have to follow my blog to enter, though it is always very much appreciated ❤