I'd like to welcome Sandra Hill to the blog today to celebrate the exciting release of Cajun Crazy from Avon, a HarperCollins imprint!
Welcome to
Books à la Mode
, Sandra! Let's get this interview started.
Will you please share a brief introduction with us?
Sandra Hill is a graduate of Penn State and worked for more than 10 years as a features writer and education editor for publications in New Jersey and Pennsylvania. Writing about serious issues taught her the merits of seeking the lighter side of even the darkest stories.

She is the wife of a stockbroker and the mother of four sons.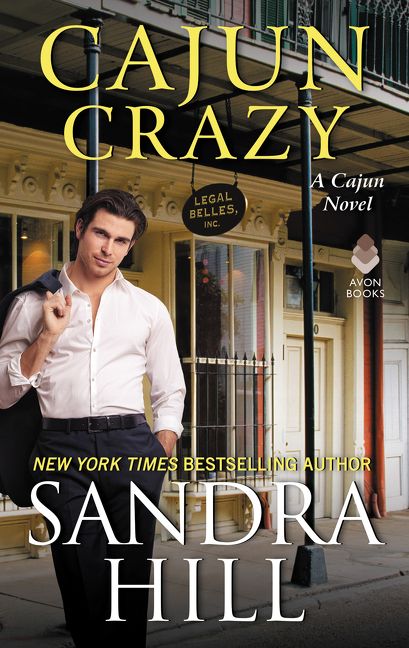 It's amazing to get to feature you today! Readers, here's a bit about the book, which just hit shelves last month:
Welcome back to New York Times bestseller Sandra Hill's Cajun country, where love heats up the Louisiana bayou...

Former Chicago cop Simone LeDeux is back home in the bayou, sharing a double wide in the Pearly Gates trailer park to help her mama recover from surgery. Her one rule: no Cajun men. Loved and left by too many double-crossing Cajuns, Simone puts bad experience to good use by opening Legal Belles: an agency that uncovers cheating spouses.

Suddenly she's confronting a two-timer about to swindle his wife out of millions and antagonizing New Orleans bigwigs over an illegal sex club. Adam Lanier learns of the dangerous game Simone is playing... and the sexy single dad comes to her aid. Known as a rogue in the courtroom and a player in the bedroom, the ragin' Cajun has Simone triply on guard.

With their crazy chemistry, danger on their trail, and infamous LeDeux relative Tante Lulu working her magical matchmaking, the bayou has never been this steamy.
As a huge fan of first lines, I'd love to hear the first line of Cajun Crazy. Could you give us a brief commentary on it?
I'm usually a sucker for catchy first lines, too, but in the case of Cajun Crazy I prefer to quote the voicemail that my heroine, Simone LeDeux, gets from her mother in the opening scene:
"Hi, honey. I haven't heard from you since las' week. Did ya kick that no-good Jack Landry out on his cheatin' Cajun be-hind, lak I told you to?"
This excerpt is an important clue to what the book is about. Simone is a cop who decides to open a Cheaters-type detective agency. And she's decided, no more Cajun men in her life.
Tell us about your road to publication, such as how you first queried, unexpected challenges, and things you picked up along the way.
I like to say that I sold my first book by not winning a contest. One of the judges in a writing contest I entered was so appalled at my not winning or placing that she put me in touch with her agent who in turn sold my first book, The Reluctant Viking, as part of a three-book deal. Oddly, I started out writing straight historical romances, but about that time Constance O'Day Flannery wrote one of her first time-travels, and I thought, "I can do this!" Before that, I had no idea I had a voice for humor.
Are the characters from your book based off anyone you know in real life? How much else of your actual life gets written into your fiction?
Suffice it to say, someone asked me at a cocktail party one time (and, yes, people do ask questions like this), "Do you have the kind of sex life you describe in your books?"

My answer, "I wish!" Seriously, I don't know any humans who have that kind of sex life. Maybe some super virile Vikings, or Cajuns.

I do get many of the humor ideas from my husband and four sons who can be incredibly funny. In fact, I can't tell you how many times one of my sons has said or done something and then told me, "That better not end up in one of your books." My heroines are probably the kind of women I wish I could be; I would never dare do half of what they do. Stunt woman. Female Navy SEAL. Lawyer at Angola Prison. Treasure hunter. Enough said!
Out of all the fantastic books out there, what makes Cajun Crazy stand out from the rest?
It's one of the funniest books I've written, in my opinion. A heroine who's been married and divorced three times, who vows to stay clear of any more tempting Cajun men, but then runs into a rogue lawyer, who is the ultimate player in the courtroom as well as the bedroom and happens to be Cajun. Add to that a wacky mother who's discovered her inner Kardashian and a fondness for Spanx. Not to mention the outrageous Tante Lulu.
Blog babes, click "Read more" to find out Sandra's best personal and professional advice. We're also hosting a giveaway for a finished copy of Cajun Crazy, so you don't want to miss that either!
Give aspiring writers a piece of advice you wish you had known before getting published.
It's hard work and sometimes boring. You need to treat it like a regular job that you work at every day. Doesn't matter if you have a family, or an outside job. If you really want it, you will make the time. Get up at 4am if you have to. I do. And stop worrying about getting things right from the get-go. I love that adage attributed to Nora Roberts: You can always fix a bad page. You can't fix a blank page. Finally, if you really want this, don't give up.
Now give us your best personal advice—something you wish you had known when you were younger and would offer to your own kids.
Let go, let God. Sometimes you need to accept the curves life throws your way and just hang on for the wild ride.
Where can you be found on the web?
It was a pleasure to be able to get to know you better today, Sandra! Thank you again for dropping by, and best of luck with future endeavors!
Giveaway!
Books à la Mode is giving away
one print copy of Cajun Crazy
—woohoo!
To enter, all you have to do is tell me in the comments below:
What is something a loved one does that drives you crazy?
Please make your comment MEANINGFUL. Comments solely consisting of stock responses or irrelevant fluff like "Thanks for the giveaway!" will not be considered for entry. Sandra and I really want to hear your thoughts! :)
Often, if there are multiple questions or things that need a response in a text message (or email, Facebook post, etc. what have you), my boyfriend will only respond to the last one.

For example, if I ask him "What are you bringing to the dinner party? Can you give me a ride home as well?" he will just answer "Sure."
Or, "How was your long weekend? Did you have a good time with your family? Are you back yet? I want to see you," and he replies "I want to see you too." LMAO. I've observed the majority of my male friends do this though, girls never. (Male readers, any insight?? Anyone?!) It's very annoying and I feel stupid having to repeat myself over text.
Don't forget the entry eligibility terms and conditions!
Sponsored wholly by the publisher—a huge thank you to the lovely folks over at HarperCollins!
Giveaway ends December 22nd at 11.59 PM (your time).
Open to US and Canada residents only. Sorry, everyone else! Please check my sidebar on the right for a list of currently running giveaways that are open worldwide—there are plenty to choose from!
Void where prohibited.
Winners have 48 hours to claim their prize once they are chosen, or else their winnings will be forfeited.
Although I do randomly select winners, I am in no way responsible for prizes, nor for shipping and handling.
As a reminder, you do
not
have to follow my blog to enter, though it is always very much appreciated ❤