The Lady Travelers Guide to Larceny with a Dashing Stranger (The Lady Travelers Society #2)
Victoria Alexander
from
Harlequin
Join the Lady Travelers Society in their latest romantic misadventure, from #1 New York Times bestselling author Victoria Alexander

She must secure her future

A lady should never be obliged to think of matters financial! But when Lady Wilhelmina Bascombe's carefree, extravagant lifestyle vanishes with the demise of her husband, her only hope lies in retrieving a family treasure—a Renaissance masterpiece currently in the hands of a cunning art collector in Venice. Thankfully, the Lady Travelers Society has orchestrated a clever plan to get Willie to Europe, leading a tour of mothers and daughters…and one curiously attentive man.

He must reclaim his heritage

Dante Augustus Montague's one passion has long been his family's art collection. He's finally tracked a long-lost painting to the enchanting Lady Bascombe. Convinced that the canvas had been stolen, he will use any means to reclaim his birthright—including deception. But how long before pretend infatuation gives way to genuine desire?

Now they're rivals for a prize that will change everything

Willie and Dante know they're playing with fire in the magical moonlit city. Their common quest could compromise them both... or lead them to happily-ever-after.
"After a bit of not very subtle probing on his part, your father finally admitted that he wished to contact you to inform you George's creditors had contacted him. He wanted you to know he would not settle the debts of a man he disapproved of." Poppy's lips pressed together in a hard line. "He was quite firm on that point."
"Nor would I ever ask him to." Willie raised her chin, a gesture of defiance that had driven her father mad for as long as she could remember. "I would become a beg­gar on the streets before I would ask him for anything."
Not that it would come to that. At least not yet. In the few months since returning from her self-imposed exile, Willie had reluctantly sold the country house and had managed to pay off all of George's creditors. She had also discovered most of the jewels given her by her husband were paste, nice enough to look at but essen­tially worthless. She did hope any jewelry he had no doubt given those women who had been the objects of his fleeting affections through the years was no more valuable than hers.
Willie had long suspected George had not been en­tirely faithful but in this Willie was something of a cow­ard. She had never confronted him about his dalliances with other women. Upon reflection she wasn't sure why, although there was a vast difference between vague sus­picion and certain knowledge. She had on occasion been tempted to stray from her own vows of fidelity but could never quite bring herself to do so. In spite of her many faults—and she was fairly certain that was a very long list—disloyalty and dishonesty were not among them. Still, it was one thing to lie outright and quite another to prevaricate, evade and omit.
"Exactly how bad are your financial circumstances?" Poppy asked.
"Well..." Willie searched for the right words. As much as she needed Poppy's help she did hate to worry the old girl. "They're really not nearly as bad as they were." She drew a deep breath. "I sold the country house—fortunately it was not entailed and so mine to do with as I pleased. And I am now debt-free."
"A difficult step but I must say I am impressed by your decision."
"I did so love that house." Willie couldn't quite hide the mournful note in her voice. From the moment she'd first set eyes on Bascombe Manor, a vaguely whimsi­cal concoction of every popular construction style of the last three hundred years surrounded by grounds that were every bit as capricious as the house itself, she had fallen head over heels. It was a happy, welcoming sort of place and a far cry from her family's country house. Hillborough Hall was an imposing, unyielding fortress of marble and granite. The building proclaimed someone of unrelenting propriety and single-minded determina­tion held sway here and fun would not—would never—be allowed.
"And your house in town?"
"That I have managed to retain, at least for the mo­ment." It was perhaps best not to tell Poppy that the May­fair house was very nearly stripped of all its contents. Willie had felt obligated to pay the servants at both Bas­combe Manor and the London house what was owed to them before she regretfully terminated their employment. Her butler and cook—Majors and his wife, Patsy—had refused to accept their dismissal, declaring she was their family and one did not abandon family when times grew difficult. As much as Willie felt a great deal of affection for them, she did not expect this kind of loyalty. The kind that brought a warm rush to one's heart. Willie and Patsy had wrapped their arms around each other and wept for a few moments. Even Majors—as properly trained as any butler anywhere—had sniffed back something that might well have been a tear. "I would hate to lose that house, as well. I do need somewhere to live."
About the Author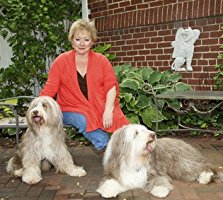 New York Times bestselling author Victoria Alexander was an award winning television reporter until she discovered fiction was much more fun than real life. She turned to writing full time and is still shocked it worked out.

Since the publication of her first book in 1995, she has written thirty-one full length novels and six novellas. The Lady Travelers Guide to Larceny with a Dashing Stranger is the second book in her newest The Lady Travelers Guide series.
Giveaway!
Books à la Mode is giving away
a print copy of The Lady Travelers Guide to Larceny with a Dashing Stranger
—yay!
To enter, all you have to do is tell me in the comments below:
What is the most memorable moment you have shared with a stranger? How did it turn out?
Please make your comment MEANINGFUL. Comments solely consisting of stock responses or irrelevant fluff like "Thanks for the giveaway!" will not be considered for entry. Victoria and I really want to hear from you guys! :)
I have small interactions with strangers all the time, but one that has stood out to me is when I was on a bus in Seoul, an American woman asked me what book I was reading as she noticed it was in English. While running into expats or foreigners in Seoul isn't uncommon, I'd never really had anyone strike up a conversation with me out of the blue before! We had a pleasant discussion about books and other small tidbits of small talk that was as fleeting as the length of our bus ride.

Don't forget the entry eligibility terms and conditions!
Sponsored wholly by the tour publicist and publisher—a huge thank you to TLC Book Tours and Harlequin!
Giveaway ends December 20th at 11.59 PM (your time).
Open to US and Canada readers only—sorry, everyone else! Please check my sidebar for the list of currently running giveaways that are open worldwide. There are plenty to choose from!
Winners have 48 hours to claim their prize once they are chosen, or else their winnings will be forfeited.
Although I do randomly select winners, I am in no way responsible for prizes, nor for shipping and handling.
As a reminder, you do
not
have to follow my blog to enter, though it is always very much appreciated ❤