Little Broken Things
Nicole Baart
from
Atria Books
(
Simon & Schuster
)
An engrossing and suspenseful novel for fans of Liane Moriarty and Amy Hatvany about an affluent suburban family whose carefully constructed facade starts to come apart with the unexpected arrival of an endangered young girl.

I have something for you. When Quinn Cruz receives that cryptic text message from her older sister Nora, she doesn't think much of it. They haven't seen each other in nearly a year and thanks to Nora's fierce aloofness, their relationship consists mostly of infrequent phone calls and an occasional email or text. But when a haunted Nora shows up at the lake near Quinn's house just hours later, a chain reaction is set into motion that will change both of their lives forever.

Nora's "something" is more shocking than Quinn could have ever imagined: a little girl, cowering, wide-eyed, and tight-lipped. Nora hands her over to Quinn with instructions to keep her safe, and not to utter a word about the child to anyone, especially not their buttoned-up mother who seems determined to pretend everything is perfect. But before Quinn can ask even one of the million questions swirling around her head, Nora disappears, and Quinn finds herself the unlikely caretaker of a girl introduced simply as Lucy.

While Quinn struggles to honor her sister's desperate request and care for the lost, scared Lucy, she fears that Nora may have gotten involved in something way over her head—something that will threaten them all. But Quinn's worries are nothing compared to the firestorm that Nora is facing. It's a matter of life and death, of family and freedom, and ultimately, about the lengths a woman will go to protect the ones she loves.
Secrets I'm Spilling About Little Broken Things
I cried writing the opening scene. It was so real, so visceral to me that I sobbed all the way through it. It's still difficult for me to read because it embodies one of my deepest fears. Want to know what it is? Guess you'll have to read to find out ;)
Liz, the matriarch of the Sanford family, was not originally supposed to have a voice in Little Broken Things. But one day as I was writing suddenly she appeared on the page, demanding her own perspective. I let her because I'm kind of a pushover that way.
I love my husband to bits and pieces, but Walker is my book crush. I'm Team Walker all the way.
I'm mildly obsessed with sea glass and had so much fun weaving it in to the pages of Little Broken Things. It was a dream come true to work with ethically sourced, fair-trade jewelry company ViBella to design two necklaces that complement the book.
While I was writing Little Broken Things I woke up in the middle of the night one night to a strange sound. Our windows were open, and as I became more alert I realized that I could smell smoke. A building near our house was engulfed in flames, and my husband and I called 9-1-1 and then ran outside in our pajamas to make sure no one was hurt. This experience may or may not have made it onto the pages of Little Broken Things.
Little Broken Things was not the original title of my book. I submitted it under the title: All We Ever Wanted. Nobody liked it. (Fun fact: All We Ever Wanted is the title of Emily Giffin's new book!)
I drank copious amounts of Good Earth Sweet & Spicy tea while writing this book. In fact, I drank so much that my local grocery store ran out and they have never stocked it again. I'm having serious withdrawal. Seriously. Somebody help.
My readers named the child in Little Broken Things. They nominated different names and then voted. I loved the result!
I loved the cover of Little Broken Things the first time I saw it. This has not always been the case with my books. It was so fun to see it and just know it was perfect.
Little Broken Things is my favorite book to date. Don't tell my other book babies, they'll cry. But sometimes it's okay to play favorites ;)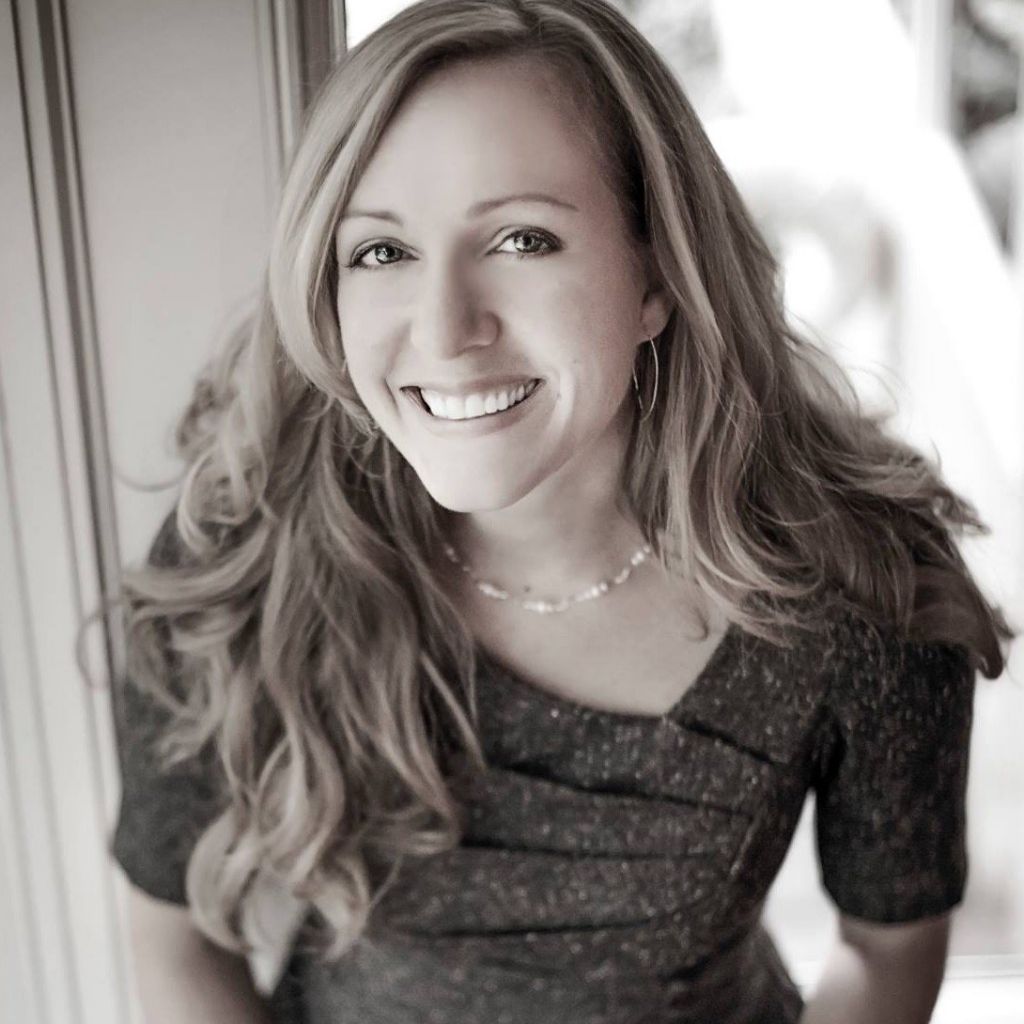 Nicole Baart wants to live in a world filled with handwritten letters, New Zealand Sauvignon Blanc, and great conversation.

A critically acclaimed novelist, Nicole's work has been featured as a Midwest Connections book pick, nominated for a Christy Award, and earned a starred and featured review from Publishers Weekly. In 2011 she co-authored a book that debuted at #4 on the New York Times bestseller list.

Nicole is also the co-founder of a non-profit organization, One Body One Hope, that partners with a sisterhood of churches and orphanages in Monrovia, Liberia. An adoption advocate and the mother of five children from four different countries, Nicole speaks on a variety of topics ranging from orphan care to parenthood to books and the writing process. She currently lives in a small town in Iowa and is the author of seven previous novels including, most recently, The Beautiful Daughter.
Giveaway!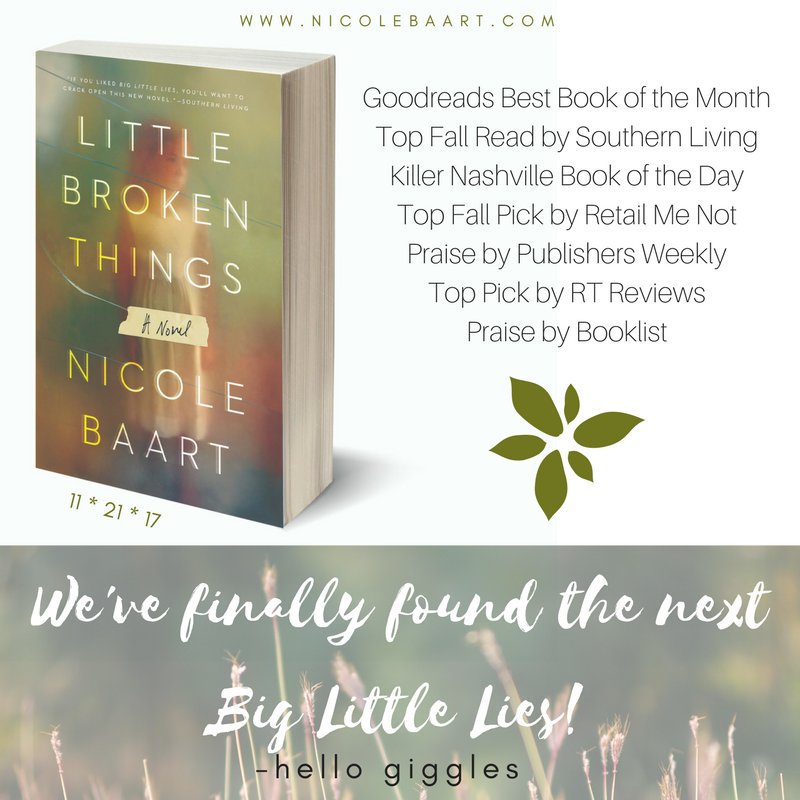 Books à la Mode is giving away
one print copy of Little Broken Things
—yay!!
To enter, all you have to do is tell me in the comments below:
If you could read a book about anything, what would you want it to be about?
Please make your comment MEANINGFUL. Comments solely consisting of stock responses or irrelevant fluff like "Thanks for the giveaway!" will not be considered for entry. Nicole and I really want to hear from you guys! :)
I love mind-bending sci-fi (think Inception, Eternal Sunshine of the Spotless Mind, and Arrival) especially when it's laced with a well-written romance. I'd love to see something like this in literary form!
Don't forget the entry eligibility terms and conditions!
Sponsored wholly by the tour publicist and publisher—a huge thank you to the lovely folks at TLC Book Tours and Atria Books!
Giveaway ends December 6th at 11.59 PM (your time).
Open to US residents only. Sorry, everyone else! Please check my sidebar for a list of currently running giveaways that are open worldwide. There are plenty to choose from!
Winners have 48 hours to claim their prize once they are chosen, or else their winnings will be forfeited.
Although I do randomly select winners, I am in no way responsible for prizes, nor for shipping and handling.
As a reminder, you do
not
have to follow my blog to enter, though it is always very much appreciated ❤