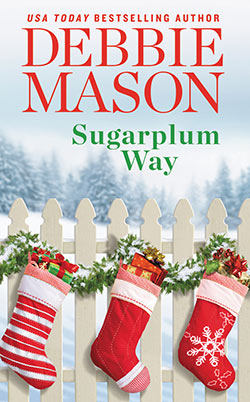 Sugarplum Way (Harmony Harbor #4)
Debbie Mason
from
Forever
(
Hachette
//
Grand Central Publishing
)
Romance writer Julia Landon knows how to write a happily-ever-after. Creating one for herself is a whole different story. But after a surprising–and surprisingly passionate–kiss under the mistletoe at Harmony Harbor's holiday party last year, Julia thought she might have finally found her very own chance at true love. Until she learns her Mr. Tall, Dark, and Broodingly Handsome has sworn off relationships. Well, if she can't have him in real life, Julia knows just how to get the next best thing...

Aidan's only priority is to be the best single dad ever. And this year, he plans to make the holidays magical for his little girl, Ella Rose. But visions of stolen kisses under the mistletoe keep dancing in his head, and when he finds out Julia has written him into her latest novel, he can't help imagining the possibilities of a future together. Little does he know, though, Julia has been keeping a secret that threatens all their dreams. Luckily, 'tis the season for a little Christmas magic.
"I was joking with you before but this is starting to sound serious, big brother. Are you sure you're ready for a relationship? Harper did a number on—"
Aidan cut Liam off. "I'm only going to say this once so listen up. I'm not dating Julia and nor am I interested in dating her. We're not even friends, more like acquaintances."
His father, who'd been drinking and grinning while his brothers razzed him, lowered his thermos of hot chocolate. "That's not how it looked at Jolly Rogers this morning, son. You seemed to know quite a lot about her. She's a sweet girl. I wouldn't want to see her hurt. So maybe you should stop sending out mixed signals. What's she supposed to think when you put your arm around her, play footsie under the table, and act like you're jealous of Paul?"
Jealous of Benson? How did his dad come to that conclusion? Didn't matter one way or another, his father had done it now. Aidan could tell by the expressions on his brothers' faces that he could declare his innocence and non-feelings all he wanted and they wouldn't believe a single word he said.
If they weren't married, that wouldn't worry him much, but they were. And they told their wives everything and their wives talked too much and soon everyone at the manor would know, including his matchmaking grandmother.
"Hate to tell you, but it looks like the chief is making time with your girl, bro."
If he knew what was good for him, he'd ignore Liam. But curiosity got the better of him and Aidan looked to where he'd last seen Julia. Benson had his arm around her and appeared to be educating her on the finer details of megaphone use. His boss was a condescending jerk. It's a wonder Julia didn't...
"Maggie Stewart, paging Maggie Stewart," Julia yelled into the megaphone that was positioned a couple of inches from Benson's ear.
Aidan laughed when the man reared back.
His brothers stared at him, and his father smiled. "It's good to hear you laugh, son. It's been a while. Take it from your old man, you find a woman who can make you laugh, you hang onto her."
There was nothing he could say to that because he'd seen the truth of it with his own eyes. He'd grown up in a home filled with love and laughter. His marital home hadn't been remotely close to the same. Maybe because he and Harper were both driven, serious, type-A personalities. Well, he didn't have any worries on that count with Santa's little helper. Julia was as far from...
What the hell?
He scrubbed his hands over his face. They were sucking him into their fantasy.
About the Author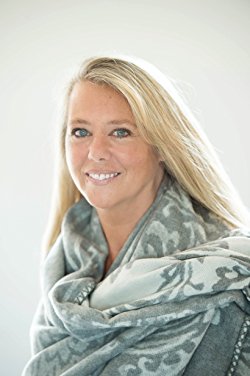 Debbie Mason is the USA Today bestselling author of the Christmas, Colorado series and Harmony Harbor series. Her books have been praised for their "likable characters, clever dialogue, and juicy plots" (RT Book Reviews). She also writes historical paranormals as Debbie Mazzuca.
When she isn't writing or reading, Debbie enjoys spending time with her very own real-life hero, three wonderful children and son-in-law, two adorable grandbabies, and a yappy Yorkie named Bella in Ontario, Canada.
Giveaway!
Books à la Mode is giving away
one print copy of Sugarplum Way
—yay!
To enter, all you have to do is tell me in the comments below:
At what time of year do you think it's acceptable to start celebrating winter holidays and Christmas traditions?
Please make your comment MEANINGFUL. Comments solely consisting of stock responses or irrelevant fluff like "Thanks for the giveaway!" will not be considered for entry. Debbie and I really want to hear from you guys! :)
I think November is the perfect time the begin; it's early enough to get your gift shopping done without hitting the holiday frenzy, but not so soon that you're stressed out too early. I got a laugh a couple weeks ago seeing all the Christmas decorations up for sale at Target before it was even Halloween!

Don't forget the entry eligibility terms and conditions!
Sponsored wholly by the tour publicist and author—a huge thank you to TLC Book Tours and Debbie Mason!
Giveaway ends November 20th at 11.59 PM (your time).
Open to US and Canada readers only—sorry, everyone else! Please check my sidebar for the list of currently running giveaways that are open worldwide. There are plenty to choose from!
Winners have 48 hours to claim their prize once they are chosen, or else their winnings will be forfeited.
Although I do randomly select winners, I am in no way responsible for prizes, nor for shipping and handling.
As a reminder, you do
not
have to follow my blog to enter, though it is always very much appreciated ❤