It is my utmost pleasure to introduce Kaira Rouda to the blog today to celebrate the exciting release of Best Day Ever from Graydon House, a Harlequin imprint!
Welcome to
Books à la Mode
, Kaira! Let's get this interview started.
Will you please share a brief bio with us?
Kaira Rouda is the USA Today bestselling author of novels including Here, Home, Hope, The Goodbye Year, In the Mirror, All the Difference, and most recently, Best Day Ever. Her stories explore what goes on behind closed doors of seemingly perfect lives. She lives in Southern California with her family and she's at work on her next novel.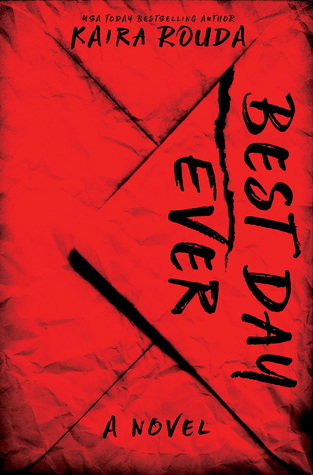 It's amazing to get to feature you today! Readers, here's a bit about the book, which hit shelves last month:
Paul Strom has the perfect life: a glittering career as an advertising executive, a beautiful wife, two healthy boys and a big house in a wealthy suburb. And he's the perfect husband: breadwinner, protector, provider. That's why he's planned a romantic weekend for his wife, Mia, at their lake house, just the two of them. And he's promised today will be the best day ever.

But as Paul and Mia drive out of the city and toward the countryside, a spike of tension begins to wedge itself between them and doubts start to arise. How much do they trust each other? And how perfect is their marriage, or any marriage, really?

Forcing us to ask ourselves just how well we know those who are closest to us, Best Day Ever crackles with dark energy, spinning ever tighter toward its shocking conclusion. In the bestselling, page-turning vein of The Couple Next Door and The Dinner, Kaira Rouda weaves a gripping, tautly suspenseful tale of deception and betrayal dark enough to destroy a marriage... or a life.
As a huge fan of first lines, I'd love to hear the first line of Best Day Ever. Could you give us a brief commentary on it?
I glance at my wife as she climbs into the passenger seat, sunlight bouncing off her shiny blond hair like sparklers lit for the Fourth of July, and I am bursting with confidence.
This is Paul Strom, my narrator, introducing himself to you. His life is perfect. His wife is perfect. They are the all-American couple. He is confident the day will go just as he has planned.
Tell us about your road to publication, such as how you first queried, unexpected challenges, and things you picked up along the way.
It has been a long and winding road to publication, with five different literary agents, five novels, two romance series with small press and self-publishing, and a nonfiction book published by Wiley under my belt.

It was six years ago when I published my first novel, Here, Home, Hope. I have so many stories I could share, so many query letters, so many rejections. Perhaps the most poignant was the first time I tried to go for my dream in 1999. I found my first literary agent at the Antioch Writer's Conference. She loved my novel In the Mirror and went out on submission. A famous editor with a huge publisher called me and told me she loved it and a contract was on the way. She died the next day suddenly in the back seat of a cab in midtown. It was a traumatic, shocking and extremely sad situation. Of course, I didn't have a signed contract. My agent dropped me because she said the manuscript was now bad luck. I didn't submit another fiction work for years.
Are the characters from your book based off anyone you know in real life?
No, they aren't based on real life people, but a lifetime of experience goes into each one.
Out of all the fantastic books out there, what makes Best Day Ever stand out from the rest?
Two things. The gorgeous red cover. I just love it, and I had nothing to do with it! My fabulous publisher Graydon House has a great cover artist. And second, a male first-person narrator in the domestic suspense arena. I've come to find out that is unique.
Blog babes, click "Read more" to find out Kaira's best advice. We're also hosting a giveaway for a finished copy of Best Day Ever, so you don't want to miss that either!
Give aspiring writers a piece of advice you wish you had known before getting published.
Don't ever give up. Your dreams will not happen unless you make them come true. And with all the different choices today, you can make your dream come true.

Where can you be found on the web?
It was a pleasure to be able to get to know you better today, Kaira! Thank you again for dropping by, and best of luck with future endeavors!
Giveaway!
Books à la Mode is giving away
one print copy of Best Day Ever
—woohoo!
To enter, all you have to do is answer Kaira's question in the comments below:
Who is your favorite unreliable narrator in fiction, whether from film, television, or novels?

I had fun writing an entire post about them for

Strand Magazine

! Do you agree with my choices?
Please make your comment MEANINGFUL. Comments solely consisting of stock responses or irrelevant fluff like "Thanks for the giveaway!" will not be considered for entry. Kaira and I really want to hear your thoughts! :)
Nick Carraway from The Great Gatsby is probably my favorite because of its subtlety! Great list!
Don't forget the entry eligibility terms and conditions!
Sponsored wholly by the publicist—a huge thank you to the lovely folks over at Wunderkind PR!
Giveaway ends October 27th at 11.59 PM (your time).
Open to US residents only. Sorry, everyone else! Please check my sidebar on the right for a list of currently running giveaways that are open worldwide—there are plenty to choose from!
Void where prohibited.
Winners have 48 hours to claim their prize once they are chosen, or else their winnings will be forfeited.
Although I do randomly select winners, I am in no way responsible for prizes, nor for shipping and handling.
As a reminder, you do
not
have to follow my blog to enter, though it is always very much appreciated ❤