I'd like to welcome Jill Shalvis to the blog today to celebrate the exciting release of Chasing Christmas Eve from Avon, a HarperCollins imprint! What an honor! Jill is one of my all-time favorite contemporary romance authors. Can you even call yourself a romance fan if you haven't read one of her books?!
Welcome to
Books à la Mode
, Jill! Let's get this interview started.
Will you please share a brief introduction with us?
New York Times and USA Today bestselling author Jill Shalvis lives in a small town in the Sierras full of quirky characters. Any resemblance to the quirky characters in her books is, um, mostly coincidental.

Look for Jill's sexy contemporary and award-winning books wherever romances are sold and check out her website for a complete book list and daily blog detailing her city-girl-living-in-the-mountains adventures.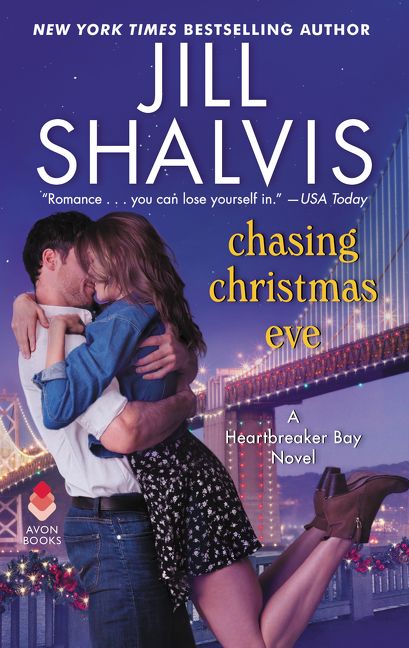 It's amazing to get to feature you today! Readers, here's a bit about the book, which just hit shelves last week:
Meet cute...

Run for the hills—temporarily. That's Colbie Albright's plan when she flees New York for San Francisco. Wrangling her crazy family by day and writing a bestselling YA fantasy series by night has taken its toll. In short, Colbie's so over it that she's under it. She's also under the waters of a historic San Francisco fountain within an hour of arrival. Fortunately, the guy who fishes Colbie out has her looking forward to Christmas among strangers. But she's pretty sure Spencer Baldwin won't be a stranger for long.

Make merry...

Spence's commitment to hiding from the Ghosts of Relationships Past means he doesn't have to worry about the powerful—okay, crazy hot—chemistry he's got with Colbie. Just because she can laugh at anything, especially herself... just because she's gorgeous and a great listener…just because she "gets" Spence immediately doesn't mean he won't be able to let Colbie go. Does it?

...and hope for a miracle.

Now the clock's ticking for Colbie and Spence: Two weeks to cut loose. Two weeks to fall hard. Two weeks to figure out how to make this Christmas last a lifetime.
As a huge fan of first lines, I'd love to hear the first line of Chasing Christmas Eve. Could you give us a brief commentary on it?
Our fearless heroine is having a life crisis:
Colbie Albright stood in the crowded LaGuardia Airport staring up at the flight departure board. Her chest was tight and her throat felt like it was closing in.



Classic anxiety, she told herself. Just breathe right through it.



Not that her body listened to her brain. Her body rarely listened to good sense.





In any case, it was December 1 and people were rushing all around her like chickens without their heads, while she stood still trying to figure out her choice of destination. Her only requirements were warm and tropical. An exotic beach would fit the bill perfectly.





Aruba.





Jamaica.





Oooh, I wanna take you...
Tell us about your road to publication, such as how you first queried, unexpected challenges, and things you picked up along the way.
I first started writing in the ice age, during a time I fondly refer to as the deep, dark years of hell. I had three kids under the age of five (don't worry, we finally figured out what caused that problem :), I'd just lost my accounting job, and my husband had just officially burnt out on his job as a paramedic on the mean streets of downtown Los Angeles.

It was not a great time for either of to begin a new career. So of course we both did. I dove into writing with the same joy that reading romances had been giving me for years. I had no idea what I was doing, it was sheer reader instinct back then. In between diapers and bottles and baby naps (God bless the nap), I wrote what I thought was a suspense. When I finished, I bought the Literary Guide to Publishers and started sending out chapters randomly.

I was on my second book when I got a call. The woman identified herself as an editor from Bantam and I about passed out. I was standing in the kitchen with a baby in one arm, a kindergartener playing house with the Tupperware all over the floor, and me trying to shush them so I could hear. "I'm sorry," said breathlessly. "I missed your name."

She repeated it just as my middle daughter, a toddler, yelled from the other room, "Mom, I'm done, wipe me!" Hand to heaven.

"I want to ask you a question," the editor whose name I still didn't know, said. "Would you consider adding some sexual tension to your story so that we could sell it as a Loveswept?"

Huh? What was a Loveswept? I know, I know, but though I'd been a bookworm since third grade, and reading romances since seventh grade, I had never heard of a category romance. "You want... sexual tension?"

"Yes, please. And a love scene would be fantastic. If you're okay with that, I'd like to buy your book."

Holy smokes. "I-"

"Mom, WIPE ME!!!"

Thunk, which, by the way, was the sound of my head hitting the cabinets. "Consider it sold," I said, trying to remain cool, calm and collected when I wanted to do the happy dance.

And then I hung up.

On the editor.

My husband walked in the door and I shoved babies at him. "I sold a book."

"Cool. To who?"

"I have no idea..."

Thank God she called me back. I went on to write seven Loveswepts before that line closed. These days I write both single titles and still the occasional category, and hardly ever hang up on editors anymore.
LOL! Seems you've come a long way! Are the characters from your book based off anyone you know in real life? How much else of your actual life gets written into your fiction?
My characters are never based off anyone I personally know. It's much more fun for me to make people up :) That said, a lot of things that happen in my real life do make it into the book. Because while I try to protect my family, I feel like I'm fair game :)
Out of all the fantastic books out there, what makes Chasing Christmas Eve stand out from the rest?
Well, that's for the readers to say. But I do like to think I can bring the warm, fuzzy feel goods and a laugh at the same time.
Blog babes, click "Read more" to find out Jill's best personal and professional advice. We're also hosting a giveaway for a finished copy of Chasing Christmas Eve, so you don't want to miss that either!
Give aspiring writers a piece of advice you wish you had known before getting published.
This world is hard but so is every other occupation. Just put your head down and write, write, write. Constantly hone your craft and don't ever give up.
Now give us your best personal advice—something you wish you had known when you were younger and would offer to your own kids.
You can do ANYTHING you want to and you don't have to know now what you want to be. I was thirty before I knew I wanted to be a writer. It's okay to not know, just be the best you that you can be.
Where can you be found on the web?
It was a pleasure to be able to get to know you better today, Jill! I'm such a big fan. Thank you again for dropping by, and best of luck with future endeavors!
Giveaway!
Books à la Mode is giving away
one print copy of Chasing Christmas Eve
—woohoo!
To enter, all you have to do is tell me in the comments below:
What's a common thing that annoys you?
Please make your comment MEANINGFUL. Comments solely consisting of stock responses or irrelevant fluff like "Thanks for the giveaway!" will not be considered for entry. Jill and I really want to hear your thoughts! :)
People who inconvenience others for no reason at all. It's so frustrating! For example, people who take forever in lines. You had the whole time you were waiting to get out your wallet/checkbook/purse/etc. and you're getting it out now and holding up the entire line? You're taking up the entire aisle with your ONE grocery cart so no one else can pass through? You and your two friends are blocking the high-traffic sidewalk because you all have to walk super slowly in a horizontal line? Ugh!
Don't forget the entry eligibility terms and conditions!
Sponsored wholly by the publisher—a huge thank you to the lovely folks over at HarperCollins!
Giveaway ends October 19th at 11.59 PM (your time).
Open to US or Canada residents only. Sorry, everyone else! Please check my sidebar on the right for a list of currently running giveaways that are open worldwide—there are plenty to choose from!
Void where prohibited.
Winners have 48 hours to claim their prize once they are chosen, or else their winnings will be forfeited.
Although I do randomly select winners, I am in no way responsible for prizes, nor for shipping and handling.
As a reminder, you do
not
have to follow my blog to enter, though it is always very much appreciated ❤