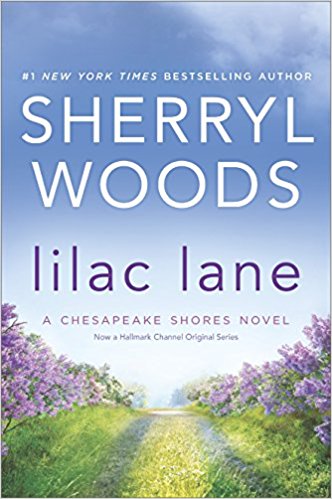 Lilac Lane (Chesapeake Shores #14)
Sherryl Woods
from
MIRA
//
Harlequin
No one writes about friends, family and home better than Sherryl Woods. Told with warmth and humor, Lilac Lane is a brand-new story in her beloved Chesapeake Shores series, one readers all over the world have waited two years to read!

At the heart of Lilac Lane is Keira Malone, who raised her three children alone after her first marriage broke apart, and who, after years of guarding her heart, finally finds love again. But that love is short-lived when her fiancé suffers a fatal heart attack. Grieving and unsure of what's next, Keira agrees to move from Dublin to Chesapeake Shores, Maryland, to spend time with her daughter, Moira, and her new granddaughter, Kate, as well as to help her son-in-law, Luke, with his Irish pub, O'Briens.

Not wanting to live underfoot, she rents a charming cottage on Lilac Lane, replete with views of the ocean and her neighbor's thriving garden—not to mention views of the neighbor himself. The neighbor is none other than Bryan Laramie, the brusque and moody chef at the pub, with whom Keira is constantly butting heads. But things get real when Bryan's long-lost daughter, whom he hasn't seen since she was a baby, shows up out of the blue. As Bryan and Keira each delve into their pasts, reopening wounds, the rest of the town is gearing up for the Fall Festival Irish Stew cook-off, and making no bones about whose side they're on. It's Kitchen Wars meets This is Your Life—a recipe for disaster... or a new take on love?

You won't want to miss this epic return to Chesapeake Shores, a place we're betting you'll want to stay forever.
"Okay, if I come clean, do you all swear that you won't reveal my plan, not even to your husbands, cousins or siblings? I suppose I should mention parents, aunts and uncles, too, just to cover all the bases."
Bree laughed. "We'll keep our lips tightly sealed," she promised.
"Unless we think someone could get hurt," Heather corrected mildly.
"Nobody is going to get hurt," Nell said impatiently. "The goal is to have people living happily ever after."
"Isn't it always?" Shanna murmured. Nell turned to her. "I heard that."
"I meant for you to," her granddaughter-in-law said, undeterred by Nell's scowl.
The girl had spunk, Nell thought. They all did. It was hard to hold your own among the O'Briens without it. She couldn't help thinking that was a good thing. Shanna had needed every ounce of it when she'd first met Kevin, who'd been grieving the loss of his first wife and struggling to raise his little boy alone. She'd had her own difficult crosses to bear from the past, as well.
Nell leaned forward then, noting that all three of them did the same. "Okay, then, here's what we're going to do."
As she described her plan, she saw them nodding, their eyes lighting with anticipation. At the end, she sat back. "What do you think?"
"Ingenious," Bree admitted.
"Will you all take the lead on this tomorrow, as if the idea's just come to you? Dillon's afraid if it comes from me, Kiera will assume it started with him and balk on principle."
"I wouldn't worry about that," Heather said. "She seems to be under your spell, too."
"But if it backfires and hurts her relationship with her father, I'd never forgive myself. Their bond has been healing and growing stronger since she's been here. I can't put that at risk," Nell said.
"Not to worry," Bree said. "We'll take the heat. This could actually be kind of fun. If there are any of those sparks that Mick saw when he caught them together, everyone in town will enjoy getting a chance to fan the f lames." She hesitated, then asked, "Why are you willing to risk Dillon's relationship with Kiera, though? Are you so certain that Kiera and Bryan are a good match? He seems a gentle, lost soul in some ways, and she, well, she does have a bit of a temper."
"Which is exactly why they're so well suited," Nell said. "Dillon swears he sees some of Peter's steadiness in Bryan and that it's what Kiera needs in her life. As I've gotten to know them both, I tend to agree. And every relationship needs a little heat and conflict from time to time."
"This could cause some tension at the pub, though," Shanna cautioned. "How will Luke feel about that?"
"He'll have to deal with it for the greater good," Nell said blithely. "I expect him to do his part, too. That's why I've invited him to tomorrow's meeting, too."
"Invited or commanded?" Bree asked with a grin.
"It was an invitation," Nell said defensively, then shrugged. "With a little grandmotherly guilt tossed in."
"What about Moira? This is her mother we're talking about," Shanna reminded them. "Shouldn't she be consulted?" Nell shook her head. "I think it's best if she's not drawn into this. Her relationship with her mother is at stake, too.
She needs to be able to claim quite honestly that she's no more than an innocent bystander."
"Nine o'clock tomorrow, then," Bree said. "Suddenly—and I never thought I'd say this—I can't wait."
The other two women nodded in agreement. Nell barely resisted the urge to give them a high five. She didn't want to risk celebrating too soon. There were any number of ways this plan of hers might go awry. She was counting on Bryan's competitive spirit and desire to be taken seriously as a chef, but Kiera was a bit of a wild card. She was feisty enough to take the bait just on principle, but she could just as easily see right through the scheme and want no part of it.
Kiera was so eager to join the O'Brien women at Nell's the next morning and get her first taste of being a part of a community event that she was the first to arrive at the cottage. Nell had already added extra chairs around the kitchen table and had set the water for tea on the stove to boil. The aroma of scones wafted from the oven, a new f lavor Kiera couldn't quite identify beyond being especially mouthwatering.
"What can I do to help you get ready?" she asked her step- mother, suddenly realizing that she was actually becoming comfortable thinking of Nell in that role. She'd expected it to be a more difficult transition, certain that she'd resent the woman who had taken her own mother's place. Somehow, though, knowing that Nell and her father had shared a teenage passion so long ago and were being given this second chance by the grace of God made it easier. It certainly helped that Nell had never pushed, but only opened her arms to welcome Kiera into her life and into the O'Brien family.
"Your father helped me before he left for a walk," Nell said. "Just come and have a cup of tea until the others arrive." "I'm surprised you haven't put my father to work on your committee. The way I hear it, no one in the family escapes from playing a role."
About the Author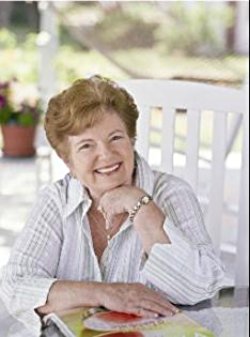 With her roots firmly planted in the South, Sherryl Woods has written many of her more than 100 books in that distinctive setting, whether in her home state of Virginia, her adopted state, Florida, or her much-adored South Carolina.

Sherryl is best known for her ability to creating endearing small-town communities and families.

She is the New York Times and USA Today bestselling author of over 75 romances for Silhouette Desire and Special Edition.
Giveaway!

Books à la Mode is giving away
one print copy of Lilac Lane
—yay!
To enter, all you have to do is tell me in the comments below:
Where is your favorite beach located?
Please make your comment MEANINGFUL. Comments solely consisting of stock responses or irrelevant fluff like "Thanks for the giveaway!" will not be considered for entry. Sherryl and I really want to hear from you guys! :)
I have favorites in every region I've lived in: Corpus Christi in the South, Ocean City on the East Coast, and Santa Cruz on the West!

Don't forget the entry eligibility terms and conditions!
Sponsored wholly by the tour publicist—a huge thank you to TLC Book Tours!
Giveaway ends October 24th at 11.59 PM (your time).
Open to US and Canada readers only—sorry, everyone else! Please check my sidebar for the list of currently running giveaways that are open worldwide. There are plenty to choose from!
Winners have 48 hours to claim their prize once they are chosen, or else their winnings will be forfeited.
Although I do randomly select winners, I am in no way responsible for prizes, nor for shipping and handling.
As a reminder, you do
not
have to follow my blog to enter, though it is always very much appreciated ❤