Another Man's Ground
(Sherrif Hank Worth #2)
Claire Booth
from
Minotaur Books
//
St. Martin's Press
//
MacMillan
It starts out as an interesting little theft case. Branson, Missouri's new Sheriff Hank Worth is called out to look at stands of trees that have been stripped of their bark, which the property owner had planned to harvest for the booming herbal supplement market. At first, Hank easily balances the demands of the investigation with his fledging political career. He was appointed several months earlier to the vacant sheriff position, but he needs to win the fast-approaching election in order to keep his job. He thinks the campaign will go well, as long as he's able to keep secret the fact that a group of undocumented immigrants—hired to cut down the stripped trees—have fled into the forest and he's deliberately not looking for them.

But then the discovery of a murder victim deep in the Ozark backwoods sets him in the middle of a generations-old feud that explodes into danger not only for him, but also for the immigrants, his deputies, and his family. He must rush to find a murderer before election day, and protect the vulnerable in Branson County, where politicking is hell and trespassing can get you killed.

In Another Man's Ground, her next novel featuring Sheriff Hank Worth, acclaimed author Claire Booth delivers a taut, witty mystery that will grip readers from the opening pages to the breathless conclusion.
Reasons I Chose to Set Another Man's Ground in Branson, Missouri
Branson is what I consider one of the most interesting places in the country. It's not a big place—only about 11,000 people live there—yet it gets millions of tourist visitors a year. So it's a great mix of small town and big city and has a lot of the problems and benefits of both.
Did I mention the tourists? Branson is home to one of the biggest collections of shows around. Big, full production shows – everything from country music (which is primarily what it's known for) to magicians, acrobats, comedians, patriotic celebrations, and more. That makes for the potential of a lot of interesting conflicts. Or in my case, the chance to create a lot of unique murder scenarios.
Before country music stars began building theaters in Branson, the area was known primarily for its beautiful scenery and many outdoor activities. Fishing, hiking, and camping are still very popular. And again, all of those give me great opportunities in my books to get out and explore. In my hands, the Ozark backwoods can be a very sinister place.
I love Missouri. I went to college at the University of Missouri, in Columbia, which is about three hours away from Branson. Every time I sit down to write, I get to go back to that whole area in my mind, and I love that.
When I need to do research, I get to go back to Missouri for real. Talk about a fun perk for my work!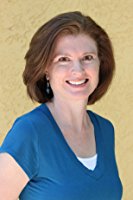 Claire Booth spent more than a decade as a daily newspaper reporter, much of it covering crimes so convoluted and strange they seemed more like fiction than reality. Eventually, she had enough of the real world and decided to write novels instead.

Her Sheriff Hank Worth mystery series takes place in Branson, Missouri, where small-town Ozark politics and big-city country music tourism clash in, yes, strange and convoluted ways.
Giveaway!
Books à la Mode is giving away
one print copy of Another Man's Ground
—yay!!
To enter, all you have to do is answer Claire's question in the comments below:
What's the most tourist-y place you've ever gone on vacation? What did you like, or not like, about it??
Please make your comment MEANINGFUL. Comments solely consisting of stock responses or irrelevant fluff like "Thanks for the giveaway!" will not be considered for entry. Claire and I really want to hear from you guys! :)
Probably New York City, multiple times. I've done the Liberty Island tour, went up the Empire State Building, watched Broadway musicals... every tourist-y thing imaginable! I love the center of Manhattan, Times Square specifically, despite all its hype and chaos. It truly is exactly like you see in the movies, especially at night. Utterly magical. I did not enjoy how dirty and rather scary the subways were (again, at night). Overall it is one of my favorite cities to visit, one that I understand is popular for good reason!
Don't forget the entry eligibility terms and conditions!
Sponsored wholly by the tour publicist and publisher—a huge thank you to the lovely folks at TLC Book Tours and St. Martin's Press!
Giveaway ends July 25th at 11.59 PM (your time).
Open to US and Canada residents only. Sorry, everyone else! Please check my sidebar for a list of currently running giveaways that are open worldwide. There are plenty to choose from!
Winners have 48 hours to claim their prize once they are chosen, or else their winnings will be forfeited.
Although I do randomly select winners, I am in no way responsible for prizes, nor for shipping and handling.
As a reminder, you do
not
have to follow my blog to enter, though it is always very much appreciated ❤