Sweetbriar Cottage
Denise Hunter
from
Thomas Nelson
//
HarperCollins
When Noah and Josephine discover their divorce was never actually finalized, their lives are turned upside down.

Following his divorce, Noah gave up his dream job and settled at a remote horse ranch in the Blue Ridge Mountains of northern Georgia, putting much-needed distance between himself and the former love of his life. But then Noah gets a letter from the IRS claiming he and Josephine are still married. When he confronts Josephine, they discover that she missed the final step in filing the paperwork and they are, in fact, still married.

Josephine is no happier about the news than Noah. Maybe the failed marriage—and botched divorce—was her fault, but her heart was shattered right alongside his, more than he would ever believe. The sooner they put this marriage behind them, the better for both of their sakes.

But when Josephine delivers the final paperwork to his ranch, the two become stranded in his cottage during the worst spring snowstorm in a decade. Being trapped with Josephine is a test of Noah's endurance. He wrestles with resentment and an unmistakable pull to his wife—still beautiful, still brave, and still more intriguing than any woman he's ever known.

As they find themselves confronted with each other and their shared past, old wounds surface and tempers flare. But when they are forced out into the storm, they must rely on each other in a way they never have before. Josephine finally opens up about her tragic past, and Noah realizes she's never been loved unconditionally by anyone—including him. Will Noah accept the challenge to pursue Josephine's heart? And can she finally find the courage to trust Noah?
Sweetbriar Cottage: The Story Behind the Story
Sweetbriar Cottage
was initially conceived during a workshop at a writer's conference. Over the next few days the ideas just kept flowing. The characters arrived on the scene fully fleshed, scene ideas poured out, and dialogue came as fast as I could jot it down. This is my 30th book and, I assure you, that is not normally the case for me!
But by the time I was heading home from the conference I was starting to waffle about writing this story. I realized it would have to be a stand-alone novel. With the exception of one book, I had only written series for my current publisher, and I doubted they wanted to change that anytime soon.
Also, part of me was nervous about this particular story. I worried I wouldn't be able to quite pull it off the way I saw it in my head. The plot centered around a couple who finds out their divorced was never finalized. They end up stranded during a snowstorm, fighting for their very survival. Josephine had a pretty dark past and, though I already loved her and felt compassion for her, I worried about making her likable for readers. Self-doubt crept in (boy, did it), and I shoved the story on the back burner without telling a soul.
Months passed, and my publisher asked me for a four-book proposal. I was expecting this and had three stories already in mind for a series; I only needed one more. It occurred to me that I could water down my stand-alone idea and pitch it as the first story of the series. After all, I already had thirteen single-spaced pages of notes! The story I proposed to them was basically the couples' back story. Their meeting at her barbershop, their courtship, and (ta-da!) their happily ever after. No divorce. No darkness. No reconciliation. All the hard parts were gone now. Clever me.
Fast forward a couple months. I was eagerly waiting to hear from my editor how the publishing team felt about my series proposal. I was especially anxious because I needed to start the first novel very soon in order to meet my deadline. And then I got the email I'd been waiting for. They loved the series idea. But...
"Could you possibly write a stand-alone book before you start the series?"
I was shocked. They had their reasons—good ones—but inside I was panicking. Every story I had in my arsenal was already in my proposal. And since stories typically "brew" inside my head for months before I ever start writing . . . what on earth was I going to write? I needed an idea and quick!
I'm sorry to say it took two full days of panic to even remember my initial idea for Sweetbriar Cottage. And once I did, I knew it was the book I was supposed to write. It seemed Someone wanted me to write this story the way it had been given to me. It seemed Someone had vetoed my idea of watering it down. And Someone had told my publisher I needed to write something else.
I immediately scheduled a call with my publisher. My throat tightened with tears as I explained all that had happened "behind the scenes". It was obvious that this story already had me by the heart, and I hadn't even written a word of it. They agreed I needed to write it as a stand-alone.
I'd like to say the fear disappeared after I started the story. But to tell the truth, every day I sat down to write this book was an act of faith. And yet each time I placed my fingers on the keyboard, the words seemed to pour straight from my heart in a way they never had before.
I hope I did the story justice. I hope Josephine and Noah become as real to the reader as they are to me. I hope their struggles and pain change hearts in some little way as they did mine. I'm so grateful I got the chance to tell the story, just as it was meant to be told. And I'm grateful for all the readers that choose to come along on the journey with me.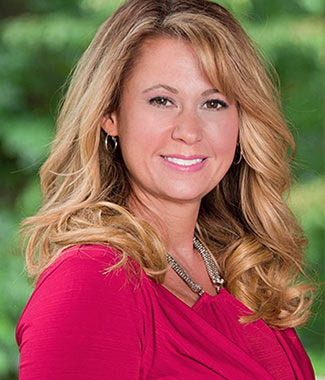 Denise Hunter is the internationally published bestselling author of more than twenty-five books, including A December Bride and The Convenient Groom, which have been adapted into original Hallmark Channel movies. She has won The Holt Medallion Award, The Reader's Choice Award, The Carol Award, The Foreword Book of the Year Award, and is a RITA finalist.

When Denise isn't orchestrating love lives on the written page, she enjoys traveling with her family, drinking green tea, and playing drums. Denise makes her home in Indiana where she and her husband are rapidly approaching an empty nest.
Giveaway!
Books à la Mode is giving away
one print copy of Sweetbriar Cottage
—yay!!
To enter, all you have to do is answer Denise's question in the comments below:
Sweetbriar Cottage is a contemporary story set on a horse farm in the Blue Ridge mountains. If you were going to write a novel, when and where would you set it?
Please make your comment MEANINGFUL. Comments solely consisting of stock responses or irrelevant fluff like "Thanks for the giveaway!" will not be considered for entry. Denise and I really want to hear from you guys! :)
Don't forget the entry eligibility terms and conditions!
Sponsored wholly by the tour publicist and publisher—a huge thank you to the lovely folks at TLC Book Tours and Thomas Nelson!
Giveaway ends August 9th at 11.59 PM (your time).
Open to US and Canada residents only. Sorry, everyone else! Please check my sidebar for a list of currently running giveaways that are open worldwide. There are plenty to choose from!
Winners have 48 hours to claim their prize once they are chosen, or else their winnings will be forfeited.
Although I do randomly select winners, I am in no way responsible for prizes, nor for shipping and handling.
As a reminder, you do
not
have to follow my blog to enter, though it is always very much appreciated ❤