The Innkeeper's Sister (Honey Ridge #3)
Linda Goodnight
Welcome to Honey Ridge, Tennessee, where Southern hospitality and sweet peach tea beckon, and where long-buried secrets lead to some startling realizations...




Grayson Blake always has a purpose—and never a moment to lose. He's come home to Honey Ridge to convert a historic gristmill into a restaurant, but his plans crumble like Tennessee clay when the excavation of a skeleton unearths a Civil War mystery... and leads him back to a beautiful and familiar stranger.




Once a ballet dancer, now co-owner of the Peach Orchard Inn, Valery Carter harbors pain as deep as the secrets buried beneath the mill. A bright facade can't erase her regrets any more than a glass of bourbon can restore what she's lost. But spending time with Grayson offers Valery a chance to let go of her past and imagine a happier future. And with the discovery of hidden messages in aged sheet music, both their hearts begin to open. Bound by attraction, and compelled to resolve an old crime that links the inn and the mill, Grayson and Valery encounter a song of hurt, truth... and hope
The large open space was mostly empty, whatever milling equipment once used here gone except for a rusted conglom­eration of overheard pulleys. On the floor in one corner near the dirt-caked window was a well-used sleeping bag, a hub­cap of water, and an assortment of empty plastic containers.
"Squatters?"
"Maybe kids camping out for the scare effect," Grayson said. "We did that once, remember?"
"No, we didn't. I wanted to, but you wussed out. You had a crush on some girl and thought you'd see her if you hung around the Dairy Queen."
Grayson wagged his head. "That was you, Romeo."
"No, no. I remember well. It was the summer before—" Devlin stopped, grimaced "—you know."
"Yeah." Dev knew he didn't like to talk about that time or the difficult year to follow when Devlin had returned to Honey Ridge without him.
"Anyway, I was only eleven and couldn't care less about girls." Devlin smacked his forehead with the heel of his hand. "What was wrong with me!"
Grayson laughed. "When the love hormones finally struck— around thirteen if I remember correctly—you never looked back."
"True. Nothing so wonderful on this planet as the female gender. God knew what He was doing."
"None of which relates to this obvious sleeping place. I tend to think someone has been camping here. Notice how the space has been cleared, as if someone moved things out and swept up?"
"I see what you mean. This room is mostly empty."
"A construction zone is no place for trespassers, kid or otherwise. We'll need signs."
Devlin's face lit up. "So you're on board for the new proj­ect?"
"I want to push some numbers first and look at cost ver­sus return."
Devlin shifted on his feet, stuck his hands in his pockets and then took them out. Finally, he went to the filthy window. "Take a look at the view. We can rebuild this upper level as a special venue, cater for parties, rehearsal dinners and such. Maybe a wall of windows here."
The view below encompassed the water wheel and the small falls tumbling into the clear, rocky creek. Woods and nature stretched as far as the eye could see. "The view does have po­tential. People will want to walk down there."
"I like the natural feel, but we'll do some landscaping, add romantic benches and mini gardens."
"We'll have to clear an area for parking."
Grayson started to turn away, eager now to push a pencil on the project and see if a new restaurant on the site was fea­sible. Something in the brush caught his eye. He squinted. "What's that?"
"Where?"
He put a fingertip against the window. "There in the tan­gle of kudzu above the creek."
Devlin frowned, peering closely. "I don't see…"
"It's gone now." Grayson pivoted away, his head already filled with schedules and numbers and contractor contacts.
"What was it?"
"Probably a wild animal. A coyote maybe. Or a bear."
"Or our squatter?"
"Possibly." The squatter was the least of Grayson's con­cerns. Whoever it was would have to find another place to play. He looked at his watch. "Our check-in time is four. We should go."
"The Peach Orchard Inn is across the road, Grayson. We aren't going to be late."
"I don't like to keep people waiting."
Devlin rolled his eyes upward and shook his head. "If you weren't such a genius with your schedules and spreadsheets—"
"Admitting my genius, are you?" Suspicion sprouted in Grayson and grew faster than kudzu. He paused at the top of the stairs to squint at his younger brother. "You only do that when you want something. What gives?"
Devlin stacked his hands on his hips, suit jacket pushed back on the sides. "So what do you think? Won't this make a great Blake Brothers Restaurant?"
"Maybe. After we check in at the B and B, I'll give the owner a call and talk numbers."
"Uh. Grayson. I sort of already did that."
Grayson's eyebrows rose high. "You did?"
"Yeah, yeah, I know, negotiations are your thing, but I got wind of a possible competitor. And I'm sentimental about any­thing connected to Grandma and Pappy. I want this place. I couldn't let it get away."
Grayson was sentimental about Honey Ridge, too, but busi­ness was business. "I don't like the sound of this."
"I knew you'd want the mill eventually. But you sweat the small stuff too much. The early bird gets the worm and all that."
Incredulous, foreknowledge tingling along his nerve end­ings like electricity, Grayson stared at his brother. "What did you do?"
"We. What we did." Devlin grimaced. "We bought it."
About the Author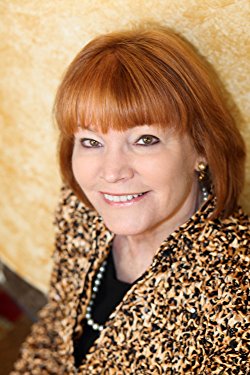 NY Times and USA Bestseller, Linda Goodnight writes novels to touch the heart as well as to entertain. Her emotional stories of hope have won the RITA, the Carol, the Reviewer's Choice, and numerous other industry awards.

A small town girl, Linda remains close to her roots, making her home in rural Oklahoma. She and her husband have a blended family of eight, including two teenagers recently adopted from Ukraine. Many of her books are about family and children and rightly so, as she draws her deeply emotional stories from her surroundings, her great love of family, and from personal experiences as a nurse and teacher.
Giveaway!
Books à la Mode is giving away
one print copy of The Innkeeper's Sister
—yay!
To enter, all you have to do is tell me in the comments below:
What and where is your favorite hotel or B&B? Whether it's a chain or a standalone inn, I'd love to know!
Please make your comment MEANINGFUL. Comments solely consisting of stock responses or irrelevant fluff like "Thanks for the giveaway!" will not be considered for entry. Linda and I really want to hear from you guys! :)
I've only been to one "official" bed & breakfast in Monterey, the Centrella Inn, so I don't have much to compare it to. With the advent of Airbnb though, I've visited some really cute resort-type residences in Santa Cruz and Tahoe, and would recommend them wholeheartedly!

Don't forget the entry eligibility terms and conditions!
Sponsored wholly by the tour publicist and publisher—a huge thank you to TLC Book Tours and HQN Books!
Giveaway ends July 28th at 11.59 PM (your time).
Open to US and Canada readers only—sorry, everyone else! Please check my sidebar for the list of currently running giveaways that are open worldwide. There are plenty to choose from!
Winners have 48 hours to claim their prize once they are chosen, or else their winnings will be forfeited.
Although I do randomly select winners, I am in no way responsible for prizes, nor for shipping and handling.
As a reminder, you do
not
have to follow my blog to enter, though it is always very much appreciated ❤