The Cottage at Firefly Lake
Jen Gilroy
from
Forever
//
Grand Central Publishing
//
Hachette
Some mistakes can never be fixed and some secrets never forgiven... but some loves can never be forgotten.

Charlotte Gibbs wants nothing more than to put the past behind her, once and for all. But now that she's back at Firefly Lake to sell her mother's cottage, the overwhelming flood of memories reminds her of what she's been missing. Sun-drenched days. Late-night kisses that still shake her to the core. The gentle breeze off the lake, the scent of pine in the air, and the promise of Sean's touch on her skin... True, she got her dream job traveling the world. But at what cost?

Sean Carmichael still doesn't know why Charlie disappeared that summer, but after eighteen years, a divorce, and a teenage son he loves more than anything in the world, he's still not over her. All this time and her body still fits against his like a glove. She walked away once when he needed her the most. How can he convince her to stay now?
From Life to Fiction
Does my real life shape the stories I write? As an author, that's one of the questions I'm asked frequently and although I don't put real people in my books, bits and pieces of my life experience do indeed make their way into my fiction.
When I was writing
The Cottage at Firefly Lake
, I intentionally drew some aspects of the story from life. However, it was only much later that I realized there were deeper resonances between the plot and my lived reality.
From the obvious to the subliminal, here are the top five ways my fiction was inspired by my life.
The dog. Dogs (and sometimes cats) recur in my fiction and these furry companions help my characters grow, change, and oftentimes heal deep emotional wounds. The hero of The Cottage at Firefly Lake has a rescue dog, a black lab called Shadow, and she was inspired by my cousin's dog. In one scene, Shadow sits on the heroine's feet and gives her the kind of unconditional love and wordless comfort that dog owners know so well. Her real-life equivalent once did the same for me at a hard time in my life.
The place. While Firefly Lake is fictional, my depiction of the lake, cottage and small town was shaped by happy childhood memories of summers spent in similar places. Firefly Lake is set in Vermont's Northeast Kingdom because my husband and I had several wonderful vacations there. With its traditional landscape and way of life, it was the perfect place for a story celebrating everything that's special about a north country summer. However, the Vermont setting also allowed me to explore questions about how global forces can impact small rural communities, with related tensions between preservation and progress, and old and new.
The path not taken. One of the (many!) wonderful things about being author is exploring different careers and life choices through characters. The heroine of The Cottage at Firefly Lake is a foreign correspondent. Although I was never a journalist in real life, in doing the research to create the fictional Charlotte (Charlie) Gibbs, I had a taste of one of my career paths not taken.
The Jane Austen influence. When I first pictured Sean Carmichael, the hero of my book, he looked much like English actor Rupert Penry-Jones who played Captain Wentworth in the ITV television production of Persuasion, my favorite Jane Austen novel.
It wasn't until I checked the page proofs, though, that I realized there were numerous echoes of Persuasion in the story itself—a second-chance love story, interfering family, and a preoccupation with status and social class—all transposed into contemporary North America.
When a reviewer also picked up on the Austen connection, I appreciated that my own reading preferences have influenced core themes in my fiction far more than I was previously aware.
Life experience. When I started to write romantic women's fiction, I had to look deep inside myself to learn how to write from my heart and be brave enough to let myself be vulnerable on the page. Yet, in doing so, I've come to understand that not only has my life experience shaped the person I am, it also inspires the stories I tell.
Like many of us, it took me a long time (and numerous mistakes, regrets, and second chances) to figure out what truly mattered to me and live my life accordingly. Recurring themes in the Firefly Lake series (including the second book, Summer on Firefly Lake, which is out on July 25th) reflect my own experience of the healing power of love, the sustaining bonds of family and friendship, as well as the promise of redemption and finding a place to call home.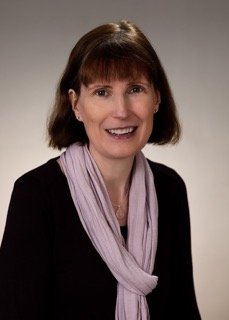 Jen Gilroy lives in a small town in Ontario, Canada. She's worked in higher education and international marketing but after spending too much time in airports and away from her family, she traded the 9-5 to write contemporary romance and women's fiction to bring readers' hearts home. Jen likes ice cream, diners, vintage style and all things country. Her husband is her real-life romance hero, and her teen daughter teaches her to cherish the blessings in the everyday.

The Cottage at Firefly Lake, the first book in her Firefly Lake series, was a finalist for Romance Writers of America's Golden Heart® award in 2015. It was also shortlisted for the Romantic Novelists' Association Joan Hessayon Award in 2017. The next book in the series, Summer on Firefly Lake, comes out on July 25th.
Giveaway!
Books à la Mode is giving away
one print OR digital copy of The Cottage at Firefly Lake
—winner's choice! Yay!!
To enter, all you have to do is answer Jen's question in the comments below:
The Cottage At Firefly Lake is a summertime book, and the fictional Strawberry Sensation ice cream (made by the local creamery) has special significance for the hero and heroine. In another instance of fiction mirroring life, ice cream (a soft serve vanilla/chocolate twist cone) is also my favorite summer treat.

What is your favorite ice cream flavor? If there's one that gets more mentions than others, I'll include it in the book I'm currently writing!
Please make your comment MEANINGFUL. Comments solely consisting of stock responses or irrelevant fluff like "Thanks for the giveaway!" will not be considered for entry. Jen and I really want to hear from you guys! :)
Don't forget the entry eligibility terms and conditions!
Sponsored wholly by the tour publicist and publisher—a huge thank you to the lovely folks at TLC Book Tours and Forever!
Giveaway ends July 7th at 11.59 PM (your time).
Open to US and Canada residents only. Sorry, everyone else! Please check my sidebar for a list of currently running giveaways that are open worldwide. There are plenty to choose from!
Winners have 48 hours to claim their prize once they are chosen, or else their winnings will be forfeited.
Although I do randomly select winners, I am in no way responsible for prizes, nor for shipping and handling.
As a reminder, you do
not
have to follow my blog to enter, though it is always very much appreciated ❤