The Right Side
Spencer Quinn
from
Atria Books
//
Simon & Schuster
In this riveting new novel by the New York Times bestselling author of the Chet and Bernie mystery series, a deeply damaged female soldier home from the war in Afghanistan becomes obsessed with finding a missing girl, gains an unlikely ally in a stray dog, and encounters new perils beyond the combat zone.

LeAnne Hogan went to Afghanistan as a rising star in the military, and came back a much lesser person, mentally and physically. Now missing an eye and with half her face badly scarred, she can barely remember the disastrous desert operation that almost killed her. She is confused, angry, and suspects the fault is hers, even though nobody will come out and say it.

Shattered by one last blow—the sudden death of her hospital roommate, Marci—LeAnne finds herself on a fateful drive across the country, reflecting on her past and seeing no future. Her native land is now unfamiliar, recast in shadow by her one good eye, her damaged psyche, her weakened body. Arriving in the rain-soaked small town in Washington State that Marci had called home, she makes a troubling discovery: Marci's eight-year-old daughter has vanished. When a stray dog—a powerful, dark, unreadable creature, no one's idea of a pet—seems to adopt LeAnne, a surprising connection is formed and something shifts inside her. As she becomes obsessed with finding Marci's daughter, LeAnne and her inscrutable canine companion are drawn into danger as dark and menacing as her last Afghan mission. This time she has a strange but loyal fellow traveler protecting her blind side.

Enthralling, suspenseful, and psychologically nuanced, The Right Side introduces one of the most unforgettable protagonists in modern fiction: isolated, broken, disillusioned—yet still seeking redemption and purpose—LeAnne takes hold of the reader and never lets go.
The First Sentence of The Right Side
I've always been a big believer in the importance of the first sentence in a novel. Even if people's attention spans aren't shrinking, there are certainly more distractions out there. So no time for meandering our way into the story: we have to hit the ground running. And I'd submit that even in the more leisurely past the best writers already did that. Check out the first sentence of Kafka's
Metamorphosis
, for example.
Here's the first sentence of
The Right Side
:
"Just want to make sure I've got your name right."
In quotes—meaning someone is speaking. But who? So there's at least one question in the air right off the jump. We seem to be in the middle of a conversation. Many writers shy away from starting that way, thinking that the reader needs more explication first, or fearing the sludgy fact-filled paragraphs that will be required later to bring the reader up to speed. I never write those paragraphs. The facts the reader has to have, I fold into the narrative as invisibly as possible, like truffles in a cream sauce.
How nice if beyond hitting the ground running, the first sentence can help out in other ways—say by suggesting the theme of what is to come. (See
Peter Pan
.) "Getting the name right" invites us to start thinking about identity, and the identity of LeAnne Hogan, the wounded vet in
The Right Side
—to whom this first remark is addressed—is the heart of the story: who she is now, how she got that way, what will happen to her. The speaker is using "right" to mean correct, but there are more meanings to the word. Will LeAnne, like a foundering ship, be able to right herself, to make herself right? These issues are all raised from the get-go—and in fact are first suggested in the title itself. So the rightness drum gets banged twice, once in the title, again at the end of the first sentence. (And the drum feels like the "right" instrument in a novel that's part war story.)
Was I aware of all these layers when I wrote
"Just want to make sure I've got your name right."
? No, absolutely not! I just blithely typed it out and kept going. All the rest came to me during the writing, or after reading the first draft. That's one of the strange pleasures of this business.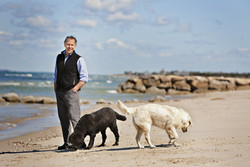 Spencer Quinn is the #1 New York Times bestselling author of the ongoing Chet and Bernie mystery series, as well as the bestselling Bowser and Birdie series for middle grade readers.

He lives on Cape Cod with his wife Diana and dogs Audrey and Pearl.
Giveaway!
Books à la Mode is giving away
one print copy of The Right Side
—yay!!
To enter, all you have to do is answer Spencer's question in the comments below:
Have you ever found a stray animal? What did you end up doing with it?
Please make your comment MEANINGFUL. Comments solely consisting of stock responses or irrelevant fluff like "Thanks for the giveaway!" will not be considered for entry. Spencer and I really want to hear from you guys! :)
Don't forget the entry eligibility terms and conditions!
Sponsored wholly by the tour publicist and publisher—a huge thank you to the lovely folks at TLC Book Tours and Atria Books!
Giveaway ends July 4th at 11.59 PM (your time).
Open to US and Canada residents only. Sorry, everyone else! Please check my sidebar for a list of currently running giveaways that are open worldwide. There are plenty to choose from!
Winners have 48 hours to claim their prize once they are chosen, or else their winnings will be forfeited.
Although I do randomly select winners, I am in no way responsible for prizes, nor for shipping and handling.
As a reminder, you do
not
have to follow my blog to enter, though it is always very much appreciated ❤