The Gypsy Moth Summer
Julia Fierro
from
St. Martin's Press
//
MacMillan
It is the summer of 1992 and a gypsy moth invasion blankets Avalon Island. Ravenous caterpillars disrupt early summer serenity on Avalon, an islet off the coast of Long Island--dropping onto novels left open on picnic blankets, crawling across the T-shirts of children playing games of tag and capture the flag in the island's leafy woods. The caterpillars become a relentless topic of island conversation and the inescapable soundtrack of the season.

It is also the summer Leslie Day Marshall—only daughter of Avalon's most prominent family—returns with her husband, a botanist, and their children to live in "The Castle," the island's grandest estate. Leslie's husband Jules is African-American, and their children bi-racial, and islanders from both sides of the tracks form fast and dangerous opinions about the new arrivals.

Maddie Pencott LaRosa straddles those tracks: a teen queen with roots in the tony precincts of East Avalon and the crowded working class corner of West Avalon, home to Grudder Aviation factory, the island's bread-and-butter and birthplace of generations of bombers and war machines. Maddie falls in love with Brooks, Leslie's and Jules' son, and that love feels as urgent to Maddie as the questions about the new and deadly cancers showing up across the island. Could Grudder Aviation, the pride of the island—and its patriarch, the Colonel—be to blame?

As the gypsy moths burst from cocoons in flocks that seem to eclipse the sun, Maddie's and Brooks' passion for each other grows and she begins planning a life for them off Avalon Island.

Vivid with young lovers, gangs of anxious outsiders; a plotting aged matriarch and her husband, a demented military patriarch; and a troubled young boy, each seeking his or her own refuge, escape and revenge, The Gypsy Moth Summer is about love, gaps in understanding, and the struggle to connect: within families; among friends; between neighbors and entire generations.
The First Sentence of The Gypsy Moth Summer
Before that summer of '92, when the gypsy moths swarmed Avalon Island and Leslie Day Marshall, golden-headed prodigal daughter, returned with her black husband and brown children to claim her seat as First Lady, the island's crimes were minor.
Using such a long first sentence was a bit of a literary risk but I liked how the entire novel was implied in that first sentence.
As a teacher of writing and, specifically, writing workshops on novel writing, I always tell my students that the beginning of any story, long or short, is hugely significant. The first paragraph, and even the first sentence, is where the writer promises the reader that this read is worth their time--time that seems ever-waning in our info-glutted Internet Age. I wanted to write a first sentence that would hook the reader's attention; establish an immediate sense of urgency, place, situation, tension; and promise that the summer of '92 is a summer that will change Avalon Island and its residents, East and West, forever.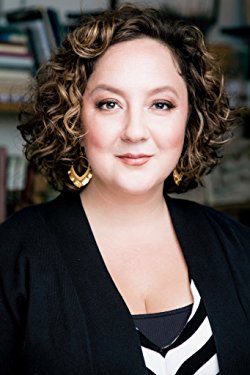 Julia Fierro is the founder of The Sackett Street Writers' Workshop, a creative home to more than 4,000 writers in New York City, Los Angeles, and online.

Her first novel Cutting Teeth, was praised by The Boston Globe ("at once modern and timeless") and The New Yorker ("a comically energetic début").

A graduate of the Iowa Writer's Workshop, Julia lives in Brooklyn and Los Angeles.
Giveaway!
Books à la Mode is giving away
one print copy of The Gypsy Moth Summer
—yay!!
To enter, all you have to do is answer Julia's question in the comments below:
Where were you and what were you up to in the summer of 1992?
Please make your comment MEANINGFUL. Comments solely consisting of stock responses or irrelevant fluff like "Thanks for the giveaway!" will not be considered for entry. Julia and I really want to hear from you guys! :)
I wasn't even born yet! But I like to imagine myself as a cherub-faced spirit, peeking in on my parents getting engaged before the concept of my name had even been imagined.
Don't forget the entry eligibility terms and conditions!
Sponsored wholly by the tour publicist and publisher—a huge thank you to the lovely folks at TLC Book Tours and St. Martin's Press!
Giveaway ends July 14th at 11.59 PM (your time).
Open to US and Canada residents only. Sorry, everyone else! Please check my sidebar for a list of currently running giveaways that are open worldwide. There are plenty to choose from!
Winners have 48 hours to claim their prize once they are chosen, or else their winnings will be forfeited.
Although I do randomly select winners, I am in no way responsible for prizes, nor for shipping and handling.
As a reminder, you do
not
have to follow my blog to enter, though it is always very much appreciated ❤