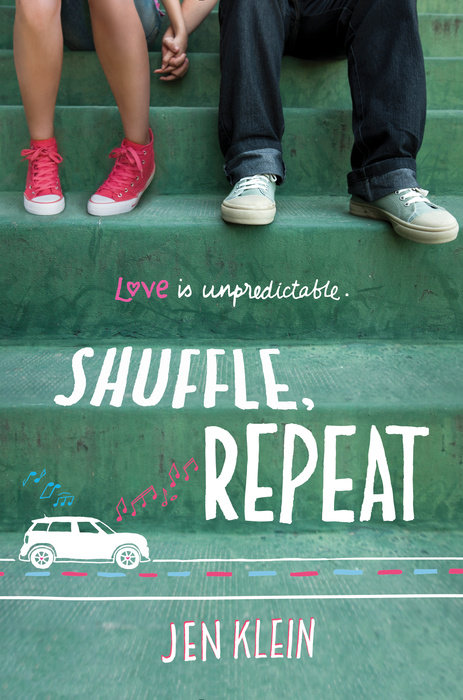 Shuffle, Repeat
Jen Klein
When Harry Met Sally for YA romance readers. This opposites-attract love story is perfect for fans of Huntley Fitzpatrick, Stephanie Perkins, and Jenny Han.




June wants high school to end and real life to begin. Oliver is soaking up senior year's glory days. They could have coasted through high school, knowing about—but not really knowing—each other.

Except that their moms have arranged for Oliver to drive June to school. Every. Single. Day.

Suddenly these two opposites are fighting about music, life... pretty much everything. But love is unpredictable. When promises—and hearts—get broken, Oliver and June must figure out what really matters. And then fight for it.

Observations About Writing Television vs. Writing Books
I don't know very many people who write both television and books. There are some of us, for sure, but we're not littering the streets of Hollywood or anything. And calm down, I'm not saying I'm some sort of rare special unicorn flower. It's just that television—although it may seem glamorous and luxurious from the outside—is a beast of a job. Long hours, juggling many different personalities, and a product that—at the end of the day—is judged by people's opinions and the amount of money it makes. It's not easy to get in and once you're in, it doesn't get any easier. At the end of the day, you often just want to turn your brain off and take a break. Not switch gears and settle in for several hours of book-writing.
But it's possible and—at times—wildly rewarding. Settle in and I'll tell you all about it...
The juggling act is intricate and eternal. I'm not only talking about scheduling your life—when you write scripts vs. when you write books vs. when you're on set vs. when you actually have your own LIFE—but also juggling the worlds and characters who live in your head. That said...
Switching back and forth is the BEST. By the end of a long day where you and a room full of people have nearly come to blows while negotiating the best way to end Act 3, sometimes you come away craving ultimate authority. In a book, YOU get to make the decisions. Sure, you have an editor and yes, that person has thoughts and opinions and a creative voice, but you're the one who decides how long your protagonist's hair is, and the color of the rug in her bedroom, and what she had for dinner last night. The world is not only birthed in your brain but it STAYS there. At least until someone else reads it and it translates to their imagination.
When you write a TV script, you're writing characters who were birthed in someone else's head (unless you are gifted/lucky enough to have created your own series). This means that you can't just be a good writer. You also have to have the ability to write in someone else's voice, which is a very specific talent. Don't worry, it's learned. You don't have to be born with it.
There's a big difference in structure between network TV and books. In TV, you're writing in 6 acts, and those acts need to be long enough to pull in an audience but short enough to allow time for commercials in between. Whereas in a book, there's no set rule about structure. Your first chapter can be 1 page long or 50. It's dictated by the story itself.
I wanted to have a section here about the financial aspects of both writing worlds, and about the stability but... at the end of the day, there's no stability in either. Generally speaking, there's a lot more money in TV, but getting in is incredibly difficult and, once you're in, staying there can be an exercise in terror. Every job could be your last. Every minute could be your last. Which sounds horrifying (and it IS horrifying!) but it's also exciting. It pushes you to do your best all the time. Writing books tends to be less financially rewarding (unless you're: insert-name-of-famous-author-here), but there are probably more easily found venues in which to sell your work. Even if you don't go the route of traditional publishing, you can self-publish. You have options that aren't available if you're sitting around in the dark, writing your own scripts.
There are three distinct parts to television writing. There's the part where you sit in a room with a bunch of smart, funny, interesting people and you talk (and sometimes argue) about story and characters. There's the part where you go off to your personal writer cave and do the thing that made you choose this career in the first place. And then there's the part where you're on set, watching those stories you imagined in the room and in your cave come to life before your eyes. Each of these three parts has different highs and lows, different joys and pitfalls. Whereas when you're writing a book, there's basically just one part: you in your cave doing the work.
Here's what's most daunting about writing a book: the ink comes all the way to the edges of the page. And there are a LOT of pages. Which means a LOT of words and a LOT of ink. When you've been doing that and then you switch back to TV, it feels like the fastest thing in the world. Other than sluglines and a little bit of stage directions, the ink is a narrow strip down the center of the page. Even though you know it's not, it SEEMS almost skeletal to write. Like an outline. So easy! So fun! And you're in the company of all these other awesome writers who have somehow become your tribe!
Which brings me to: your tribe. Whatever you're writing, you need a tribe. In TV, those people are chosen for you and you're going to have to find a way to get through each other's personality differences to the place where you connect. Because these people will become your work-family. You will see each other exhausted and frustrated and excited and in love and all the places in between. Be nice to each other and give the support you want in return. In books, you can choose your tribe yourself. Pick a writing group, whether that's in person or online. Find people you trust to give you honest feedback.
As an FYI and explanation, this blog post was written in the cracks and crevices between rewriting book #4 (as of this posting, a yet-to-be-titled YA contemporary romance to come out from Random House in 2018) and breaking season 2 of Lee Daniels' STAR (coming from FOX in the fall of 2017). So it's a little rambling and a little incoherent. This is also part of the lesson.
In conclusion, if you want to write for either TV or books or both, do these things: be kind to others and yourself, work hard, find your tribe. And maybe don't write blog posts when your life is crazy. Except if you're going to write for TV and books, news flash: your life is always going to be crazy.
Hi! I'm Jen Klein. I write YA fiction, both contemporary and romance. I'm also an Emmy-nominated TV writer who worked on Grey's Anatomy and now works on Star. I live in the City of Angels with my husband, two sons, and several animals, all of whom are unruly and ill-behaved.

Originally from North Carolina, I eventually ended up in L.A. where I live-tweeted celebrity events (for money) and wrote all kinds of craziness, including: logic puzzles, a movie for Lifetime, oodles of great cartoons and things you may or may not have seen on television. Then I simultaneously landed my dream job and returned to my first love: writing novels. And here we are.
Giveaway!
Books à la Mode is giving away
one print copy of Shuffle, Repeat and some book swag
—yay!!
To enter, all you have to do is answer Jen's question in the comments below:
What were your favorite and least favorite things about high school?
Please make your comment MEANINGFUL. Comments solely consisting of stock responses or irrelevant fluff like "Thanks for the giveaway!" will not be considered for entry. Jen and I really want to hear from you guys! :)
Don't forget the entry eligibility terms and conditions!
Sponsored wholly by the author—a huge thank you to the lovely Jen Klein!
Giveaway ends June 15th at 11.59 PM (your time).
Open internationally! That means anyone in the world can enter, provided you have a verifiable email and mailing address.
Winners have 48 hours to claim their prize once they are chosen, or else their winnings will be forfeited.
Although I do randomly select winners, I am in no way responsible for prizes, nor for shipping and handling.
As a reminder, you do
not
have to follow my blog to enter, though it is always very much appreciated ❤