I'd like to welcome Edan Lepucki to the blog today to celebrate the exciting release of Woman No. 17 from Hogarth Books, an imprint of Crown Publishing!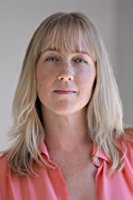 Welcome to
Books à la Mode
, Edan! Let's get this interview started.
Will you please share a brief introduction with us?
Edan Lepucki is the author of the novella If You're Not Yet Like Me and the novel California. Her new novel, Woman No. 17, was published last month by Hogarth/Crown.

California debuted at #3 on the New York Times Bestsellers List and has been the #1 bestseller on the Los Angeles Times and San Francisco Chronicle bestsellers lists. It's also been on the IndieBound and Publishers Weekly Bestsellers Lists. California was a fall 2014 selection of Barnes & Noble's Discover Great New Writers program. Edan and Stephen Colbert are now besties.

Edan is a graduate of Oberlin College and the University of Iowa Writers' Workshop, and her fiction and nonfiction have been published in Narrative Magazine, The New York Times, and McSweeney's, among others. The Los Angeles Times named her a Face to Watch for 2014. She is a contributing editor to The Millions and the founder of Writing Workshops Los Angeles.
It's amazing to get to feature you today! Readers, here's a bit about the book, which just hit shelves last month:
A sinister, sexy noir about art, motherhood, and the intensity of female friendships, set in the posh hills above Los Angeles, from the New York Times bestselling author of California

High in the Hollywood Hills, writer Lady Daniels has decided to take a break from her husband. Left alone with her children, she's going to need a hand taking care of her young son if she's ever going to finish her memoir. In response to a Craigslist ad, S arrives, a magnetic young artist who will live in the secluded guest house out back, care for Lady's toddler, Devin, and keep a watchful eye on her older, teenage son, Seth. S performs her day job beautifully, quickly drawing the entire family into her orbit, and becoming a confidante for Lady.

But in the heat of the summer, S's connection to Lady's older son takes a disturbing, and possibly destructive, turn. And as Lady and S move closer to one another, the glossy veneer of Lady's privileged life begins to crack, threatening to expose old secrets that she has been keeping from her family. Meanwhile, S is protecting secrets of her own, about her real motivation for taking the job. S and Lady are both playing a careful game, and every move they make endangers the things they hold most dear.

Darkly comic, twisty and tense, this mesmerizing new novel defies expectation and proves Edan Lepucki to be one of the most talented and exciting voices of her generation.
Blog babes, click "Read more" to find out why Edan decided to set the book in LA, her thoughts on the dark humor she writes, as well as what her writing process is like. We're also hosting a giveaway for a finished copy of Woman No. 17, so you don't want to miss that either!
What was the reason you chose Los Angeles as the setting for Woman No. 17?
I was born and raised in Los Angeles, and I love writing about it. L.A. is such a strange, surprising, and multifaceted city that's perfect for fiction, which should be just as layered and complicated. We need more books about L.A., frankly!
Woman No. 17
depicts a very specific upper-class, Hollywood Hills milieu, inspired in part by my mom's own neighborhood, and in part by a housesitting gig I did a decade ago—that house, with its beautiful pool and creepy guest-house, stayed in my imagination.
Woman No. 17 is rife with dark humor. How does humor serve as a natural balance to the conflicts in the story?
I'm a pretty outgoing and goofy person with a sunny outlook. Much of my fiction is dark, though—that darkness is also a part of me. But unrelenting sadness and despair is not only difficult to read, it's also unrealistic. (Gallows humor, anyone?) The comedy in the novel came naturally to me, and felt right for these characters, who are the sorts of people to crack jokes at even the worst of times. Comedy is a way to cope and deflect, and it's also a way to reach out and connect to others. And if we want to get deep, jokes by their very nature destabilize meaning, making it so that more than one version of reality coexists, if only momentarily. That feels fitting for these characters and their stories. Also: My brother just texted me to say that my book was making him laugh out loud. It felt like the highest compliment.
What is your writing process? Do you write each day?


In an ideal world, I would be writing from 9 am to 1 pm, Monday through Friday, without interruption, a strong cup of coffee by my side (with milk, hold the sugar). There would be a hearty but healthy lunch waiting for me at the end of the session. In real life, I have three days of childcare a week—my kids are one and five—and so usually I have to fit my writing in with a number of other duties, like peeling sweet potatoes for dinner later, or answering emails, or completing whatever other tasks I haven't managed to get done on my days with my daughter. On good writing days, I get three hours of work done, with the internet turned off. I often listen to music when I'm drafting, but if it's going well, I barely register that music is playing. I write directly onto the computer, often reading my prose aloud for rhythm and voice, and after a session I like to jot down notes and plans in a notebook. There is often the aforementioned coffee, and usually something with sugar or sodium to help me on my path. Somehow, in this way, the work gets done.
Where can you be found on the web?
It was a pleasure to be able to get to know you better today, Edan! Thank you again for dropping by, and best of luck with future endeavors!
Giveaway!
Books à la Mode is giving away
one print copy of Woman No. 17
—woohoo!
To enter, all you have to do is tell me in the comments below:
What city would you like to see represented more often in fiction?
Please make your comment MEANINGFUL. Comments solely consisting of stock responses or irrelevant fluff like "Thanks for the giveaway!" will not be considered for entry. Edan and I really want to hear your thoughts! :)
I love when books portray small towns well, even if they're random ones I have never visited! Each has its own quirks, and I love the feeling of "visiting" an underrated place I am unfamiliar with.
Don't forget the entry eligibility terms and conditions!
Sponsored wholly by the tour publicist and publisher—a huge thank you to the lovely folks over at TLC Book Tours and Crown!
Giveaway ends June 16th at 11.59 PM (your time).
Open to US residents only—sorry, everyone else! Please check my sidebar for a list of currently running giveaways that have fewer location restrictions. There are plenty to enter!
Void where prohibited.
Winners have 48 hours to claim their prize once they are chosen, or else their winnings will be forfeited.
Although I do randomly select winners, I am in no way responsible for prizes, nor for shipping and handling.
As a reminder, you do
not
have to follow my blog to enter, though it is always very much appreciated ❤