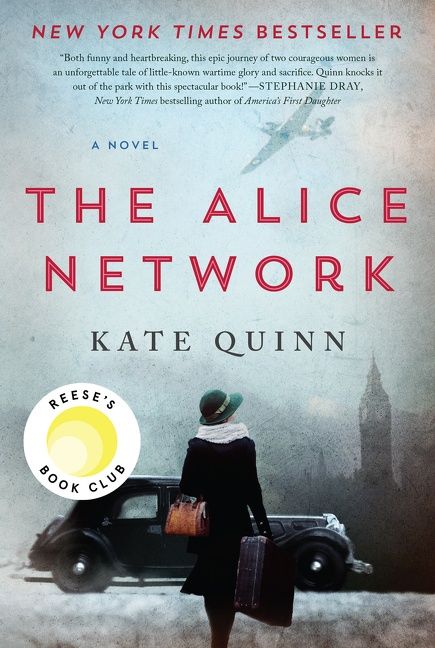 The Alice Network
Kate Quinn
from
William Morrow
//
HarperCollins
In an enthralling new historical novel from national bestselling author Kate Quinn, two women—a female spy recruited to the real-life Alice Network in France during World War I and an unconventional American socialite searching for her cousin in 1947—are brought together in a mesmerizing story of courage and redemption.

1947. In the chaotic aftermath of World War II, American college girl Charlie St. Clair is pregnant, unmarried, and on the verge of being thrown out of her very proper family. She's also nursing a desperate hope that her beloved cousin Rose, who disappeared in Nazi-occupied France during the war, might still be alive. So when Charlie's parents banish her to Europe to have her "little problem" taken care of, Charlie breaks free and heads to London, determined to find out what happened to the cousin she loves like a sister.

1915. A year into the Great War, Eve Gardiner burns to join the fight against the Germans and unexpectedly gets her chance when she's recruited to work as a spy. Sent into enemy-occupied France, she's trained by the mesmerizing Lili, the "Queen of Spies," who manages a vast network of secret agents right under the enemy's nose.

Thirty years later, haunted by the betrayal that ultimately tore apart the Alice Network, Eve spends her days drunk and secluded in her crumbling London house. Until a young American barges in uttering a name Eve hasn't heard in decades, and launches them both on a mission to find the truth... no matter where it leads.
"I'm looking for Evelyn Gardiner."
"I don't care who you're looking for. If you don't tell me why I've got a damned Yank breaking into my house, I'll shoot you. I'm old and I'm drunk, but this is a Luger nine-millimeter P08 in excellent condition. Drunk or sober I can take the back of your skull out at this range."
"I'm Charlie St. Clair." Pushing the wet hair out of my eyes. "My cousin Rose Fournier went missing in France during the war, and you might know how to find her."
Abruptly the electric wall lamp switched on. I blinked in the rush of harsh light. Standing over me was a tall gaunt woman in a faded print dress, her graying hair straggling around a time-ravaged face. She could have been fifty, or she could have been seventy. She had the Luger in one hand and a lit cigarette in the other; she kept the pistol steadily trained on my forehead as she raised the cigarette to her lips and took a long drag. Bile rose in my throat as I saw her hands. Good God, what had happened to her hands?
"I'm Eve Gardiner," she said at last. "And I don't know anything about this cousin of yours."
"You might," I said desperately. "You might—if you'll just talk to me."
"That's your plan, little Yank?" Her hooded storm-gray eyes surveyed me like a contemptuous bird of prey. "Burst into my house at nightfall, no plan, and I'm betting no money, on the chance I'd know something about your m-missing friend?"
"Yes." Faced with her gun and her scorn I couldn't explain why, why the chance to find Rose had turned suddenly all-consuming in my wrecked life. I couldn't explain this strange savage desperation, or why I had let it drive me here. I could only state the truth: "I had to come."
"Well." Eve Gardiner lowered her pistol. "I suppose you'll want t-tea."
"Yes, tea would be—"
"I don't have any." She turned and made her way back down the dark hall, walking long-strided and careless. Her bare feet looked like an eagle's claws. She weaved a little as she walked, the Luger swinging freely at her side, and I saw she still had a finger through the trigger. Crazy, I thought. The old cow is crazy.
And her hands—they were monstrous knobbed lumps, every knuckle misshapen and grotesque. They looked more like lobster claws than hands.
"Keep up," she said without turning, and I scurried after her. She struck a door open and flicked on a light, and I saw a cold sitting room—a mess of a place, grate unlit, drapes drawn so no chink of light could come in off the street, old newspapers and dirty tea mugs lying everywhere.
"Mrs. Gardiner—"
"Miss." She flung herself down in a shabby armchair overlooking the whole messy room, tossing her pistol down on the table beside it. I winced, but the thing didn't go off. "And you can call me Eve. You've f-forced your way into my house, so that's a level of intimacy I'm already disliking you for. What's a name?"
"I didn't mean to force my way—"
"Yes, you did. You want something, and you want it badly. What is it?"
I pulled up a hassock and sat down, suddenly uncertain where to start. I'd been so focused on getting here, I hadn't thought how exactly I should begin.
Two girls times eleven summers, divided by one ocean and one war...
Giveaway!
Books à la Mode is giving away
one print copy of The Alice Network
—yay!
To enter, all you have to do is tell me in the comments below:
What is a mistake you have made in the past, that you think the rest of us could learn from?
Please make your comment MEANINGFUL. Comments solely consisting of stock responses or irrelevant fluff like "Thanks for the giveaway!" will not be considered for entry. Kate and I really want to hear from you guys! :)
This is quite general, but I have the type of personality that does not enjoy asking for things, or reaching out first (from really trivial things like texting someone twice in a row, to bigger things like complicated favors). However I realize that it is more of a flaw in my thinking than anything else, and am working towards getting better at initiating things. Sometimes, you just need to swallow your pride and meet someone halfway to really get what you want.

Don't forget the entry eligibility terms and conditions!
Sponsored wholly by the publisher—a huge thank you to the lovely folks at Harper Collins!
Giveaway ends July 6th at 11.59 PM (your time).
Open to US and Canada readers only—sorry, everyone else! Please check my sidebar for the list of currently running giveaways that are open worldwide. There are plenty to choose from!
Winners have 48 hours to claim their prize once they are chosen, or else their winnings will be forfeited.
Although I do randomly select winners, I am in no way responsible for prizes, nor for shipping and handling.
As a reminder, you do
not
have to follow my blog to enter, though it is always very much appreciated ❤