Dark Deception (Defenders of Justice #2)
Nancy Mehl
from
Bethany House
// Baker Publishing
Kate O'Brien's quiet life in small-town Shelter Cove, Arkansas is shaken when her past suddenly comes roaring back to life. Four years ago, she and her twin sister were attacked by an elusive serial killer. Only Kate survived, and she's been in witness protection ever since.

When new evidence arises to suggest the convicted man wasn't the murderer, she's subpoenaed to testify in the new trial. Afraid to go back into that world, Kate only agrees if Tony DeLuca, the deputy Marshal who protected her during the original trial, escorts her to St. Louis.

Tony readily takes on the assignment; Kate's beauty and inner strength made more of an impression on him than he expected. But when Kate's safety is threatened, Tony must race against the clock to keep her alive and put this ugly case to rest before anyone else gets killed.
Real-Life Characters in Dark Deception
It's tough to write about something you don't understand. I believe all writers use personality traits from people they know when creating characters. In
Dark Deception
, I took this one step further.
I contacted a long-time friend for some information about a city where he used to live. After thinking about it, I realized my friend had the perfect personality for the small town police sergeant in my book. I asked my friend's permission to use his name and model the character after him, and he granted it. But something funny happened! The more I thought about this character based on my friend, the more I realized he should have a much bigger role in the story. In fact, he should be integral in the solving of my crime!
As his part grew, I realized it was so much easier portraying this police sergeant because I knew my friend – could anticipate his reactions. It truly helped in writing
Dark Deception
, and it certainly made it so much more fun. I even included his wife in the story. I have to say that this was one of the most enjoyable books I've ever written.
Thanks to Leon and Linda Shook for appearing in
Dark Deception
!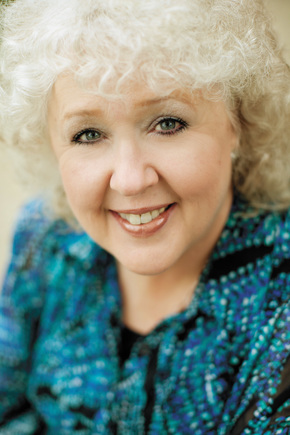 Nancy Mehl is the author of twenty-three books, including the Road to Kingdom, Finding Sanctuary, and Defenders of Justice series.

She is a Carol Award finalist and writes from her home in Missouri, where she lives with her husband, Norman, and their Puggle, Watson.
Giveaway!
Books à la Mode is giving away
one print copy of Dark Deception
—yay!!
To enter, all you have to do is answer Nancy's question in the comments below:
Which do you like best: A continuing main character in a series, or a series where the main characters change even though the setting stays the same?
Please make your comment MEANINGFUL. Comments solely consisting of stock responses or irrelevant fluff like "Thanks for the giveaway!" will not be considered for entry. Nancy and I really want to hear from you guys! :)
Don't forget the entry eligibility terms and conditions!
Sponsored wholly by the tour publicist and publisher—a huge thank you to the lovely folks at TLC Book Tours and Bethany House!
Giveaway ends July 3rd at 11.59 PM (your time).
Open to US and Canada residents only. Sorry, everyone else! Please check my sidebar for a list of currently running giveaways that are open worldwide. There are plenty to choose from!
Winners have 48 hours to claim their prize once they are chosen, or else their winnings will be forfeited.
Although I do randomly select winners, I am in no way responsible for prizes, nor for shipping and handling.
As a reminder, you do
not
have to follow my blog to enter, though it is always very much appreciated ❤