The Lady Travelers Guide to Scoundrels & Other Gentlemen (The Lady Travelers Guide #1)
Victoria Alexander
Embark on the breathtaking romantic adventures of The Lady Travelers Society in the brand-new series by #1 New York Times bestselling author Victoria Alexander




Really, it's too much to expect any normal man to behave like a staid accountant in order to inherit the fortune he deserves to support the lifestyle of an earl. So when Derek Saunders's favorite elderly aunt and her ill-conceived—and possibly fraudulent—Lady Travelers Society loses one of their members, what's a man to do but step up to the challenge? Now he's escorting the world's most maddening woman to the world's most romantic city to find her missing relative.

While India Prendergast only suspects his organization defrauds gullible travelers, she's certain a man with as scandalous a reputation as Derek Saunders cannot be trusted any farther than the distance around his very broad shoulders. As she struggles not to be distracted by his wicked smile and the allure of Paris, instead of finding a lost lady traveler, India just may lose her head, her luggage and her heart.
London 1889
It certainly did not look like the type of place where genteel, older ladies were bilked out of their life savings. Nonetheless—India Prendergast narrowed her eyes—it was.
India resisted the urge to tap her foot impatiently. She stood second in queue to reach a table set up near the door of one of the smaller lecture rooms in the grand mansion in Bloomsbury that housed the Explorers Club. A number of women chatted near a table bearing refreshments positioned along the wall. Several others had taken seats among the rows of chairs facing a lectern. The stout lady in front of her wore a tall beribboned hat entirely inappropriate for her age and did not seem inclined to hurry, even though a lecture on "What No Lady Traveler Should Leave Home Without" was scheduled to begin shortly. No, the lady ahead of her showed no consideration for the time constraints and chatted blithely with the woman sitting at the table as if there were no one waiting in line behind her.
India wouldn't be here at all if anyone had responded to her letters demanding information as to the whereabouts of her dear cousin, Lady Heloise Snuggs. In spite of the exotic nature of her name—a cross India had long ago learned to bear—she had no desire for travel and did not find the promise of adventure to be found in foreign lands the least bit enticing. She didn't understand why any otherwise sane and sensible woman would want to pursue such foolishness. No, the only thing that had brought her here today was concern verging perilously close to abject fear.
It had been nearly six weeks since India had received so much as a brief note from Heloise, and, even given the inefficiency of postal service outside the empire, it was not at all like her. Indeed, until then, India had received a letter at least twice a week, overflowing with her cousin's delight at the exploration of those places she'd only read about in books. It had long been Heloise's dream to travel the world. When she'd discovered the existence of the Lady Travelers Society and Assistance Agency—far less imposing than anything run by men—it had appeared that dream was now within reach.
The room filled slowly with other ladies, most of whom had obviously passed the age of fifty, just as Heloise had. And, exactly like Heloise, India suspected they all had dreams of exciting exploits in exotic places, no doubt with a handsome, virile stranger by their side. What utter nonsense.
While India had been uneasy about Heloise sallying forth three months ago to discover the world beyond England's shores, she couldn't bring herself to express her concerns and dampen her cousin's enthusiasm. She'd never seen Heloise quite that excited. Nonetheless, anything could happen to a lady traveling alone, even if Heloise was accompanied by her maid—the competent, no-nonsense Frenchwoman, Mademoiselle Marquette. Perhaps if India had expressed her concerns...
India firmly pushed the thought aside but failed to dismiss the dreadful apprehension that had weighed on her soul in the last few weeks. She was fairly certain Heloise would not have listened to her anyway. Regardless, she would never forgive herself if anything happened to the older woman. India was not one for frivolous emotion, but Heloise had claimed a place in India's heart from very nearly the moment they'd met.
Some twenty years older than India, Heloise was India's mother's cousin and the only family India had left in the world. She'd given her a home when India's parents had died—taking up the responsibilities of raising an eleven-year-old girl. Heloise had helped fund her continued schooling at the prestigious Miss Bicklesham's Academy for Accomplished Young Ladies, setting aside enough for a respectable dowry for India, should that become necessary. (It hadn't, which did seem for the best.) Very little of what India had observed about men inclined her at all toward chaining herself to one for the rest of her days.
Heloise had come to India's rescue when she was needed, and India would do no less for her now. Besides, the thought of losing her was entirely too much to bear.
At last, the lady in front of her moved off to take a seat, and India stepped forward.
"How may I help you, miss?" The blonde woman sitting at the table smiled up at her.
"I should like to join the Lady Travelers Society," India said firmly. It had been the suggestion of her employer, Sir Martin Luckthorne, that the best way to find out the whereabouts of Cousin Heloise might well be to join the society herself.
About the Author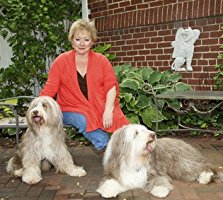 New York Times bestselling author Victoria Alexander was an award winning television reporter until she discovered fiction was much more fun than real life. She turned to writing full time and is still shocked it worked out.

Since the publication of her first book in 1995, she has written thirty-one full length novels and six novellas. The Lady Travelers Guide to Scoundrels & Other Gentlemen is the first book in her newest The Lady Travelers Guide series.
Giveaway!
Books à la Mode is giving away
one print copy of The Lady Travelers Guide to Scoundrels & Other Gentlemen
—yay!
To enter, all you have to do is tell me in the comments below:
What is your definition of a gentleman?
Please make your comment MEANINGFUL. Comments solely consisting of stock responses or irrelevant fluff like "Thanks for the giveaway!" will not be considered for entry. Victoria and I really want to hear from you guys! :)

Don't forget the entry eligibility terms and conditions!
Sponsored wholly by the tour publicist and publisher—a huge thank you to TLC Book Tours and HQN Books!
Giveaway ends June 12th at 11.59 PM (your time).
Open to US and Canada readers only—sorry, everyone else! Please check my sidebar for the list of currently running giveaways that are open worldwide. There are plenty to choose from!
Winners have 48 hours to claim their prize once they are chosen, or else their winnings will be forfeited.
Although I do randomly select winners, I am in no way responsible for prizes, nor for shipping and handling.
As a reminder, you do
not
have to follow my blog to enter, though it is always very much appreciated ❤