I Found You
Lisa Jewell
A young bride, a lonely single mother, and an amnesiac man of dubious origin lie at the heart of New York Times bestselling author Lisa Jewell's next suspenseful drama that will appeal to fans of Liane Moriarty and Paula Hawkins.

In a windswept British seaside town, single mom Alice Lake finds a man sitting on the beach outside her house. He has no name, no jacket, and no idea how he got there. Against her better judgment, she invites him inside.

Meanwhile, in a suburb of London, twenty-one-year-old Lily Monrose has only been married for three weeks. When her new husband fails to come home from work one night she is left stranded in a new country where she knows no one. Then the police tell her that her husband never existed.

Twenty-three years earlier, Gray and Kirsty are teenagers on a summer holiday with their parents. Their annual trip to the quaint seaside town is passing by uneventfully, until an enigmatic young man starts paying extra attention to Kirsty. Something about him makes Gray uncomfortable—and it's not just that he's playing the role of protective older brother.

Two decades of secrets, a missing husband, and a man with no memory are at the heart of this brilliant new novel, filled with the "beautiful writing, believable characters, pacey narrative, and dark secrets" (Daily Mail, London) that make Lisa Jewell so beloved by audiences on both sides of the Atlantic.
"Here," she says, passing him the flask.
He takes it from her and smiles.
"I thought I told you to go indoors." "I remember that," he says.
"Good," she says. "But I see you didn't take my advice."
"I can't go indoors." "Are you homeless?"
He nods. Then shakes his head. Then says, "I think so. I don't know."
"You don't know?" Alice laughs softly. "How long have you been sitting out here?"
"I got here last night." "Where did you come from?"
He turns and looks at her. His eyes are wide and fearful. "I have no idea."
Alice pulls away slightly. Now she's starting to regret coming down here. Getting involved, as Derry said. "Seriously?" she says. He pushes his damp hair off his forehead and sighs. "Seriously." Then he holds the flask aloft. "Cheers," he says. "You're very kind."
Alice stares out toward the sea. She's not sure how to respond. Half of her wants to get back indoors to the warmth, the other feels like she needs to play this out a bit longer. She asks him another question. "What's your name?"
"I think," he says, gazing into his tea, "that I have lost my memory. I mean"—he turns to her suddenly—"that makes sense, doesn't it? It's the only thing that makes sense. Because I don't know what my name is. And I must have a name. Everyone has a name. Don't they?"
Alice nods.
"And I don't know why I'm here or how I got here. And the more I think about it the more I think I've lost my memory."
"Ah," says Alice. "Yes. That makes sense. Do you . . . are you injured?" She points at his head.
He runs a hand over his skull for a moment, then looks at her. "No," he says. "It doesn't look like it."
"Have you ever lost your memory before?"
"I don't know," he says, so ingenuously that they both laugh. "You know you're in the north, don't you?" she asks.
"No," he says. "I didn't know that."
"And you have a southern accent. Is that where you come from?"
He shrugs. "I guess so."
"Jesus," says Alice, "this is crazy. I assume you've checked all your pockets."
"Yeah," he says. "I found some stuff. Didn't know what to make of any of it though."
"Have you still got it?"
"Yes." He leans to one side. "It's here." He pulls a handful of wet paper from his back pocket. "Oh."
Alice stares at the mulch and then into the darkening sky. She pulls her hands down her face and exhales. "Right," she says. "I must be mad. Well, actually, I am mad. But I have a studio room, in my backyard. I usually rent it out but it's empty right now. Why don't you come and spend a night there? We'll dry out these bits of paper, then maybe tomorrow we can start putting you together? Yes?"
He turns and stares at her disbelievingly. "Yes," he says. "Yes, please."
"I have to warn you," she says, getting to her feet. "I live in chaos. I have three very loud, rude children and three untrained dogs and my house is a mess. So don't come with me expecting a sanctuary. It's far from it."
He nods. "Honestly," he says. "Whatever. I really don't mind. I'm just so grateful. I can't believe how kind you're being."
"No," says Alice, leading the wet stranger up the stone steps and toward her cottage, "neither can I."
About the Author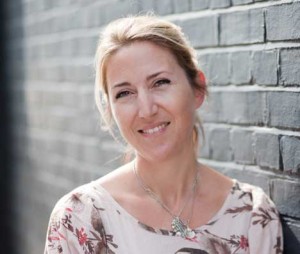 Lisa was born in London in 1968. Her mother was a secretary and her father was a textile agent and she was brought up in the northernmost reaches of London with her two younger sisters. She was educated at a Catholic girls' Grammar school in Finchley. After leaving school at sixteen she spent two years at Barnet College doing an arts foundation course and then two years at Epsom School of Art & Design studying Fashion Illustration and Communication.

She worked for the fashion chain Warehouse for three years as a PR assistant and then for Thomas Pink, the Jermyn Street shirt company for four years as a receptionist and PA. She started her first novel, Ralph's Party, for a bet in 1996. She finished it in 1997 and it was published by Penguin books in May 1998. It went on to become the best-selling debut novel of that year.

She is the New York Times, Wall Street Journal, and USA TODAY bestselling author of twelve novels, including The House We Grew Up In and The Third Wife.

She now lives in an innermost part of north London with her husband Jascha, an IT consultant, her daughters, Amelie and Evie, and her silver tabbies, Jack and Milly.
Giveaway!
Books à la Mode is giving away
one print copy of I Found You
—yay!
To enter, all you have to do is tell me in the comments below:
What is the most interesting item you have randomly found? Did you keep it?
Please make your comment MEANINGFUL. Comments solely consisting of stock responses or irrelevant fluff like "Thanks for the giveaway!" will not be considered for entry. Lisa and I really want to hear from you guys! :)
I once found a crystal-studded bracelet right in front of my car. It was strange because it wasn't mine or my mother's, but it was right in our parking spot! I think I took it but I don't recall where it is now. Another time, I found a robin's egg right just lying on the sidewalk, in tact and everything. I had planned on keeping it until my sister stepped on it (she was a bad baby).

Don't forget the entry eligibility terms and conditions!
Sponsored wholly by the tour publicist and publisher—a huge thank you to TLC Book Tours and Atria Books!
Giveaway ends June 2nd at 11.59 PM (your time).
Open to US and Canada readers only—sorry, everyone else! Please check my sidebar for the list of currently running giveaways that are open worldwide. There are plenty to choose from!
Winners have 48 hours to claim their prize once they are chosen, or else their winnings will be forfeited.
Although I do randomly select winners, I am in no way responsible for prizes, nor for shipping and handling.
As a reminder, you do
not
have to follow my blog to enter, though it is always very much appreciated ❤