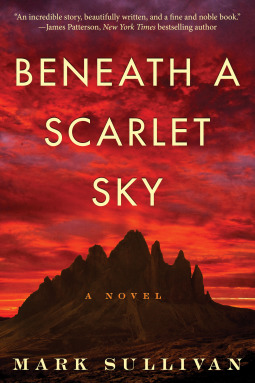 Beneath a Scarlet Sky
Mark Sullivan
Based on the true story of a forgotten hero, Beneath a Scarlet Sky is the triumphant, epic tale of one young man's incredible courage and resilience during one of history's darkest hours.

Pino Lella wants nothing to do with the war or the Nazis. He's a normal Italian teenager—obsessed with music, food, and girls—but his days of innocence are numbered. When his family home in Milan is destroyed by Allied bombs, Pino joins an underground railroad helping Jews escape over the Alps, and falls for Anna, a beautiful widow six years his senior.

In an attempt to protect him, Pino's parents force him to enlist as a German soldier—a move they think will keep him out of combat. But after Pino is injured, he is recruited at the tender age of eighteen to become the personal driver for Adolf Hitler's left hand in Italy, General Hans Leyers, one of the Third Reich's most mysterious and powerful commanders.

Now, with the opportunity to spy for the Allies inside the German High Command, Pino endures the horrors of the war and the Nazi occupation by fighting in secret, his courage bolstered by his love for Anna and for the life he dreams they will one day share.

Fans of All the Light We Cannot See, The Nightingale, and Unbroken will enjoy this riveting saga of history, suspense, and love.
Giveaway!
Books à la Mode is giving away
one print copy of Beneath a Scarlet Sky
—yay!
To enter, all you have to do is tell me in the comments below:
At what age did you feel like you were finally a grownup?
Please make your comment MEANINGFUL. Comments solely consisting of stock responses or irrelevant fluff like "Thanks for the giveaway!" will not be considered for entry. Mark
and I really want to hear from you guys! :)
When I started living on my own, in college. I had to cook for myself, do my own laundry, pay my own bills, work for spending money, etc. and it felt like I had been catapulted into adulthood then!

Don't forget the entry eligibility terms and conditions!
Sponsored wholly by the publicist—a huge thank you to the lovely folks over at Little Bird Publicity!
Giveaway ends May 15th at 11.59 PM (your time).
Open to US residents only
—sorry, everyone else! Please check my sidebar for a list of currently running giveaways that are open worldwide. There are plenty to choose from!
Winners have 48 hours to claim their prize once they are chosen, or else their winnings will be forfeited.
Although I do randomly select winners, I am in no way responsible for prizes, nor for shipping and handling.
As a reminder, you do
not
have to follow my blog to enter, though it is always very much appreciated ❤