Holden (The Lawmen of Silver Creek Ranch #10)
Delores Fossen
When a baby goes mising, a Texas marshal and a woman from his past discover there's a whole lot more behind this kidnapping...

Holden Ryland certainly didn't become a marshal just to end up busting his ex, Nicky Hart, for taking files from Conceptions Fertility Clinic. But only Nicky knows just what was really stolen: a newborn being held for ransom. A newborn who is kin to both her and Holden. The missing boy is only the start of a mystery that snakes through Texas, winding its way through their families. Bad blood may linger between them, but Holden can protect his nephew back at the Silver Creek Ranch. If they can lay their past to rest to rescue this child, is it possible for them to have a future together?
He drove his truck up a block, parked and fired off a quick text to his cousin Landon, who was now a deputy in Silver Creek. Holden didn't request backup but told Landon that if he didn't hear from him in fifteen minutes, to send some help—fast.
With that done, Holden hurried to Nicky's house. Not going through the front yard but rather through the back. The houses in the small neighborhood didn't have fences, but there were plenty of mature trees that he ducked behind and used for cover. The darkness helped, too, and for once he was glad Nicky didn't have all the lights blazing.
Holden knew the layout of her house. He'd even spent the night there a couple of times, and he knew the best way to approach this wasn't through the back porch. Instead, he drew his gun and went to the French doors off her bedroom.
Unlocked.
He silently cursed. Since Nicky was afraid of the dark, you'd think she would be equally concerned with locking up, but Holden knew she could be lax about that.
He eased open the door, slipped into her bedroom and stood there. Listening. He didn't hear anything at first, only someone moving around in the living room where he'd last seen Nicky.
"You'd better be sure he doesn't come back," someone said. A man. And Holden didn't recognize his voice.
In case this was a lover she was meeting, Holden waited for more. He didn't have to wait very long.
"If that marshal does come back, I'll kill him," the man growled.
Hell. So, probably not a lover unless it was some jealous nut-job. Holden sent a second text to Landon requesting that backup, and he made his way to the bedroom door and then into the hall.
The house was old and had creaky floors in spots. He prayed he didn't step on one of those because he wanted to get the drop on whoever it was that had just threatened to kill him.
"The marshal won't be back," Nicky assured the man. "Not until tomorrow anyway."
"He said the FBI was coming. Your doing?" her visitor demanded.
"Hardly. The FBI will be looking for the same thing you want. Something I don't have."
Holden didn't know specifically what she was talking about, but it might have something to do with her latest project. A state senator who'd been missing over two weeks. Nicky had been investigating his disappearance and had cut some corners. Ones that could land her in jail.
Of course, at the moment that seemed to be the least of her worries.
"You have those files all right," the man argued. "Now, where are they? And don't try to hold any of them back. I want every file you stole from Concep­tions Clinic."
Everything inside Holden went still.
Conceptions Clinic?
About the Author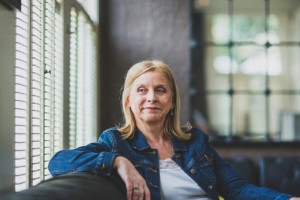 USA Today bestselling author Delores Fossen has sold over 70 novels with millions of copies of her books in print worldwide. She's received the Booksellers' Best Award, the Romantic Times Reviewers' Choice Award, and was a finalist for the prestigious RITA Award. In addition, she's had nearly a hundred short stories and articles published in national magazines.
Giveaway!
Books à la Mode is giving away
one print copy of Holden
—yay!
To enter, all you have to do is tell me in the comments below:
What is your favorite board game?
Please make your comment MEANINGFUL. Comments solely consisting of stock responses or irrelevant fluff like "Thanks for the giveaway!" will not be considered for entry. Delores and I really want to hear from you guys! :)
I love collaborative board games. My favorite is Pandemic!

Don't forget the entry eligibility terms and conditions!
Sponsored wholly by the tour publicist and publisher—a huge thank you to TLC Book Tours and Harlequin Books!
Giveaway ends April 3rd at 11.59 PM (your time).
Open to US and Canada readers only—sorry, everyone else! Please check my sidebar for the list of currently running giveaways that are open worldwide. There are plenty to choose from!
Winners have 48 hours to claim their prize once they are chosen, or else their winnings will be forfeited.
Although I do randomly select winners, I am in no way responsible for prizes, nor for shipping and handling.
As a reminder, you do
not
have to follow my blog to enter, though it is always very much appreciated ❤