Wyoming Brave (Wyoming Men #6)
Diana Palmer
The Wyoming men are back! In their quest for true love on the range, are these ranchers bold enough to open their hearts to the women under their protection?
Ren Colter may own an enormous ranch in Wyoming, but he scorns his wealth. He's closed himself off since his fiancée left him years ago, so he's shocked when he allows Meredith Grayling to stay with him. He tells himself it's only to protect the blonde beauty from a stalker, but Ren's alpha instincts soon kick in.

The last thing Merrie wants is a devastatingly handsome man like Ren lurking around her. He's too experienced, too appealing for her already shot nerves. What she needs is just to get away from it all: the man haunting her waking dreams and the one hunting her like an animal. But no woman escapes this Colter cowboy!
Ren came in very late. Merrie had gone downstairs, still in her jeans and sweatshirt, to ask Delsey about an extra blanket. It was kept cold in the house and she was used to warmer temperatures in Texas.
She stopped on the staircase when Ren spotted her, and his hard face grew even harder. He was looking pointedly at the front of her sweatshirt. For a minute she wondered if she was wearing something with writ­ing on it. Then she remembered, it was just gray and plain. She swallowed hard. Surely he wasn't looking at her chest!
"Why the hell do you wear that?" he asked shortly.
She was taken aback by the venom in the question. "I… I like sweatshirts," she began.
"Not the sweatshirt. That thing!" He pointed to her cross.
She recalled Randall saying something about Ren's feelings on religion. It hadn't registered at the time, but it did now. She put her hand protectively over the cross.
"I'm a person of faith," she said in a faint tone.
"Faith." His eyes glittered at her. "Crutches for a sick, uneducated world," he scoffed. "Superstition. Useless!"
She drew in a sharp breath. "Mr. Colter," she began.
"Take that damned thing off, or hide it. I don't want to see it in my house again. Do you understand?"
He was like her father. He spoke and it was like thunder. He frightened her. She tucked the cross under the sweatshirt with shaking hands.
"And if you're looking for something to eat, we don't have à la carte food after supper time. You eat at the table with us, or you don't eat. Am I clear?"
She swallowed down the fear. "Yes, sir," she said, her voice as shaky as her legs.
"What are you doing down here in the dark?"
"I… I wanted to get a blanket," she stammered. "It's cold in my room."
"We don't run a sauna here," he said icily. "Even on a ranch this size, we conserve heat. There are blankets in your damned closet. Why don't you look before you start bothering other people about trifles?"
She backed away from him. He was much scarier than she'd first thought. That posture, that icy look on his face, the fury in his eyes made her want to run. She'd rarely been around men. Mostly at art classes, and the men who took art were gentle and kind. This man was a lone wolf, not even housebroken. He made her shake when he spoke. Her first impression of him, of a handsome, kind man, took a nosedive. He was the devil in a pair of faded blue jeans.
"That's it," he chided. "Run away, little girl."
She shot back up the staircase. She never even looked back when she got into her room. As an afterthought, she locked the door.
About the Author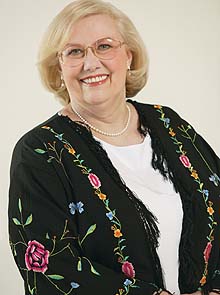 The prolific author of more than one hundred books, Diana Palmer got her start as a newspaper reporter. A New York Times bestselling author and voted one of the top ten romance writers in America, she has a gift for telling the most sensual tales with charm and humor.

Her hobbies are gardening, knitting, crocheting, astronomy, archaeology, and animals. She has dogs, cats, birds and lizards. She enjoys getting mail from her readers, but is slow to answer it. Diana lives with her family in Cornelia, Georgia.
Giveaway!
Books à la Mode is giving away
one print copy of Wyoming Brave
—yay!
To enter, all you have to do is tell me in the comments below:
How would you feel about returning to your hometown, the place you grew up in, as an adult? If you haven't even left, what's kept you there?
Please make your comment MEANINGFUL. Comments solely consisting of stock responses or irrelevant fluff like "Thanks for the giveaway!" will not be considered for entry. Diana and I really want to hear from you guys! :)
I spent my childhood in two different hometowns, per se: Austin, TX and State College, PA. I would love to go back to Austin, as I have very fond memories of it and do have childhood friends that still live there. It would be a bit awkward meeting everyone again since we mostly haven't kept in touch in over ten years, but it would still be cute. I'd be a little less eager to visit State College just because I thought it was more of a "boring" small town and I don't have many friends left there (most have left for college out of state), but I guess it would still be interesting to revisit my old favorite restaurants, parks, libraries, etc.

Don't forget the entry eligibility terms and conditions!
Sponsored wholly by the tour publicist and publisher—a huge thank you to TLC Book Tours and HQN Books!
Giveaway ends January 23rd at 11.59 PM (your time).
Open to US and Canada readers only—sorry, everyone else! Please check my sidebar for the list of currently running giveaways that are open worldwide. There are plenty to choose from!
Winners have 48 hours to claim their prize once they are chosen, or else their winnings will be forfeited.
Although I do randomly select winners, I am in no way responsible for prizes, nor for shipping and handling.
As a reminder, you do
not
have to follow my blog to enter, though it is always very much appreciated ❤