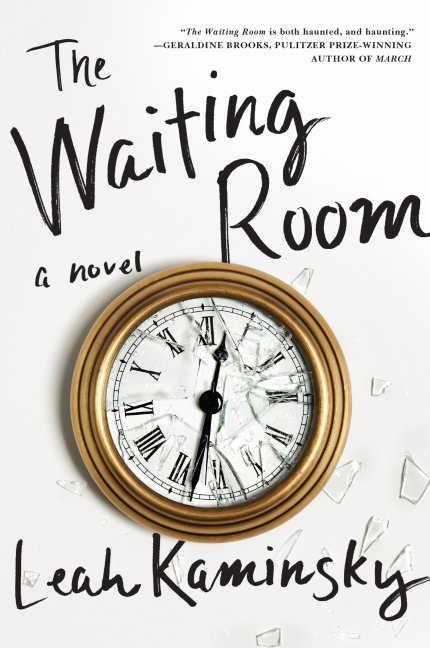 The Waiting Room
Leah Kaminsky
Leah Kaminsky's powerful fiction debut—a multi-generational novel perfect for fans of The Tiger's Wife and A Constellation of Vital Phenomena—unfolds over a day in the life of a young physician in contemporary Israel, who must cope with modern threats in the shadow of her parents' horrific wartime pasts.

A young doctor in Haifa, Israel, must come to terms with her family's painful past—and its lingering aftermath—as the conflict between Palestine and Israel reaches its height and the threat of a terrorist attack looms over the city...

Born to two survivors in the smoky after-haze of WWII, Dina has never been able to escape her parents' history. Tortured by memories of Bergen-Belsen, her mother leaves Dina to inherit her decades of trauma.

Dina desperately anchors herself in family—a cherished young son, a world-weary husband, and a daughter on the way—and her work as a doctor, but she is struggling to cope, burdened by both the very real anxieties of her daily life and also the shadows of her parents' ghosts, who follow her wherever she goes. A witty, sensitive narrator, she fights to stay grounded in the here-and-now, even as the challenges of motherhood and medicine threaten to overwhelm her.

In taut, compelling prose, The Waiting Room weaves between Dina's exterior and interior lives, straddling the present and the past—and building towards a profoundly dramatic climax that will remind readers of the fragility of human life even as it reassures them of the inescapable power of love and family.
Giveaway!

Books à la Mode is giving away
one finished copy of The Waiting Room
—yay!!
To enter, all you have to do is tell me:
What is your most memorable waiting room or doctor's office experience?
Please make your comment MEANINGFUL. Comments solely consisting of stock responses or irrelevant fluff like "Thanks for the giveaway!" will not be considered for entry. Leah and I really want to hear from you guys! :)
As a kid, any time I was waiting for a shot or vaccination was a pretty horrific experience. I think the most nervous I've been was at the orthodontist's, when I waiting to get my braces, though. I had been worried about it for weeks!

Don't forget the entry eligibility terms and conditions!
Sponsored wholly by the publicist—a huge thank you to the lovely folks at FSB Books!
Giveaway ends November 30th at 11.59 PM (your time).
Open to US residents only—sorry, everyone else! Please check my sidebar for a list of running giveaways that are open worldwide. There are plenty to choose from!
Winners have 48 hours to claim their prize once they are chosen, or else their winnings will be forfeited.
Although I do randomly select winners, I am in no way responsible for prizes, nor for shipping and handling.
As a reminder, you do
not
have to follow my blog to enter, though it is always very much appreciated ❤