Last Chance Rebel (Copper Ridge #6)
Maisey Yates
The prodigal son of Copper Ridge, Oregon returns in a captivating new novel from USA TODAY bestselling author Maisey Yates.




The man who ruined Rebecca Bear's life just strolled back into it with one heck of an offer. Years ago, Gage West's recklessness left Rebecca scarred inside and out. Now he wants to make amends by gifting her the building that houses her souvenir store. Rebecca won't take Gage's charity, but she's willing to make a deal with the sexy, reclusive cowboy. Yet keeping her enemy close is growing dangerously appealing...




He's the wild West brother, the bad seed of Copper Ridge—that's why Gage needs the absolution Rebecca offers. He just didn't expect to need her. After years of regretting his past, he knows where his future lies—with this strong, irresistible woman who could make a black sheep come home to stay...
The bell above her door tinkled, and she turned around, a strange, twisting sensation hitting her hard in the stomach as a man ducked his head and walked inside.
His face was obscured by a dark cowboy hat. His shoulders were broad, and so was his chest. In spite of the cold weather he was wearing nothing but a tight black T-shirt, exposing muscular arms and forearms, and a dark band tattooed on his skin.
He straightened, tilting his hat backward, revealing a face that was arresting. It really was the only word. It stopped her in her tracks, stopped her breath in her lungs.
She had never seen him before. And yet, there was something familiar about him. Like she had seen those blue eyes before in a slightly different shape. Like she had seen that square jaw, darkened with stubble in a different context.
It was so strange. She wondered for a moment if maybe he were famous and it was just such a shock seeing him in her store and not in pictures that she couldn't place him. He was definitely good-looking enough to be a celebrity. A male model. Maybe a really hot baseball player.
"The place looks good," he said.
"Thank you," she responded, trying to sound polite and not weirded out.
She wasn't used to fielding random compliments on the look of her store from men who towered over her by at least a foot. Occasionally, little old ladies complimented her on that sort of thing. But not men like him.
"You do pretty good business," he said, and it wasn't a question.
"Yes," she said, taking a step backward, toward the counter. Her cellphone was over there, and while she doubted this guy was a psychopath, she didn't take chances with much of anything.
"I've been looking over some of your financial information, and I'm pretty impressed."
Her stomach turned to ice. "I... why have you been looking at my financial…anything? How do you have access to that information?"
"It's part of the rental agreement you have with Nathan West. He's the owner of your building."
She knew perfectly well who the owner of her building was. It felt a lot like making a deal with the devil to rent from Nathan West, but he owned the vacant part of Main, and she'd done her best to separate her personal issues from the man who potentially held her financial future in his hands.
Anyway, she'd figured that if she didn't rent from him—if she found a place off the beaten path—and took a financial hit for it, then she was allowing the West family to continue to damage her.
So she'd swallowed all her pride—which was spiky, injured and difficult at the best of times—and had agreed to rent the building from him.
Also, it wasn't Nathan West she had cause to hate. Not really.
It was his son.
Suddenly, she felt rocked. Rocked by the blue eyes of the man standing in front of her. She knew why they looked familiar now. But it couldn't be. Gage West had taken off years ago, after he'd ruined her life, and no one had ever seen him again.
He couldn't be back now. It wasn't possible.
Well, it was unless he was dead, but it wasn't fair.
She drew in a breath. "I reserve the right to refuse service to anyone. I've never cashed that chip in before, but I think today I just might."
"Rebecca," he said, his voice low, intense. "We need to talk."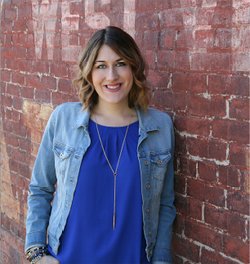 New York Times and USA Today bestselling author Maisey Yates lives in rural Oregon with her three children and her husband, whose chiseled jaw and arresting features continue to make her swoon. She feels the epic trek she takes several times a day from her office to her coffee maker is a true example of her pioneer spirit.

In 2009, at the age of twenty-three, Maisey sold her first book. Since then it's been a whirlwind of sexy alpha males and happily ever afters, and she wouldn't have it any other way. Maisey divides her writing time between dark, passionate category romances set just about everywhere on earth and light sexy contemporary romances set practically in her back yard. She believes that she clearly has the best job in the world.
Giveaway!
Books à la Mode is giving away
one print copy of Last Chance Rebel
—yay!
To enter, all you have to do is tell me in the comments below:
What does your dream home look like? Feel free to share a picture!
Please make your comment MEANINGFUL. Comments solely consisting of stock responses or irrelevant fluff like "Thanks for the giveaway!" will not be considered for entry. Maisey and I really want to hear from you guys! :)
The Victorian manors in San Francisco are ultimate #housegoals for me; the painted ladies, if you will. They're so beautiful and classic, and right in the heart of the city.

Don't forget the entry eligibility terms and conditions!
Sponsored wholly by the tour publicist and publisher—a huge thank you to TLC Book Tours and HQN Books!
Giveaway ends October 31st at 11.59 PM (your time).
Open to US and Canada readers only—sorry, everyone else! Please check my sidebar for the list of currently running giveaways that are open worldwide. There are plenty to choose from!
Winners have 48 hours to claim their prize once they are chosen, or else their winnings will be forfeited.
Although I do randomly select winners, I am in no way responsible for prizes, nor for shipping and handling.
As a reminder, you do
not
have to follow my blog to enter, though it is always very much appreciated ❤