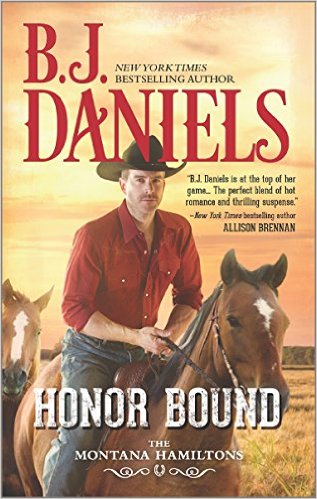 Honor Bound (The Montana Hamiltons #6)
B.J. Daniels
Protecting her life will mean betraying her trust




Ainsley Hamilton has always been the responsible one of the family. As the oldest daughter of presidential candidate Buckmaster Hamilton, she's also a potential target. For months she's sensed someone following her. When an expedition to scout locations for a commercial takes a terrifying turn, she's rescued by a natural-born cowboy who tempts the good girl to finally let loose.

Sawyer Nash knows just how reckless it is to fall for someone he's gone undercover to protect. Yet masquerading as an extra on set, he starts to see beneath Ainsley's controlled facade. And with the election—and a killer—drawing closer, Sawyer stands to lose not just his job and his life but the woman for whom he'd gladly risk both.
"Stay where you are!" Sawyer ordered as a stream of pebbles cascaded off the side of the cliff, clattering on the ground between them. Glancing up, he caught movement as someone stepped away from the edge of the canyon wall above them. He swore and held up his hands. Frank had faxed him a photo of the young woman, but it certainly hadn't done her justice. "Please, don't move!"
"I believe that's my line," Ainsley said and kept coming toward him, brandishing the gun. "Why are you following me?"
There wasn't time to explain. From the top of the canyon wall fist-sized rocks began to come down like a waterfall. She glanced up in surprise, the tumbling rocks distracting her enough to give him the edge.
Sawyer launched himself at her, wrenching the gun from her hand as he took her down, rolling them both back under the edge of the canyon wall. A moment later, an avalanche of larger rocks came crashing down just inches from them. Dust choked the canyon, and for a few moments neither could see anything.
The rocks continued to fall in a deafening roar. Neither of them moved until the trickle of rocks finally ended with several large boulders booming down in another cloud of dust.
Sawyer had covered her body with his own when the rock slide began. Now he lifted himself up on his arms to stare down at her. She was ghost-white and seemed to still be trying to catch her breath.
"Are you all right?" he asked, hating how close a call it had been.
She nodded, but he could see she was still shaken.
He moved to let her sit up in the small space under the rock face. She looked from the gun resting in his open palm to the huge pile of rocks next to them. From her shocked expression, she was just now realizing what had happened. If he hadn't come along when he had and thrown her under the ledge, she would have been under those rocks.
Ainsley stared at him, hugging her knees to her as she pressed her back to the canyon wall. Her blue eyes were wide, her bow-shaped mouth tremulous, lips slightly parted. He had the craziest desire to kiss her.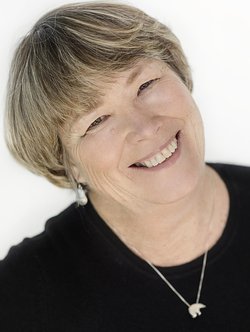 B.J. Daniels's life dream was to be a policewoman. After a career as an award-winning newspaper journalist, she wrote and sold 37 short stories before she finally wrote her first book. Since then she has won numerous awards including a career achievement award last year for romantic suspense.

She lives in Montana with her husband, Parker, and three Springer Spaniels. When she isn't writing, she snowboards, camps, boats, and plays tennis.
Giveaway!
Books à la Mode is giving away
one print copy of Honor Bound
—yay!
To enter, all you have to do is tell me in the comments below:
What does honor mean to you?
Please make your comment MEANINGFUL. Comments solely consisting of stock responses or irrelevant fluff like "Thanks for the giveaway!" will not be considered for entry. B.J. and I really want to hear from you guys! :)

Don't forget the entry eligibility terms and conditions!
Sponsored wholly by the tour publicist and publisher—a huge thank you to TLC Book Tours and HQN Books!
Giveaway ends October 17th at 11.59 PM (your time).
Open to US and Canada readers only—sorry, everyone else! Please check my sidebar for the list of currently running giveaways that are open worldwide. There are plenty to choose from!
Winners have 48 hours to claim their prize once they are chosen, or else their winnings will be forfeited.
Although I do randomly select winners, I am in no way responsible for prizes, nor for shipping and handling.
As a reminder, you do
not
have to follow my blog to enter, though it is always very much appreciated ❤